Converting MS Publisher to PDF
With MS Publisher anyone can be a digital artist, creating, publishing, converting and sending publicity materials right from their computers.
Yet, however easy and convenient it may sound, planning, organizing and managing the process by yourself or with a team of company members, can be a bit taxing.
Investintech can be integral to easing this process, as our products can efficiently aid you in your marketing endeavors with MS Publisher.
What is MS Publisher?
MS Publisher is a proprietary Microsoft application which serves as a layout software used to create documents for publishing. It ultimately enables you to choose designs and appearance options to create professional documents, marketing materials and Web pages.
Features includes design tools and master templates. Also, clip art, charts, logos and animation can be added to documents for enhancement or consistent document appearance. Photo Composition technology is included alongside publication capabilities that can make use of databases.
The program is designed to be user friendly, so that anyone can make the best use of the program. MS Publisher provides the all-familiar Office environment with its interface which most computer users are familiar with.
The application also provides resources for users of the program, posting a site where publishers connect with information on companies - mail houses, commercial printers and list providers - offering services to market and produce materials made through the program.
From marketing emails to business letters, brochures to letterheads, or menus to resumes, MS Publisher produces forms that need a creative and personal yet professional touch.
Converting Publisher Files to PDF
Investintech products are a great complement to MS Publisher. Users can easily create PDFs from their Publisher files using the Able2Extract PDF Converter.
MS Publisher is a proprietary software application owned by Microsoft, and is the only MS software application that creates these types of files. Since many users do not have MS Publisher on their systems, converting the Publisher documents to PDF makes perfect sense.
Once you have Able2Extract PDF Converter installed, you can turn MS Publisher files from within the MS Publisher application into a PDF by using the printer driver method. To make a Publisher PDF, first create your Publisher document. Make sure that all settings are optimized and save a copy as your source file. Then, select the Able2Extract printer driver as your default printer and simply print the document.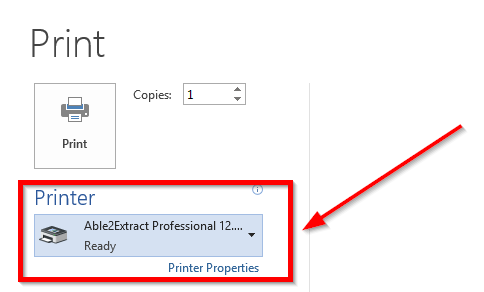 Then you need to set the features of your PDF document using the Print Dispatcher dialogue box that will appear, and click on Save to name and store the file.

Another way to create PDFs from MS Publisher files is to open the Able2Extract application and work from within the software. Its interface is sleek and exceptionally easy to navigate. The first step is to click on the Create button.

A pop up will allow you to choose the Publisher file you want to convert. After double-clicking on it, the software will convert it to PDF. You will then have a chance to go to View - PDF creation options and set security and document viewing options, if you wish.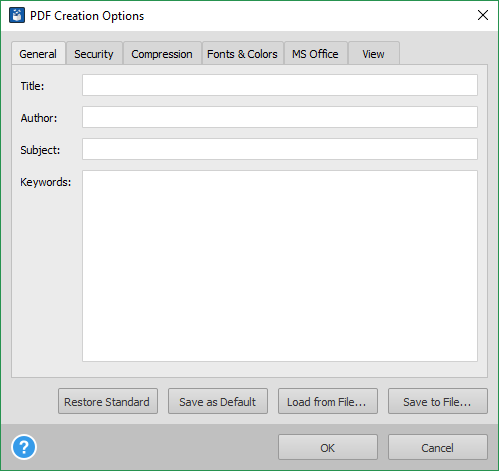 By integrating Able2Extract PDF Converter into your workflow, you easily increase the productivity of your business.