PDF to Excel Converter
Use our accurate PDF to Excel converter tools to extract PDF tables into
formatted Excel sheets that are easy to analyze, update, and edit.
Convert PDF to Excel Free Online
Evaluate Able2Extract PDF to Excel technology for free.
No email required, completely anonymous.
How to convert PDF to Excel free online:
Step 1: Upload your PDF file.
Step 2: Download the converted XLSX file.
Convert PDF to Excel on Desktop
Enjoy quick and accurate offline PDF conversions, and many other advanced tools on your desktop with Able2Extract Professional:
Turn PDF, Word, images, and more into MS Excel.Improved
Convert 100+ complex PDF tables per minute.Improved
1:1 transfer of original table formatting and cell styles.
Batch convert multiple PDF files to XLS, XLSX, & CSV.
Extract scanned PDF data with multi-language OCR.Improved
Edit, sign, create, review, and secure your PDFs.
Available for Windows, macOS, and Linux.
What are Main Differences Between the Two PDF to Excel Solutions?
No Download Needed
Our Free online PDF to Excel tool allows you to convert your PDF to Excel right in your favorite browser (an active internet connection is required).
No Internet Needed
Able2Extract PRO works completely offline on all major platforms - Windows, macOS, and Linux. No files are uploaded to external servers.
Quicker Conversions
The conversion process is quick and simple. Online PDF to Excel converter can only convert entire PDF files to XLSX with no additional options.
More Accurate Conversions
With Able2Extract PRO you can perform selective PDF to Excel conversions. You can adjust table rows and columns and preview conversion results prior to conversion.
Basic OCR Technology
The online converter automatically recognizes scanned PDF data and converts it to an editable Excel file. Non-English characters are not recognized.
Multi-language OCR Engine
Able2Extract PRO's OCR can successfully convert scanned documents in English, Spanish, French, and German. Advanced options are also available.
Convert Files One by One
You can upload your PDF documents and download the converted Excel files one by one. The free online converter does not support batch conversion.
Convert Multiple Files Instantly
You can use Able2Extract PRO to batch process multiple PDF documents at once and upload even whole folders for conversion to Excel in a single step.
2 Free Conversions per Day
Two free conversion actions per day - no email address required. The file size limit is 50 MB. We use a 2048-bits RSA key with SHA-256 encryption.
7-day Free Trial
Able2Extract PRO has a 3-page conversion limit after one unrestricted conversion action. Purchasing a license removes this limitation.
Basic PDF Converter Tool
Our free online tool can only convert PDF to Excel. Advanced features like batch conversion or preview file output prior to conversion are not available.
All-in-One PDF Solution
Able2Extract PRO is a complete solution for all your PDF needs. PDF editing, signatures and encryption included. It can be used as your everyday stand-alone PDF viewer.
❮
❯
Go Beyond Basic PDF to Excel Conversion with Able2Extract PRO
Save Time with Batch Processing
Instead of converting one PDF at a time, use our desktop PDF to Excel converter to batch process hundreds of PDFs to formatted Excel files at once.
Powerful Multi-Language OCR Engine
Use our high-fidelity OCR (Optical Character Recognition) technology to turn any scanned PDF into accessible Excel spreadsheet data you can edit right away.
Convert Just Data You Need
You don't have to convert the entire PDF file. You can extract a desired page range, one specific page, or even a single table from your PDF without the surrounding text - hassle-free.
No Internet? No Problem!
Able2Extract works offline - no need to access the internet or to upload your files to external servers. Conversions are performed locally on your computer.
Lifetime Access to All Tools
Get unlimited access to Able2Extract's advanced PDF to Excel conversion features along with all of its other conversion, editing, OCR, and signature tools.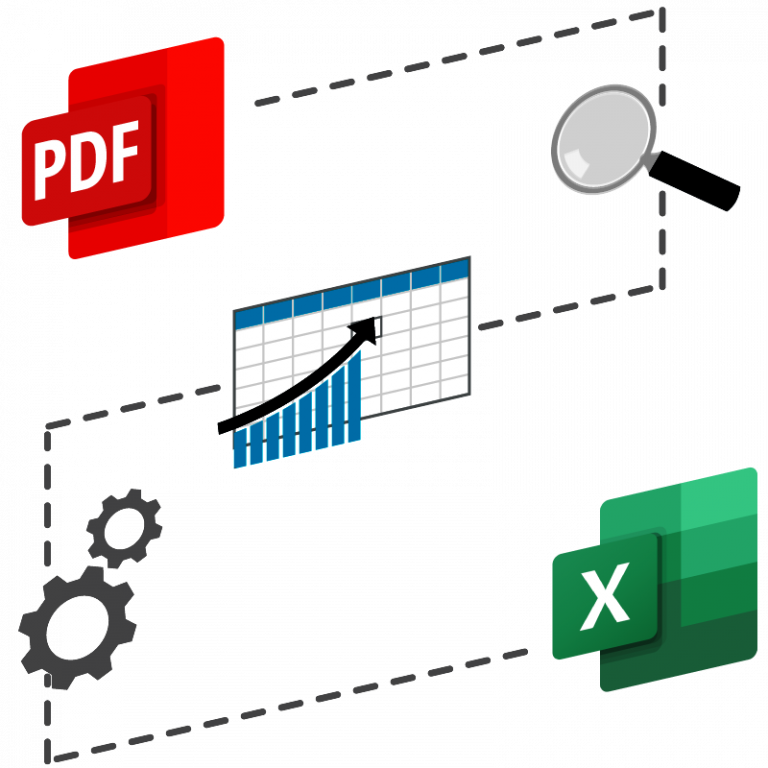 Custom PDF to Excel Conversion
Able2Extract Professional is the only PDF converter that offers Custom PDF to Excel conversion. This distinctive feature allows you to save hours spent on re-formatting converted spreadsheet data.
The software offers unique custom conversion tools backed by AI that give you full manual control over how you export your tabular data to Excel. Move and adjust spreadsheet rows and columns, add or delete tables, tweak headers and footers, re-plot tables to customize the output to your liking. You can see how the conversion will look using the handy preview window.
The latest Able2Extract is enhanced with a smart layout detector that ensures all original fonts, cell borders, background colors, and layout properties remain consistent after conversion.
The result? Perfectly formatted Excel sheets every single time!
PDF to Excel Conversion Examples
The following are some PDF to Excel conversion examples using Able2Extract:
What is the best PDF to Excel converter for me?
How to convert PDF to Excel offline?
How to convert scanned PDF to Excel (OCR)?
How to convert multiple PDF to Excel?
How to convert only table PDF data to Excel?
How to convert PDF to Excel without losing formatting (keep table layout)?
How to convert PDF to Excel on Mobile and Tablet (Android & iOS)?
How to convert PDF to Excel on Mac?
More Able2Extract's PDF Features