Developing Powerful PDF Solutions
We're Investintech.com, a Canadian company incorporated in 2000, and we're the developer and publisher of our own proprietary PDF technology. It's used in desktop, server and developer products worldwide. Millions in over 150 countries have used our flagship PDF product Able2Extract. As a company, we are focused on providing our business and consumer customers with products that are easy to use and that deliver powerful results. All of our products are built by our software development team headquartered in Toronto, Canada and our office in Europe. We stand behind our products 100%. We are accountable, conscientious and we pride ourselves on delivering the best customer service in the business.

I have done as you have asked and I want to THANK YOU for all of your help and not giving up on this. You have just made my whole weekend. Please pass along all of my thanks to all personnel that were involved. WHAT GREAT CUSTOMER SUPPORT!!!!

Keith Hale
Sr. Technical Instructor, FedEx TechOps Training, Memphis, TN

David Moon
Present - Co-founder of Investintech.com currently involved with strategy, licensing and operations. I work most closely with our customer support team and the sales and technical support staff - and I'm not averse to pitching in with the phones either.
Past - Grew up on the prairies, studied biology and history at University and then got a law and MBA degree.
In the meantime - I golf and play recreational soccer to stay fit - while mixing in the occasional physical challenge here and there. I also enjoy travelling and exploring new places.

Keith Bradbury
Present - Co-founder of Investintech.com and an entrepreneur at heart. I've done a little of everything but now I mostly work with my marketing colleagues to tell as many people as we can about our software.
Past - I played tennis at a high level then got a law and MBA degree. I worked as a lawyer at a big law firm for a couple years.
In the meantime - I coach my kids' soccer and baseball. I play tennis, hockey, bike, ski and generally try to be outdoors as much as I can.
Goranka Radojčić
Present - I'm currently the general manager of Investintech's Belgrade office. I've worked with Investintech's amazing marketing team for over six years and I most enjoy spreading the word about our software solutions.
Past - Obtained an MSc in eBusiness. Worked as Sales & Marketing Manager in a small publishing company. Translated books.
In the meantime - Reading, traveling and simply enjoying life.

Tony Korolia
Present - Currently the Director of Sales at Investintech. Together with our great Sales Team presenting/seeling our amazing software to the Clients around the world.
Past - Over 20 years of international experience in the field. Lived and worked with people in several countries and in several different languages.
In the meantime - Love to learn with huge passion for languages. I enjoy travel, different cultures and international cuisine.

Alisher Ishchanov
Present - I coordinate the software development in the company. I make sure that every participating person is assigned to the portion of the project he or she is the best fitted for. I choose the right tools for our everyday needs and optimize the development process. Besides all that I also practice coding.
Past - Worked as a software engineer for two interesting companies. For one of those I helped out to build a robust student testing suite. For the other, I contributed to CAD software creation.
In the meantime - Bicycling, skiing, playing soccer (I say: Football!), outdoor parties with my little daughter and wife - this is what I like to spend my precious out-of-work days. If I get some quiet minutes at home I entertain my senses with music and movies.

Reena Cruz
Present - As brand manager for Investintech, I conduct product demos, maintain product listings, and help build new connections and partnerships. I also work on marketing projects and write for the company's blog.
Past - I helped high school teens get a good start on the right career path for one summer and worked for 10 months connecting people to the right resources with Citizenship & Immigration Canada.
In the meantime - Surprisingly a lot of non-tech stuff: Reading books, figure skating, writing, and art journaling. I'm all about learning new things and I like taking on challenges that put me on the edge of my comfort zone. =)

Naum Naumović
Present - Software engineering focused on making things simple, robust and fast.
Past - Design and maintaining SCADA systems for electrical power distribution systems.
In the meantime - I enjoy to work in the garden with my family. I am interested in human genetics and psychology.

Milan Stanojević
Present - Working as a web developer. Trying hard to make our services run smoothly.
Past - Worked for Vast.com as a back-end developer. Working for a start-up company was an interesting experience.
In the meantime - Making preparations for space travel.

Branislav Pakić
Present - I am currently a senior web designer and design anything from web to GUIs.
Past - I owned a small recording studio, I edited video, directed TV shows and designed anything from web to GUIs.
In the meantime - I love music, I spend some of my free time composing electronic music hence "Dalek dan" was born.

Robby Uzon
Present - Proud member of sales team, in contact with our clients all over the world.
Past - Obtained college degree in Economics, working in the field of sales for couple of companies with some experience abroad.
In the meantime - Basketball player, fishing enthusiast, love being outdoors and traveling in spare time.

Radmila Miljančević
Present - Working as a graphic and web designer. Creating images, infographics, designing websites.
Past - Graphic design is in my blood and I've been enjoying it for many years since I graduated from university, working for a few companies as well as a freelancer.
In the meantime - I spend my free time with my family, reading books, riding my bicycle and traveling.

Suzana Bauk
Present - Member of the sales team. Dealing with accounts and meeting & exceeding client expectations.
Past - I studied a lot - obtained a college diploma, university degree and an MBA. I worked in sales for a small sign production company with large accounts.
In the meantime - I love music, traveling, and experiencing different cultures.

Ivan Gudurić
Present - Working on the development and execution of various marketing initiatives to make sure that the word about our award-winning PDF software reaches more people in the digital space.
Past - I graduated with a BS in Business Management. Had a brief stint in sales before I found my true calling in marketing.
In the meantime - Trying to improve my German language skills. Hanging out with my friends and searching for the best coffee place in Belgrade.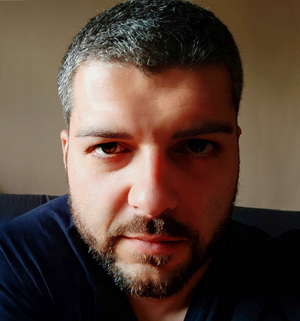 Ivan Smiljković
Present - Proud member of the Investintech's marketing team. Spreading the word about amazing software solutions that help users worldwide boost productivity one PDF at a time. Writing, testing, optimizing, and letting data provide the answers.
Past - Graduated journalist and self-taught prepress and WordPress designer turned digital marketer to round up skills and passions.
In the meantime - Enjoying outdoor activities, fitness, and a good hard-copy book to unwind. Hope to travel and play chess more often.

Bojan Jovanović
Present - I am responsible for developing, optimising, and maintaining the general health of Investintech websites.
Past - Created websites using different technologies.
In the meantime - I have great passion for gaming, reading and spending time in the countryside. Also, more than anything, I like hanging out with my wife and playing with our persian cat.