Investintech Free Tools
Investintech.com knows that there is nothing better than Free tools to help you become more productive and get the job done faster. Here's the selection of free tools we currently offer: Add us on Twitter

and Facebook

to get updates on new tools as we release them.
Free Online PDF to Excel
Export your PDF tables and data to Excel spreadsheets online for free. Simply upload a PDF file to the tool and send it for conversion. The tool will extract PDF data into fully editable Excel worksheets. Visit free online PDF to Excel conversion service and start converting PDFs to Excel.
Free Online Sonic PDF Creator
Create a PDF from any of the 20 electronic file formats, including MS Office and OpenOffice formats. Simply upload your document, input a valid email address, and the newly created PDF will immediately be sent to the provided email address. Convert to PDF now! The tool is also available for free in other languages. Check out the sleek Sonic interface in Spanish and French!
Free Scanned PDF to Word
Convert any PDF, native or scanned (image), into editable MS Word file in three easy steps: upload your chosen PDF, provide an email address where you want to receive your converted .docx file, and click the conversion button. Convert scanned PDF to Word now! You can also use the tool in Spanish or French!
Free Online PDF to Word
Instantly convert PDF documents into easy-to-edit Word files following these instructions: select PDF file for conversion, fill out your email information and click on the Start button to receive your converted document right to your inbox. The tool is also available in Spanish and French!
PDF to PowerPoint Online
Use our free PDF to PowerPoint converter to instantly export your PDF into a fully editable PPT file. Source file formatting is kept intact and the entire service is 100% free.
Free Online PDF to JPG Converter
Use our PDF to JPG converter to accurately export PDF documents to JPG files, while maintaining source document formatting. Completely free, without any limitations. No strings attached.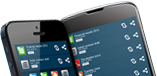 Able2Extract Mobile Apps
Available for both Android and iOS users, the Able2Extract mobile applications allow you to convert PDFs into editable Microsoft Word, Excel and PowerPoint files, and create PDFs on your mobile device. The apps are completely free to install and use. View and Download Now

Slim PDF Reader
The only Bloatware Free PDF Reader available today that is completely secure. Slim PDF Reader uses Able2Extract's stable PDF viewing technology to offer a high quality PDF Reader that is only 1.5MB in size. Compare that with the 32MB download from Adobe or the 7MB from Foxit. Slim is fast to use because of its size and it is not subject to all the security flaws of Adobe. Download it Now!

Docx to Doc Online
Convert the Microsoft Word Docx format from Office 2007 and 2010 to the more traditional Doc format so that you can view them and use them on your older version of Office. Convert Docx to Doc Now

PDF to HTML Online
View and Share those PDF documents in HTML online. Upload your PDF and convert it to HTML. Then, download the output to your computer or share the link on your website for all contacts and colleagues to see. Convert PDF to HTML Now

HTML CSS Templates
Looking for some original and awe inspiring designs for your next website? Check out these 12 templates that you can use to update or create your next web masterpiece. They are 100% free to use and customize. View and Download Now

PowerPoint Templates
Tired of the same old PowerPoint templates that everyone seems to use? Change your next presentation up with these 12 free PowerPoint templates. Your colleagues will be impressed. View and Download Now