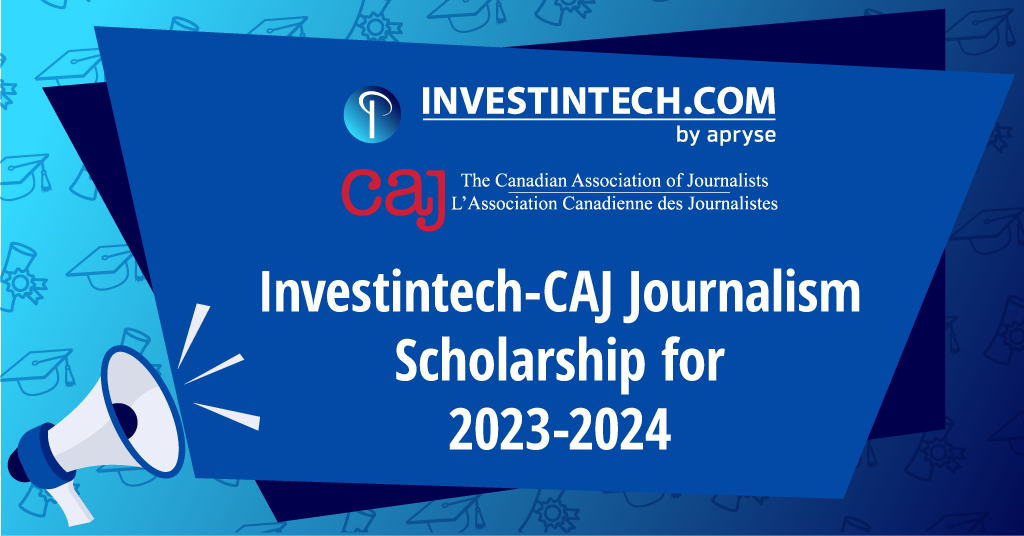 We've got great news for all you aspiring journalists out there! We're thrilled to announce the launch of our fifth Investintech – CAJ Data Journalism Scholarship, and are now accepting applications for the 2023-2024 academic year.
This scholarship is a great opportunity for post-secondary Canadian students who are interested in a career in journalism. With prizes to help you, the budding journalist, both financially and with opportunities for your career, the scholarship offers you a head start in the journalism industry.
Got journalistic work that you're proud of? Wondering if you have what it takes to be a data journalist? Apply today!
We cover everything you need to know.
About The Investintech – CAJ Data Journalism Scholarship
If you're thinking or considering a career as a journalist, the Investintech-CAJ Data Journalism Scholarship is the contest for you. Any student currently enrolled in a Canadian post-secondary educational institution is welcome to apply.
As the scholarship's name suggests, we've partnered once again with the Canadian Association of Journalists (CAJ), one of the most reputable and influential organizations within the Canadian journalism community. The CAJ provides journalists across the country with a network of support and resources to help advance their careers.
Moreover, prizes for the scholarship are aimed at helping you get the best journalistic support as a student. They include a $1,000 cash-prize towards your tuition, a free one year membership with the CAJ, and a free pass to the CAJ National Annual Conference from May 31- June 2, 2024 in Toronto. Even just submitting an application will give you the opportunity to get your work in front of data journalist professionals who make up our Selection Jury.
Each of our jury members is an experienced, award-winning journalist who has worked for authoritative and established media outlets and teaches data techniques at the post-secondary level. Visit our Data Journalism Scholarship Selection Jury page to meet the three journalists who will be reviewing your work with Canadian journalism standards in mind!
Applying For The Investintech – CAJ Data Journalism Scholarship
Eligibility
Eligible students applying for the scholarship must meet the following requirements:
Majoring in a journalism program, working towards either a Bachelor's or Master's degree.
Currently accepted to or enrolled in a college or university in Canada.
Pursuing a course of studies or program leading to a diploma, undergraduate or graduate degree.
Non-journalism program students may apply, but will need to show evidence of their journalism skills, such as having a published news story, or working for a college publication, etc.
Submissions
What can you submit? Submitted work can be a piece of work published in a student, local, alternative or mainstream media, an analysis or complex visualization you completed as a class assignment or an in-depth analysis published on a personal blog. It must be a story that reveals new information, or provides richer context for the data provided.
Work must have been produced within one calendar year of the scholarship closing date.
A single submission of individual work is preferred. If the submitted item is produced as part of a team of two or more, the applicant must submit a detailed explanation about their contribution and their own proof of work.
Previous winners are not eligible to apply.
The submission must include:
Your story: An example of a work of journalism that shows the application of data skills (e.g. use of spreadsheets, web scraping, use of mapping tools).The submissions must include at least one data visualization (e.g. a map or a chart) produced by the student.
Your methodology: An explanation of what you did, how you did it, and why you did it, including the resources and/or tools you used and how the data was compiled. For submissions that were produced as part of a team, applicants must explain their role, the skills they used in fulfilling that role, and the specific parts of the story, or stories, that their contribution influenced.
The winner will be the student whose submission shows not only a commitment to producing high quality journalism work, but also shows an in-depth understanding of which data journalism tools best showcases their story while tying in their data analysis.
The deadline: April 12, 2024 at 11:59 pm EST
Award Prizes
Here's what you can win as the 2023 – 2024 Investintech – CAJ Scholarship recipient:
One-time cash prize of $1,000 CAD
One year free CAJ membership
One free pass to the CAJ National Annual Conference in Toronto from May 31 – June 2, 2024.
Dates & Deadlines
Annual deadline for submissions: April 12, 2024
Review timeframe: April 15th – 26th, 2024
Announcement date: April 29, 2024
Award date for 2023-24 scholarship year: May 3, 2024
Submit your work online through our Investintech – CAJ Data Journalism Scholarship page. Click on the Submit Your Application or Apply Now buttons on the page that will take you to the submission form.
Visit the Terms and Conditions page on our website for complete scholarship rules and policies.
Get your journalism career off on the right foot. Submit your application today!
*NOTE: It is at the sole discretion of the CAJ whether or not to provide or determine a suitable substitution prize.