One of the biggest changes to happen for anyone who works with digital documents was the release of Microsoft Office 2021. The latest version of the suite includes a set of new improvements to your favorite applications, enhancing the way you create and work with digital files.
However, along with the new changes you may start wondering what it means for your usual document workflow, and by extension, the PDF documents you rely upon.
Can you still create professional-looking PDFs? Can you secure the content you just created? Is your PDF converter compatible with Microsoft Office 2021?
If it's Able2Extract Professional, the answer is yes!
Our latest version offers a handful of productivity-boosting advantages and robust PDF features that help you work side by side with Microsoft Office. Here's how.
Able2Extract Pro and Microsoft Office 2021
Able2Extract Professional vs. Export to PDF
While MS Office offers PDF creation capabilities built in, you have to admit that its offerings only go so far. Able2Extract Professional gives you a handful of features to your PDF to get a well-rounded, secure document.
You get flexible PDF security permissions to add both User and Owner passwords, and even restrict others from printing, copying content, and adding comments.
You can also set viewing options to decide how you want your recipients to view the file. From hiding menu bars to deciding which page to start, you're able to tailor the recipient's viewing experience to a tee.
Lastly, you get to decide on your PDF metadata, what type of compression you want to use on your content, as well as what elements you want to retain from your source MS Office document – links, bookmarks or comments.
Able2Extract Professional lets you stay in MS Office 2021 to generate feature-filled PDFs by simply using the Able2Extract Print Driver.
The best part is that you can instantly set and change all of these options with the Able2Extract Print Dispatcher.
Able2Extract Print Dispatcher
The Able2Extract Professional Print Dispatcher is where all the magic happens. It sits in your taskbar and lets you quickly change your PDF creation options and automate how the application behaves for PDFs generated through the Able2Extract Professional Printer.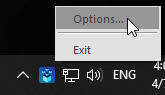 Decide on where to save the PDF, so your document automatically saves where you decide.
The best part is that you can save different settings to a file, so you can upload and create specific settings whenever you need to switch things up. Perfect for when you're working to create PDFs for different purposes and that require different levels of security!
PDF Editing and Reviewing
Able2Extract Professional extends your PDF needs and workflow by allowing you to work in any last minute PDF-level additions you forgot on the PDFs that you've created from MS Office 2021.
If you have Able2Extract Professional installed, you're all set. Just open your PDF in the application and you can access PDF Annotating, Comparing, Signing, Form filling, and PDF Editing features from the toolbar:
So not only do you have access to PDF creation and security features in MS Office 2021, you can also modify and work with the PDFs instantly and directly in Able2Extract Professional.
PDF to Microsoft Office 2021
On the conversion side of things, nothing needs to change in your routine at all. You can output your PDF conversion to match the Office version you have on your computer.
Simply set Able2Extract's PDF to Excel, Word, or PowerPoint conversion setting in the conversion side panel to Default and you can instantly extract your data into formats you can work with in MS Office 2021.
Simplify your PDF and MS Office 2021 work with Able2Extract Professional.