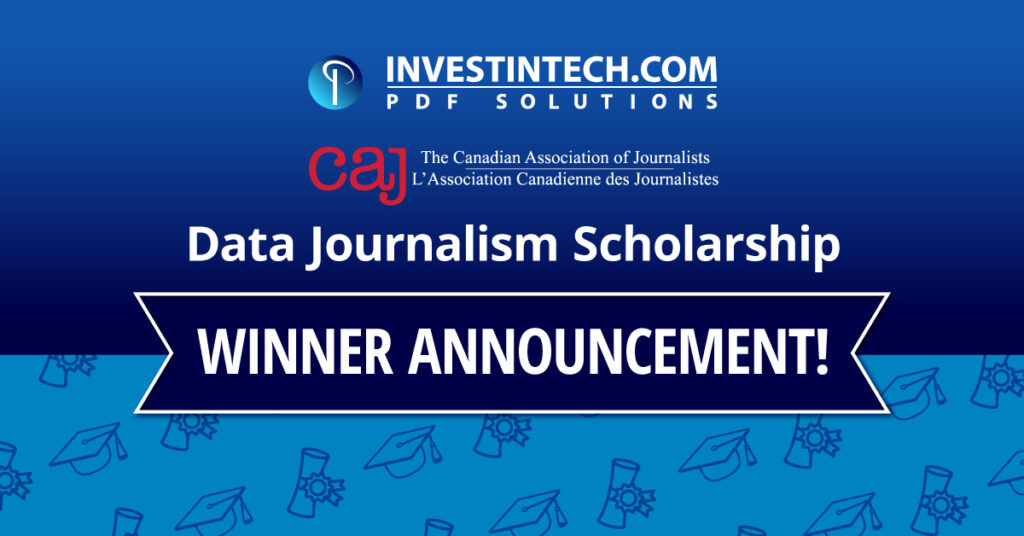 It's been three years since we launched the Investintech – CAJ Journalism Scholarship, and we're still uncovering all the hidden gems and budding talent you can expect to see in the upcoming future of journalism. We've come across a lot of talent through our scholarship contest. 
Our Selection Jury has taken a look at all the eligible submissions and have picked out the winning recipient of the third annual Investintech – CAJ Journalism Scholarship. The 2021-2022 winner is:
Aastha Sethi
Congratulations to Aastha for her submission story covering the declining trends in reading habits occurring among young kids in British Columbia during the COVID-19 pandemic. Aastha is a student at the University of British Columbia enrolled in their Journalism program working towards her Master's degree.
Aastha is the official recipient of the $1000 CAD cash prize being put towards her tuition, and the free one-year CAJ membership and annual pass to the CAJ national conference in Montreal in 2022 later this month!
For more information on her winning submission, please visit the Scholarship Winners page.
This scholarship couldn't have happened without a few key players, of course! A big thank you first goes out to the Canadian Association of Journalists (CAJ) for their support and collaboration on this scholarship as a partner.
We'd also like to thank our three Selection Jury members – David McKie, Chad Skelton and Valérie Ouellet – for their time and effort in reviewing the eligible submissions. Their expertise in selecting the recipient was invaluable and is greatly appreciated.
Lastly, we want to put a spotlight on every student who entered the scholarship contest. We know it hasn't been easy to transition back and adjust to new restrictions or learning experiences over the past year as a student. For that, we applaud you all for your on-going work and commitment towards your journalism career. 
We hope that every student who made the effort to submit an application but didn't win will reapply next year to put their growing data skills to the test with a new submission!
Please check back in with the main scholarship page for the 2022-2023 open call for submissions.