Meet the Winners

Investintech - CAJ Data Journalism Scholarship
We're proud to award the Investintech - CAJ Journalism Scholarship to students who show a potential in journalism work and a solid foundation of technical data skills that are required in the field.
Below you will find a complete list of annual winners who have won the scholarship. Find out more about these journalism students and the work they submitted. In addition, you can get a good look at how the Selection Jury evaluated the work, ultimately selecting it as a winning submission.
---
Winning Recipient for 2021 - 2022
---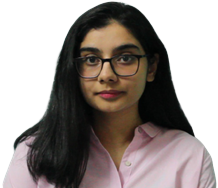 I am Aastha Sethi. I am a journalism student, pursuing master's at the University of British Columbia. Before I moved to Vancouver, B.C., I was working as a full-time entertainment news writer in India. In the span of six months, I researched, wrote, and published over 900 articles.
During the pandemic, I produced informative videos about environmental and political issues on my YouTube channel, Pestel. I followed online tutorials to learn Adobe CC applications like Illustrator, Photoshop, and After effects. Getting a hang of the software encouraged me to make digital illustrations. As a result, I now use my knack for sarcasm to develop satirical art on Indian politics.
As a journalist, I aspire to create impactful news stories, raise awareness of social ills, and mobilize the underserved. Here's a story I'm proud of:
Campuses proliferate with discarded masks but have no plans for recycling.
Aastha has won the Investintech - CAJ Journalism Scholarship for her journalistic work and submissions:
---
Selection Jury's Feedback
Our selection jury has reviewed and evaluated each submission closely, looking at the student's work from a journalistic point of view. Below is the jury's explanation of why they chose the winning submission.
"The approach towards putting the story together involved some data journalism work that is commonly done by data journalists in the industry, including extracting survey results from a raw dataset on an open data portal and interviewing primary sources. She pulled on relevant sources and focused on key areas to help put the story together. While more of the analyzed data could be presented throughout, the work behind the story demonstrates a strong potential for what can be expected when constructing a data journalism story. The non-data components of the story provided a good narrative and an insightful look at what impact current hybridized learning environments have had on young students during the pandemic."
---
Here is what the new recipient had to say about receiving the Investintech - CAJ Scholarship:
I feel honoured to have received this year's Investintech – CAJ Journalism Scholarship. This award stands as a wonderful opportunity for aspiring journalists to experiment with data in ways that can create unparalleled stories. Moulding numbers into visually interactive ideas not only helps the audience relate to the stories, but also restores their faith in journalism. Data journalism eliminates subjectivity and adds credibility to the story, in a way like no other form of journalism can.