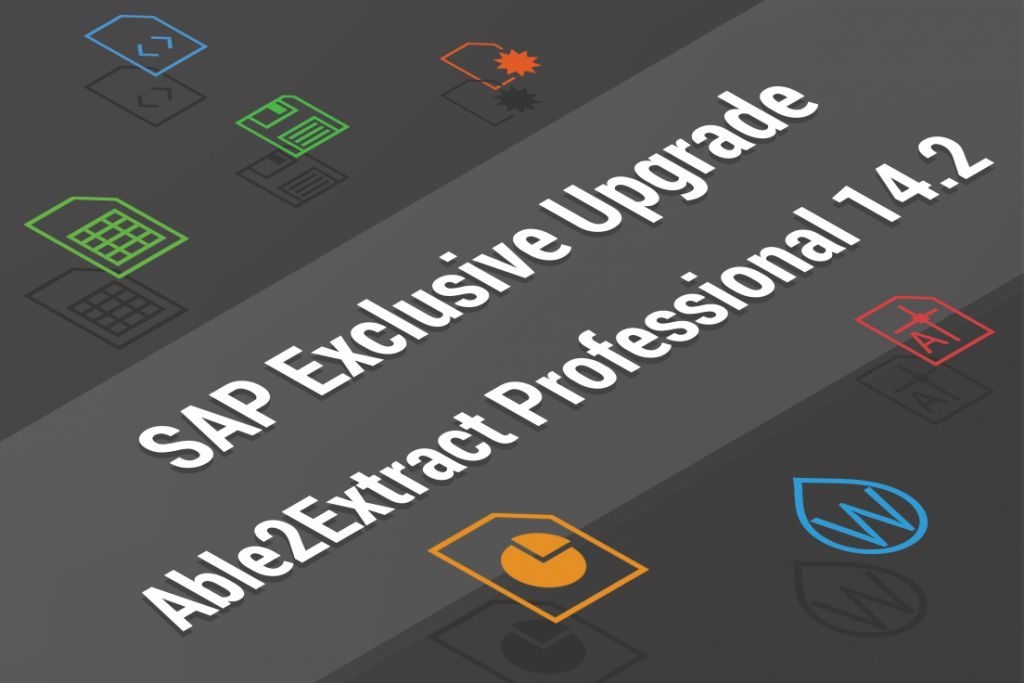 As all of our long time users know, we've been releasing exclusive builds each year as a way of seeing what you'll find in the next major version upgrade. Well, the time has come yet again, and we just released Able2Extract 14.2 today!
These builds are always exclusive and are only available to our Software Advantage Plan (SAP) subscribers before it hits Able2Extract 15.0. So, if you haven't signed up for our SAP program yet, but are looking for a reason, this may just be it.
Here's what you have to look forward to in the latest Able2Extract 14.2.
What's New In Able2Extract 14.2?
The one major change we made to the software can't be hidden. We've given Able2Extract a makeover and have totally revamped the user interface! However, the changes you see are more than just skin deep.
Every change you'll see is not only a fresh new take on where Able2Extract is headed, but each of the newest changes are positioned to make the way you work easier and more effectively.
Say Hello To The New Start Page!
We'll start with the most obvious change that hits you once you open Able2Extract 14.2: The Start Page.
This is essentially a dashboard where you can quickly get started on anything you may need for the PDF task at hand. Instead of being tucked away under menus or up above on the toolbar, your Files, interface working options (Light mode and Dark mode) and Recent files are right in front of you.
Not only that, but this page acts as your Able2Extract "homepage" where we'll be posting relevant links, promotions, and easy ways to leave your feedback on our software. This new link area will be updated from time to time, so keep an eye on it and you'll be updated on all things Able2Extract Pro.
Gain Quick Access To Popular Functionalities From the Menu Tabs
Another obvious change we made was a switch from the usual menu structure to a tabbed-style menu. It's now more functional than before. This time around, PDF conversion commands aren't the only features in the toolbar area.
All PDF features get their own space. Under each of the tabs, we positioned the most commonly used options for the task you're performing:
File – Create, save and print PDF or adjust page setup and view document properties
Convert – Choose your output format, copy text and snapshots, and batch convert
Excel– Interact with PDF tables and manually adjust rows and columns
Sign and Secure – Add signatures and file encryption
Document – Edit PDF pages and add bates numbering
Content – Edit PDF text, add shapes and images
Form – Edit and create PDF forms
Review – Add annotations to PDF pages
Help – Access help files, activate tips balloons, and find us on social media
Now you can work in the same toolbar area and in the same manner no matter what the PDF task is. By being able to click and access the PDF functionalities you need, the layout will keep your work habits with major PDF tasks consistent.
Work More Comfortably In Either Dark Mode Or Light Mode
Everyone is used to staring at a screen for hours, and when they do, they usually like to dim the screen. Able2Extract now makes this possible. This interface offers up the option to switch from Light mode to Dark mode right from the Start page or the footer bar. If you're a night owl working long sessions, you'll definitely want to check out Able2Extract in Dark mode.
Access Options, News And Product Tips From The Side Panel
The new interface is now more engaging. With every PDF task you're performing, you can quickly see the available options. While we moved the most commonly used ones from the side panel to the tabs, you can access other options in the side panel. This is displayed by default, but you can click on the double arrows to close the panel and tuck it away until needed.
The side panels are also the place where you can find tips, promotions, and Able2Extract news. We've included the most important How-To guides to start you off, so you have tutorials and reference guides when you need them:
Subscribe To Our Software Advantage Plan & Help Tweak Able2Extract
Ready to get started?
SAP users can access this build through their portal. If you aren't a member yet, you can subscribe to our Software Advantage Plan program and become one of the first users to try out this build.
Our subscription-based support service gives you a number of added extras. Not only do you get access to exclusive builds like Able2Extract 14.2, but you also get advantages most users don't, such as:
Priority support via phone and email
Access to a personalized web portal
Special volume discounts
Free Access to all minor products updates and major upgrades
When you consider that the price of a subscription is cheaper than the cost of an upgrade (which are free with SAP), this plan becomes a groundbreaking deal!
For more information, visit our Premium Support page to join the program and help us build a better Able2Extract by sending us your feedback. We'd love to hear what you think!