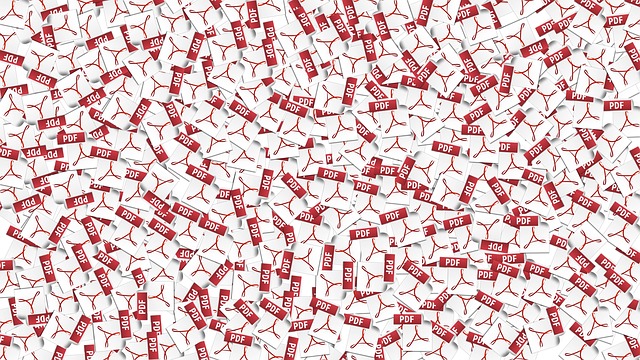 When you have a PDF document and are strapped for time and resources, it becomes a challenge: how much and what exactly can you accomplish with your PDF tool?
As an Able2Extract user, you've probably wondered the same.
So this week, we're uncovering ways in which you can streamline your PDF productivity with  Able2Extract Professional.  
Open PDFs Instantly
First thing's first–opening your PDF document. Normally, you would have to open up applications from your desktop, double click and then wait for the application to open in order to get your PDF file opened.
But with Able2Extract, none of that is needed. You can simply drag your file onto the Able2Extract desktop shortcut to open your file. No clicking necessary.
Forget About The Mouse
One thing that's true when working with software (especially for programmers and developers) is that working without a mouse is actually faster. And this is true with Able2Extract. If you've worked with the program before, you'll notice some shortcuts listed in the menus. Essentially, this means that with Able2Extract opened, you can perform a whole PDF to Word conversion with just a few keystrokes.
Multitask Your Way Through PDFs
Once opened, your file will be displayed in the Able2Extract window. Now if you're used to Adobe Reader, then you know that you only open one PDF per window. So if you have two files to work on, you'll have two windows open, which means toggling back and forth or opening a new window.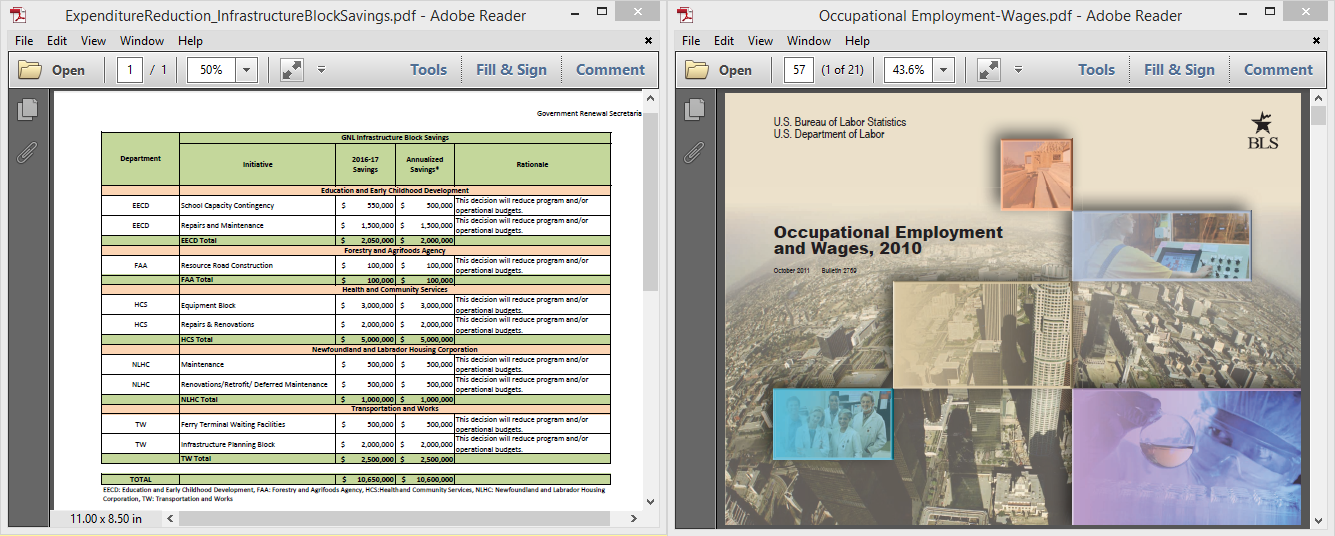 Wouldn't it be great if you could cut down on that time and make your digital workspace a bit more effective? That's where Able2Extract's tabbed interface comes in handy. You can have multiple PDFs opened at one time in one window and work on each PDF as needed. How's that for multitasking?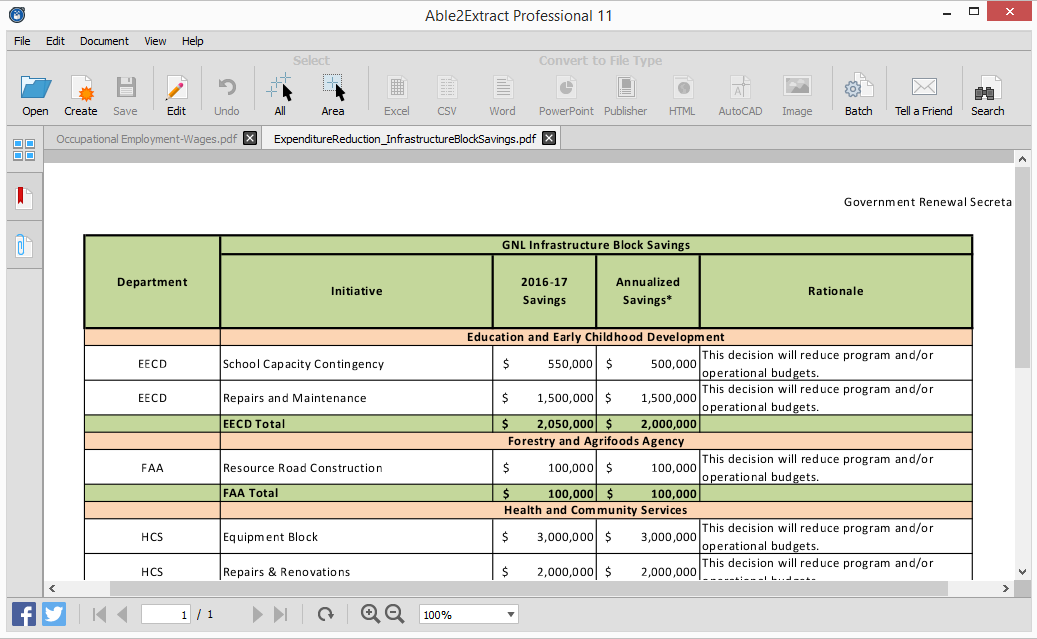 Skip The PDF Conversion Process
While most people would convert a PDF to simply edit the content, you can skip the conversion step entirely and start in on editing the content. All you have to do is hit the Edit button on the Toolbar.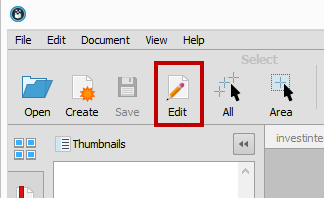 You can edit them and work to correct errors here and there, making corrections on the spot regardless of font, text color or size. You can customize that from a long list of options to make sure your edits fit right in.
Convert A Mountain Of PDFs In One Shot
Able2Extract is a powerhouse that can do double the work you'd be able to do on your own. It's Batch Conversion feature sees to that instantly.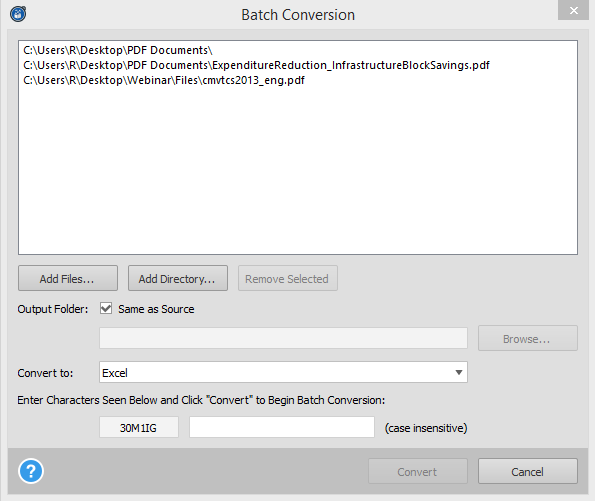 Just set up your files for conversion by selecting them from your computer, specifying an output folder, and selecting an output format. Then type in the characters, hit Convert and you're all set. Able2Extract frees you up to get other tasks done while your conversions take place.
Sidestep The PDF And Convert Directly To Excel
With document conversion, it can be tedious to go from one format to another if you don't have the right tools.  For Able2Extract, you don't even have to convert from the PDF in order to get content into an Excel spreadsheet. You can convert any printable format to Excel in zero to sixty seconds.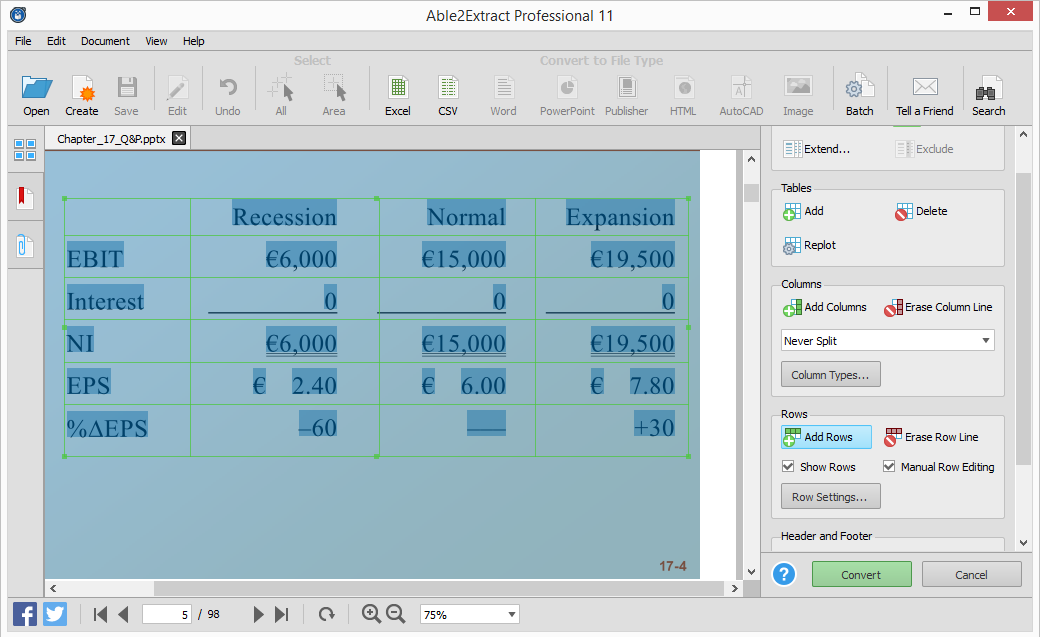 In other words, you get to skip ahead and transfer any tables you have– in MS Word, PowerPoint, or OpenOffice Writer, for example– directly into Excel.
Eliminate Post Conversion Work
Oftentimes, users are limited by how they convert their content. The digital space and content you work with are just that–digital. You can't do much but hope that your conversion comes out properly formatted.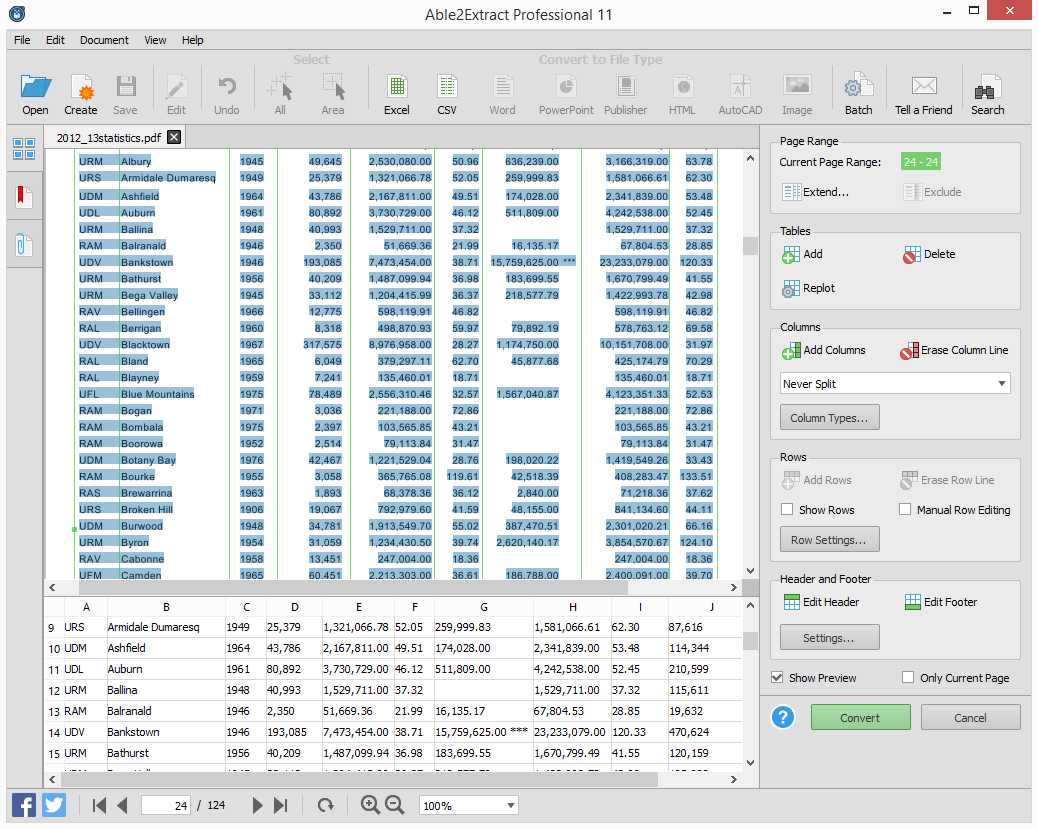 But with Able2Extract you can break that fourth wall to manually move rows and columns where you need them to be. The Custom PDF to Excel panel gets rid of the frustration and time consuming post-conversion edits that are the norm with most PDF tools by letting you get the conversion right the first time.
Are you ready to take your PDF tasks head on? Start with a free trial and see how much you can accomplish.