For the past couple of months, Linux related news has been popping up in one form or another. For instance, Facebook  launched Pages Manager, an app for managing Facebook Pages on your Android, which is based on the Linux kernel.  In addition, one of the biggest buzzes at CES 2013 this year is centered upon  Ubuntu for mobile phones.
Even gamers who are subscribed to Steam, Valve's software management and community platform for gaming, are now able to beta test the newly released Linux-based client.  And let's not forget that we just released Able2Extract for Linux, ourselves!
The platform is certainly building up an appeal to developers, manufacturers and users alike.  If you're an Investintech user starting to get curious about Linux or looking to make the switch yourself, we've put together a quick basic overview on the Linux platform, the nature of PDF tools in the industry, and how Able2Extract 8 fits in.
Let's Back Up A Bit: What Is Linux And What Are Distributions?
Like Windows, Linux is an operating system that first started out in 1991 as a terminal emulator by Linus Torvalds, who wrote the initial program to access UNIX servers of his university independent of an operating system.  What eventually emerged was the beginning of the Linux platform.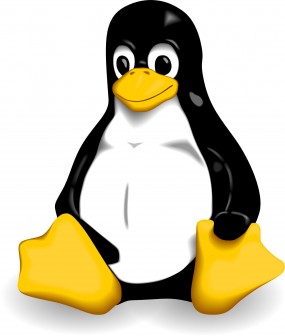 Because Linux was released and licensed as an open source project, developers are able to build different UNIX-like operating systems on top of its kernel (the Linux core). Each newly built operating system includes a collection of software applications, supporting utilities and libraries, the Linux kernel and an installer. Together the package is called a "distribution"  and are free to download and use.
These distributions have the same Linux kernel at heart, but are different in software, desktop, commands, and admin tasks. These elements vary from distribution to distribution. Today, you can find many different communities collaborating, maintaining, and developing tools to drive their favourite Linux distribution forward.
Making The Switch: Where To Go From Here?
As you can imagine, trying to migrate to Linux might be intimidating. Hearing about its filing system and about executing commands can easily scare anyone off. It takes know-how and a lot of time and effort to be familiar with the programmer-like nature of certain distributions.
Fortunately, for new users, there are distributions that do away with such a high learning curve.  Some Linux distributions you'll want to check out include Ubuntu (Canonical Ltd.), Fedora (Redhat), and Kubuntu (Debian).  They offer an easy introduction and transition to the Linux OS.   By visiting DistroWatch, you can get a good idea about just how many different Linux distributions there are.
Keeping Your Daily Tasks In Check: Software Alternatives
As a new user, you'd probably be looking to make an easy transition with software you're already familiar with. Well, you'll be happy to know that GUI based alternatives do exist for Linux. Free open source alternatives like Thunderbird (Outlook), GIMPShop (Photoshop) or OpenOffice.org (Microsoft Office), for example, can give you the same functionalities you need on a daily basis. commercial vendors have also been able to develop propriety licensed software for the platform despite Linux's open source roots.
A Brief Overview About PDF Utilities
With PDF converters, it may be a different story. Although there are many PDF utilities for Linux, most use a command line interface or  only perform one or a limited number of functions such as creating PDFs, splitting and merging, converting to one format, comparing PDF, or annotating and editing PDFs. In most cases, command line utilities like those will require a bit of technical know-how to get set up.  Full featured PDF applications you're familiar with, like Adobe Acrobat, won't be found on Linux.
Some workarounds with open source word processing suites like OpenOffice.org will let you modify PDF content to some or little extent with their importing (via extension) and exporting functionalities.  Yet, as full featured converters, they fall short.
Yes, We Have Able2Extract For Linux
This is was one of the main driving forces of why we developed Able2Extract for Linux—to fill that gap.  For a long time, Able2Extract has been only available to Windows users, but many non-Windows users wanted to take advantage of the PDF software too.
Well, we were listening.  Now the PDF converter is compatible with the most popular desktop oriented distributions, Ubuntu and Fedora.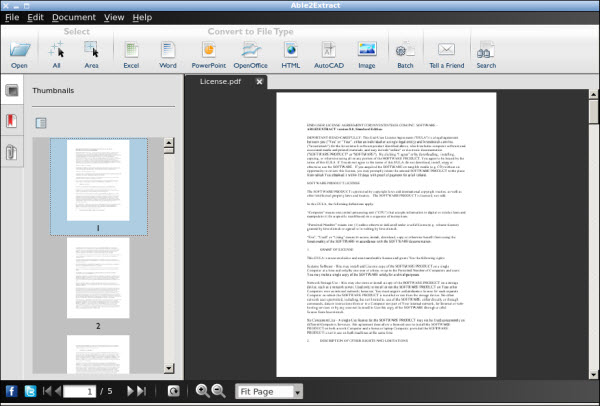 Able2Extract can perform different PDF conversions, allowing you to convert to formats like HTML, Text, AutoCAD, and Open Document Formats native to Open Office—Writer, Calc and Impress.
No extra utilities are needed for batch conversions, selective conversions, or viewing your PDF files. Those functions come included and are all built-in, making it that much easier to get things done.
The Linux platform has a lot to offer, and no doubt we'll be seeing more developments in the industry.  So next time you decide to take a serious look at a Linux distribution, you can rest assure that not everything about the switch has to be difficult!