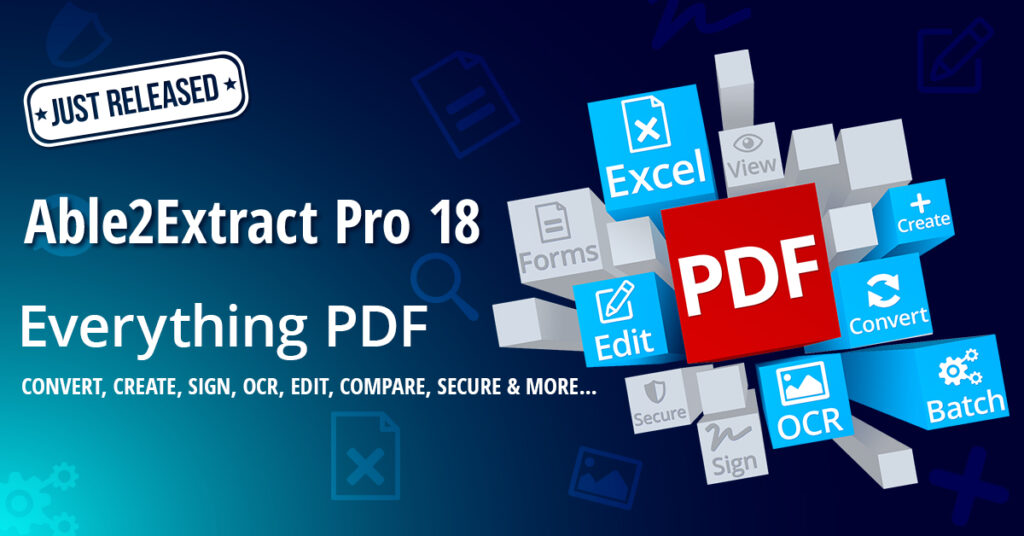 We're excited to announce that we just released Able2Extract Professional 18!
The new Able2Extract Professional 18 is aimed squarely at providing you with a top notch user experience when working with your PDF files by focusing on under-the-hood improvements that'll boost your productivity.
We started with providing you with more advanced table recognition and extraction, as well as improvements made to the text recognition technology. We've even made tweaks to give you better PDF handling.
Moreover, you get tighter security across all platforms (Windows, macOS, and Linux) with boosted protection against the most recent cyber security threats. Lastly, we included overall performance enhancements to deliver improved PDF conversion process.
Find out what these new updates mean for you and your workflow. Here's a closer look at Able2Extract Professional 18!
What's New in Able2Extract Professional 18?
Able2Extract Professional 18 is technologically enhanced for a better PDF conversion and user experience for smarter, and faster extraction of important PDF data.
Enhanced Custom PDF to Excel Table Recognition
Able2Extract Professional is the leading tool for converting PDF tables into Excel. The Custom PDF to Excel conversion feature, normally used for the more advanced extractions, has been tweaked for better table recognition technology.
Improved Detection Of Tables With Similar Structure
Work seamlessly with the data you need. Able2Extract's tabular data detection and column separation is fine tuned to ensure that similar table structures are properly identified. This provides you with more control over pulling out the data in multiple tables that are similarly formatted.
Improved Separation Of Tables With Column Headers
This new version gives you enhanced table recognition for complicated PDF table structures. Able2Extract Professional 18 is now smart enough to pull out multi-column PDF tables containing single headers just as you see them in your PDF. So, when you extract them into Excel, you can perform precise calculations and analysis on the data without first having to reformat your converted results.
Improved PDF Text Recognition
Able2Extract has also gotten improvements in text recognition technology. Simply put, this update pushes the software to automatically correct and extract text from your PDF. It has been improved to generate text up to five times more accurately than before. Convert the text in your PDF documents to Excel, Word and more as you normally would, but get better conversion results the first time around.
Better Support for Complex PDFs
With Able2Extract Professional 18, you can work seamlessly with complex PDF files better. The conversion and rendering engine in Able2Extract comes with better support for handling and converting non-standard and complex PDF documents. Convert PDF content that contains issues with fonts, oversized embedded bitmaps, and digital structures with ease.
Advanced Security Improvements
We know that security is a priority and Able2Extract Professional 18 has included updates to ensure that you can work on your PDFs with peace of mind. It has been updated to protect you and your sensitive data from more than 15 reported vulnerabilities related to OpenSSL and Ziplib technology across all Windows, macOS, and Linux platforms. You can perform PDF to Excel conversions with Able2Extract Professional 18 knowing that your system, data, and tasks are kept safe and secured.
Increased PDF Conversion Performance And Speed
We know that when it comes to PDF tasks speed is a priority. That's why we've also upgraded Able2Extract's conversion performance levels by up to 20 percent. The conversion speed has been enhanced to prevent slow conversion hang ups, allowing you to work more effectively and in line with your deadlines and workflow.
Improved Compatibility With PDF Creation Technology
Finally, PDF Creation has also been improved. This latest version provides better compatibility with the latest version of Ghostscript, the technology behind creating PDF files.
Able2Extract Professional ensures that you can reliably create professional-looking PDFs from your documents, images or spreadsheets with the latest in PDF creation technology.
Are you ready to boost your PDF productivity?
Test out the latest Able2Extract Professional 18 with a 7-day free trial below or upgrade your old Able2Extract Pro license now!