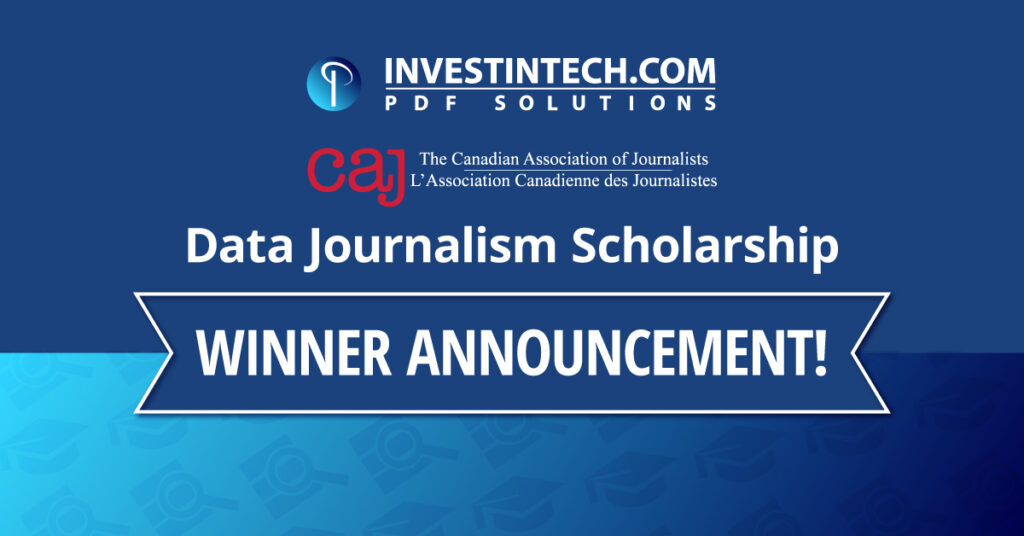 Since we launched the open call for the second annual Investintech – CAJ Journalism Scholarship back in October, there have been many disruptions and regional lock down restrictions put on students and educational institutions. 
The COVID pandemic has made it harder for students to focus, study, and keep the same levels of academic achievement. Despite that, Canadian and journalism students have still managed to work hard in defining the next level of journalism with their 2020-2021 scholarship submissions. From this year's pool, the Selection Jury were able to pick out a winning submission. 
Today we're honoured and excited to announce the winner of the second annual Investintech – CAJ Journalism Scholarship winner! Our 2020-2021 scholarship recipient is:
Brooklyn Connolly
Brooklyn submitted her story highlighting the rise in numbers of Indigenous women in Nova Scotia jails. With her storytelling skills and ability to sift out and integrate relevant data, she was able to shed light on a topical issue. Brooklyn attends the University of King's College and is working towards a bachelor's degree studying journalism.
Brooklyn is the official recipient and winner of the scholarship prize, which includes a one-time $1000 CAD cash prize, a free pass to the national CAJ conference and the free 1-year CAJ membership.
You can check out Brooklyn's winning submission and work on the scholarship Winner's page.
We'd like to thank the Canadian Association of Journalists (CAJ) for partnering with us on this scholarship. We're grateful for their collaboration and on-going support to help students get a start in journalism. Also, many thanks to the Selection Jury for lending their expertise, time, and effort in reviewing all the shortlisted candidates to pick out a worthy recipient.
Lastly, we want to acknowledge and thank all the students who entered the scholarship. We appreciate the work and effort you've all put into your submissions. Please know that while there is only one recipient each year, anyone who entered a submission and did not win is more than welcome to enter again next year.
Until next time, tune in and keep an eye on the main scholarship page for the 2021-2022 open call for submissions.