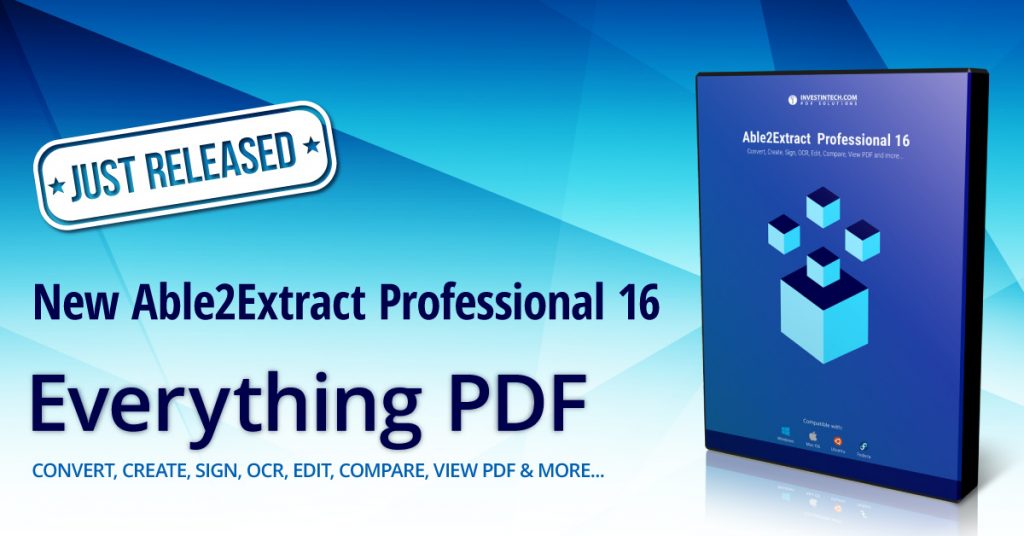 We just released Able2Extract Professional 16. The latest features in this newest version push what you can do with PDFs further with a versatile document comparison feature and the capability to preserve spreadsheet formatting and styles thanks to our new Smart Layout Detector.
Able2Extract Professional 16 focuses on allowing users to work more deeply and accurately with digital documents and tabular PDF data.
Visually Compare Two Printable Documents On The Spot
For the first time, Able2Extract Professional 16 lets you view and compare two printable documents side by side. You can open two documents that aren't in the same format, such as a PDF file and an Excel spreadsheet, to check and see if there are any differences between the two files.

By opening your documents via the Compare tab in Able2Extract Professional, you will be able to compare either the text, shapes or bitmaps in the documents. This new feature makes it visually easy to spot differences by either highlighting similarities or any elements that are unique to one of the documents.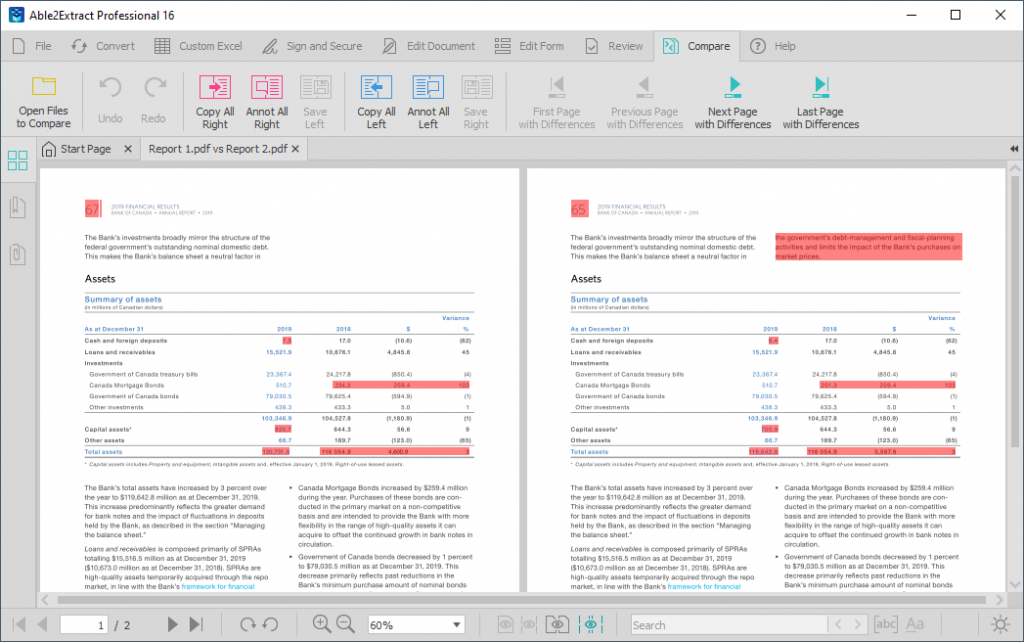 With a new comparison context menu, you get easy-to-access functions which you can use to annotate, copy and save any discrepancies into a new PDF file.
This is super helpful when you have lengthy digital documents and need to analyze any changes or discrepancies in the content quickly and on the spot.
New Smart Layout Detector for Picture-perfect Excel Output
This latest version takes accurate table conversions to the next level. Able2Extract Professional 16 is powerful enough to preserve your table's original cell properties and style elements when converting to Microsoft Excel spreadsheets.
The newly added AI-enhanced Smart Layout Detector closely inspects the original PDF table properties and various style elements and accurately transfers them to Excel spreadsheets, ensuring picture-perfect table output.
You can preserve the cell background color, cell border color, the thickness and dash pattern of those cells and even retain the cell merge information.
This means you can start working with the data in cells without having to reformat and color code your data again. Your cell and style elements remain intact.
Get Pinpoint Accuracy with Cursor X and Y Coordinates
Our Footer has been the place to access PDF viewing functionality. Now it is also home to the latest in Able2Extract Professional's enhancements: Cursor X and Y Coordinates.
With this new feature, you can get a glance at the cursor's precise position on the page. Both X and Y coordinates show you the exact distance between the upper left corner of the page and the position of your cursor. By default, this is set to in inches. However, for pinpoint accuracy, you can set the coordinate units to display in cm, mm and points.
This latest feature is targeted at giving you more precision while in either Custom Excel, Edit Document, or Edit Form modes. With the help of coordinate measurements in these modes, you can set up evenly distributed tables, place and layout form fields accurately, and line up newly added text properly.
Enjoy a Better PDF User Experience with New Context Menu Options
This latest version has boosted the user experience by expanding upon the context menus that were introduced in the previous Able2Extract version. Instead of the side panel, you have the option of right-clicking to access all the important features and functions while custom converting PDFs to Excel, editing PDF documents, editing PDF forms or comparing document differences.
Click on a selected element and you have the essential options you need to work with that element in a neat and convenient dialog right in front of you.
Upgrade to Able2Extract Professional 16 or test it out for free below.