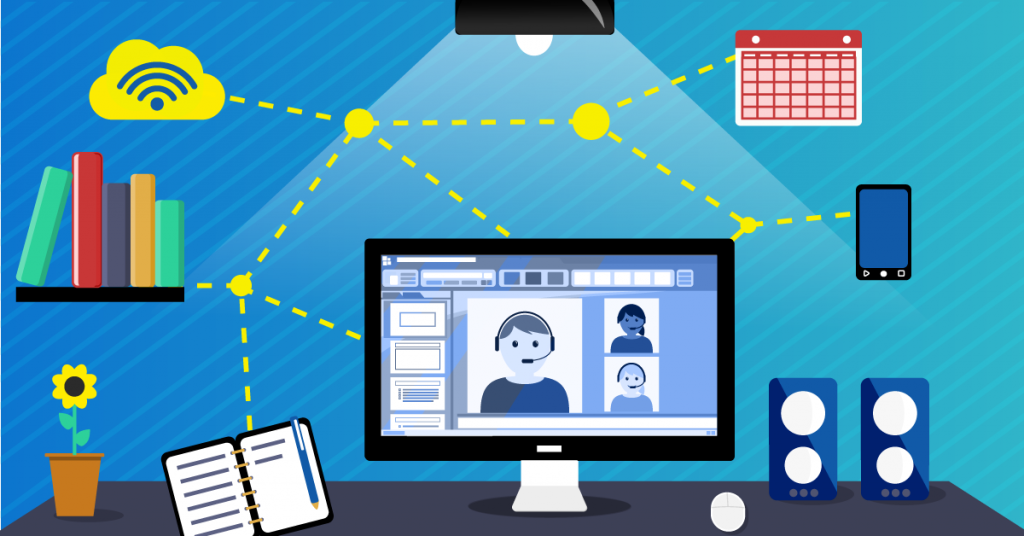 A week into the new school year during the pandemic. It is a new normal that is trying to function as normally as possible with social distancing and safety measures in place.
Most universities in Canada, for instance, have implemented a blended method that combines both online and in-person learning environments, while younger students across Ontario are also being given the option of attending in-person or attending online. Definitely a change that can disrupt the learning process.
Online learning will rely heavily on new technological platforms and routines. The Internet is key, of course, and while we normally advocate doing things digitally and remotely, such a method isn't ideal without the right tools to supplement your study plans.
For students, studying remotely now during the pandemic is lacking in things like hands-on lab learning, personal engagement, and one-on-one feedback – all of which can impact your focus and progress.
Essentially, the new normal of this pandemic will be putting the online e-course model to the test like never before. To help with that process, though, we put together a list of some helpful tools and sources that can tweak your studying sessions, your school's online work, and your remote learning process.
Take a look.
WolframAlpha – This computational search engine has been around for awhile. If you haven't heard of this tool yet, you're missing out on a powerful resource. Similar to Google, Wolfram Alpha lets you type in a question for which it will provide an answer – literally. Instead of a search page of articles you have to sift through, you get hard answers.
Quora – We all know that the best answers to questions are the ones that are backed by experience. This forum is a good go-to resource for that if you need some answers from verified professionals on any question that you may have. To boot, you can answer questions yourself.
PomoDoneApp – Where time management is difficult for those who aren't used to working behind the computer at home, the Pomodoro technique helps to keep you on track. For every 25 minutes of uninterrupted work, you take a 5 minute break. PomoDoneApp takes this onefurther by keeping track of your workflow by integrating your task management tools like Basecamp, Trello and Evernote.
Freedom – To help with distractions that abound online, there are website blockers like Freedom that can prevent distractions. It can block the typical distracting sites like Facebook, schedule in your work session and get Freedom to start blocking sites automatically, sync your list across devices, block the internet for offline work, and even enjoy the ambient white noise feature for super-focused work sessions. You can also take advantage of this as a Chrome extension if you don't want to install this on your desktop.
Collaboration – Keeping connecting online is at the heart of learning online. Without the natural back and forth discussion needed for group work and instructional feedback, it's all too easy for your progress to fall to the wayside. The two most popular ones like Slack and Zoom help you connect with others on group work and class assignments by keeping you connected as in the case of Slack, and keeping you face-to-face with teachers with Zoom.
IFTTT – True to its name, If This Then That follows that exact rule to connect and automate your everyday tools and tasks. With the amount of services IFTTT integrates, the possibilities on your productivity are almost limitless – Dropbox, Google, Hotmail, and Evernote, just to name a few. We've covered this online service before with some handy and fun IFTTT recipes that work with Microsoft Office 365, showing you the potential of this online service.
Evernote – This app is one of those handy applications that you can access anywhere for simple note-taking. We peg Evernote for this list because you can keep your notes highly organized into notebooks by tags and share them across the web via social media, email or shareable link. It makes keeping track of ideas, lectures, and working with others simple.
Google Keep – If you spend a lot of time with Google, you have the option of using Google Keep. The app is a notepad that syncs automatically and connects to Google Drive. With one click you can copy your notes to a Google Doc in an instant. You can also record voice notes, make check lists, and create drawings. It is also possible to send your notes to other apps and set up reminders for them. If you're a Google user, this is a perfect choice for rounding out your workflow.
Online PDF to Word Conversion – For one-off PDF conversions you don't want to spend the money on, you can use our online PDF to Word converter for quick and accurate conversions without having to register or submit your email address. You simply upload your PDF and click on Convert. PDF creation is also possible for those assignments you need to submit in PDF format. 
GoogleDocs – If you still aren't using GoogleDocs, you should. This online word and document processor is rich in features and easily accessible. It makes collaborating on group writing assignments super easy by letting you track edits, add comments, invited collaborators, and using add-ons. There are a number of apps from Google to help you write your papers from start to finish. All you need is a Gmail account which is easy to create.
When everyone is working and learning online, you need all the help you can get. Just integrating a few of these into your studying workflow can go a long way to turn your remote learning experience into a more effective user experience that will get you back on track.