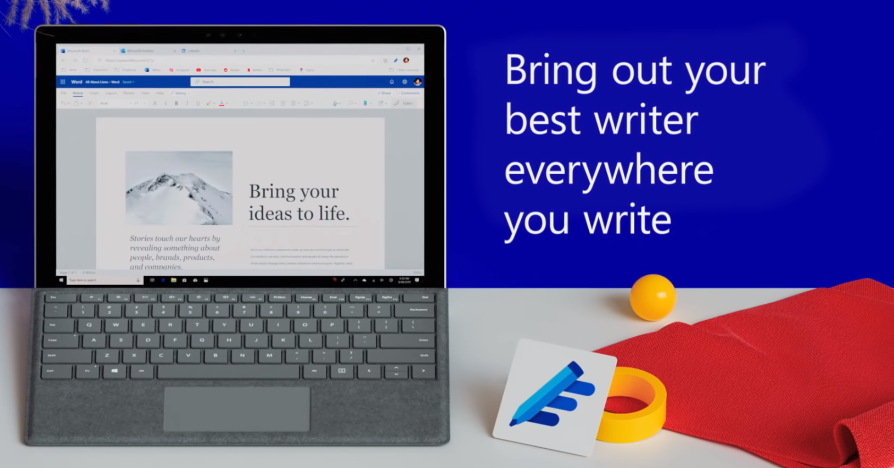 Whether you're a student researching and writing a paper, a business professional sending an email, or a freelancer revising a draft, being able to edit and correct anything you write is important.
This isn't a new concept. You're no doubt familiar with grammar and spelling checks in MS Word. However, when writing digitally and online is becoming a virtual staple in any type of work, it comes as no surprise that editing tools, add-ons, and document checking capabilities are becoming more popular, powerful and robust.
Google Docs has incorporated a native spell checker and suggestions, Grammarly has been one of the major standalone document checking tools on the market, and now Microsoft, who has been a major powerhouse in document creation and editing, has stepped into the game by building up its own editing tool: Microsoft Editor.
What is Microsoft Editor?
Microsoft Editor was released in March of 2020, and has been integrated into the digital tools you use the most for composing and writing.
It allows you to edit Word documents on the web and desktop, emails sent from Outlook.com or Outlook for the web, and across the web via browser extension. The Microsoft Editor tool is an AI-powered service with support for 20+ languages.
While Microsoft 365 users have access to additional features, there are essential features that all users who have a free microsoft account can use. If you haven't checked out the tool yet, here's a brief overview.
Bonus tip: A Beginner's Guide to Microsoft Office
Use Microsoft Editor in MS Word For Web
Like with any good editing app, this tool serves as your Microsoft Word editor and provides suggestions on how to improve the style of your writing with spelling and grammar.
Overall, when editing and creating documents in MS Word for Web, the feature is more easily accessible and user-friendly. You can expand it into the side panel when you click on the Editor icon in the toolbar.
You'll see:
Spelling suggestions (red underline squiggles)
Grammar suggestions (a double blue underline)
Refinement suggestions (a dashed purple underline)
The basic Spelling and Grammar feature is available to everyone with a free Microsoft account, which provides you with the essentials to proofread your content adequately with suggested revisions and spellings you can use.
Bonus tip: 
How To Write Better Research Papers In Microsoft Word
Get Microsoft Editor for Chrome and Edge
In keeping with the times and everyone's prolific sharing and commenting online, you can proofread anything you draft and post online.
You can install Microsoft Editor for Chrome and Edge as a browser extension. Once installed, click on the icon on the Microsoft Editor icon in the browser toolbar, and sign in to your Microsoft account.
You can change the Editor settings to exclude certain sites, show synonyms for spelling suggestions, privacy options and the usual settings for spelling, grammar, refinements and proofing language of choice.
When signed into Microsoft Editor online, you'll see it catch your spelling errors…
…and places for stylistic improvements:
The Microsoft Editor download is available from the Chrome web store and the Edge Add-ons marketplace.
Bonus Tip: Content Creator's Toolbox: Top 12 MS Office Productivity Plugins
Send Outlook Emails Reviewed by Microsoft Editor
Emails are another area in which you can take full advantage of Microsoft Editor's capabilities. When composing an email in Outlook.com or Outlook on the web, Microsoft Editor ensures your emails are solid and professional.
It is available for free to Outlook.com users with basic features and more advanced settings for those with a Microsoft 365 account as seen below:
When clicking to adjust the settings for a Premium account, you'll get a long list of specific options to tighten and polish off your message such as options for catching and suggesting revisions for the Oxford comma, colloquial phrases, overuse of conjunctions, double negatives, split infinitives, slang, vague quantifiers, first person references and more.
Because emails are an important communication tool – and sometimes the only form of communication with others, you may want to consider an account with Microsoft 365, if emailing is a big part of your job and you struggle with crafting the perfect email.
Bonus Tip: 9 Handy IFTTT Recipes To Automate Office 365 Tasks
Conclusion
While Microsoft Editor may seem a bit basic in its capabilities, it is sure to improve over time. In fact, according to Microsoft's pages on their Editor, improvements are being made. It's worth checking out and giving a try if you like productivity tools that help you create content.
Visit the Microsoft blog for more details on the latest Microsoft Editor.