We're excited to announce that we just released Able2Extract Professional 15, and we know you'll be too. With a whole new look and major performance tweaks, Able2Extract is a PDF suite that caters to your working style.
Adding to its already complete set of PDF features, we gave this latest version a complete makeover. The new interface look is more modern, more versatile and customizable where it matters most.
On top of that, the latest version provides users with the ability to boost the PDF creation process and extract tabular data to Excel in a more refined manner.
In a nutshell? The all new and improved features make Able2Extract Professional 15 an even more valuable PDF tool. Below is a closer look at how.
What's New in Able2Extract Professional 15?
We improved Able2Extract Professional to emphasize you, the user. This latest version comes with features that streamline your PDF tasks more efficiently.
Revamped User Interface & Dark and Light Themes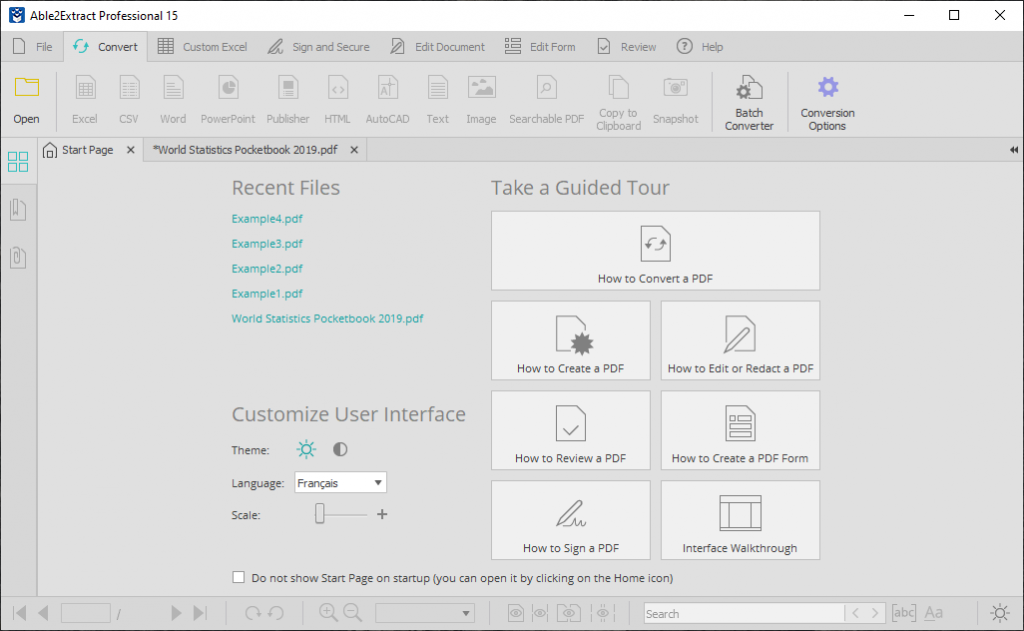 One of the major updates to Able2Extract Professional 15 is the newly re-designed interface, which you can't miss. We gave the GUI a complete makeover with a new ribbon-style tab menu toolbar that focuses on streamlining how you perform major PDF tasks and access the PDF tools associated with them.
In addition, we know that, in this day and age, everyone spends more and more time working in front of the screen. That's why we tweaked the interface with Dark and Light themes: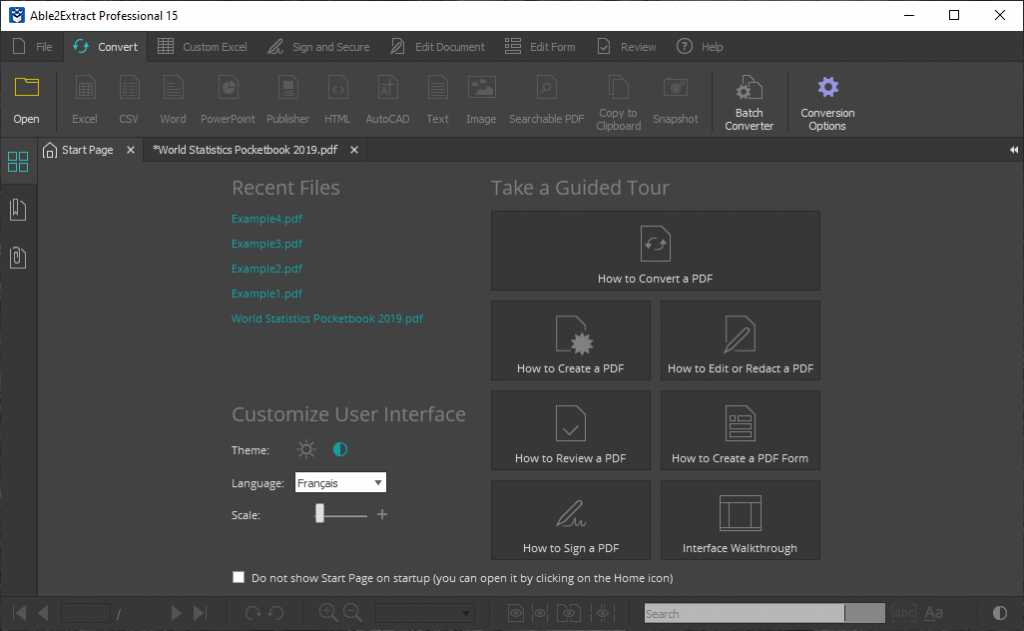 You can change the user interface with a single click and adjust it according to the lighting in your environment, reducing the eyestrain you experience on a daily basis.
Another major change is the Start page. This brand new addition to the interface provides you with a homepage from which to start anything and everything you need to do in Able2Extract Professional 15.
Additional UI and OCR Languages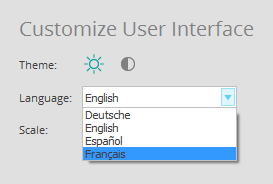 We've gotten a lot of requests for this next improvement from you guys and now you have it. The Able2Extract Professional's UI is available in different languages. Switch the interface to French, Spanish or German – it's up to you!
Also, this language update event extends to the OCR engine and scanned PDF conversions. Now, you can easily convert scanned PDFs that are in French, Spanish and German.
New Advanced Batch PDF Creator Tool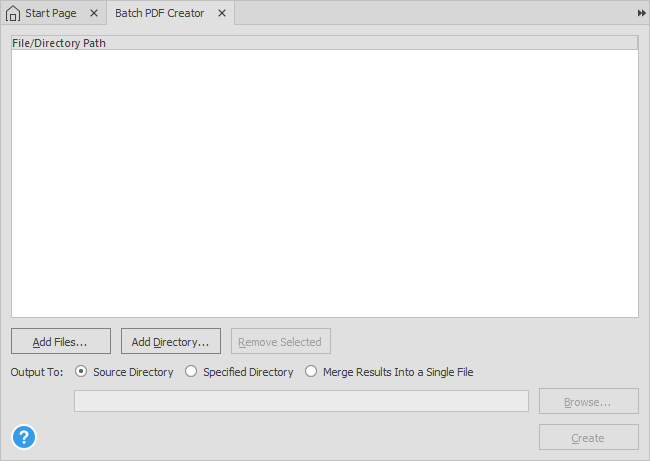 Able2Extract Professional 15 has also received a boost to its PDF creation feature. We'd like to introduce you to the new Batch PDF Creation tool!
Just like its name suggests, this feature allows you to batch create PDF files with only a few clicks. This batch creation feature includes creating PDFs from multiple source files, including other PDFs, with the added functionality of the Batch PDF Merge option.
Improved Batch Converter Tool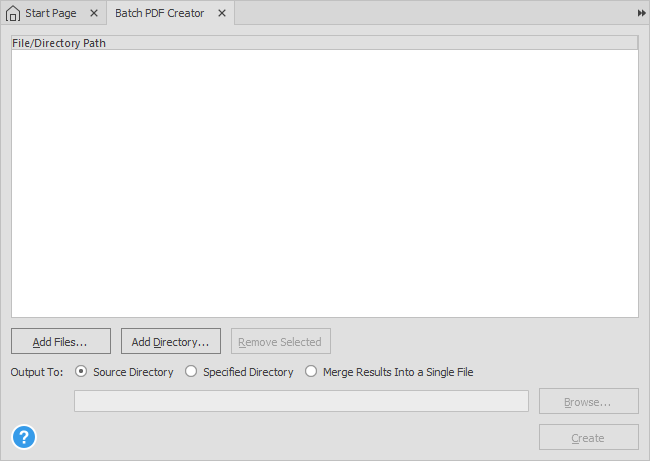 Just when you thought the batch conversion tool couldn't be improved anymore, we went and improved it! Expanding upon the batch converter tool conversion output, we've added the ability to batch convert PDF to HTML.
In addition, for uploaded folders with a variety of file formats, you can use the new Filter file type option, which lets you pick a single type of file for more selective control over the process. There's also newly added Merge Results Into a Single File option to convert multiple PDFs to a single output file.
Refined Control over Table Structures in Custom Excel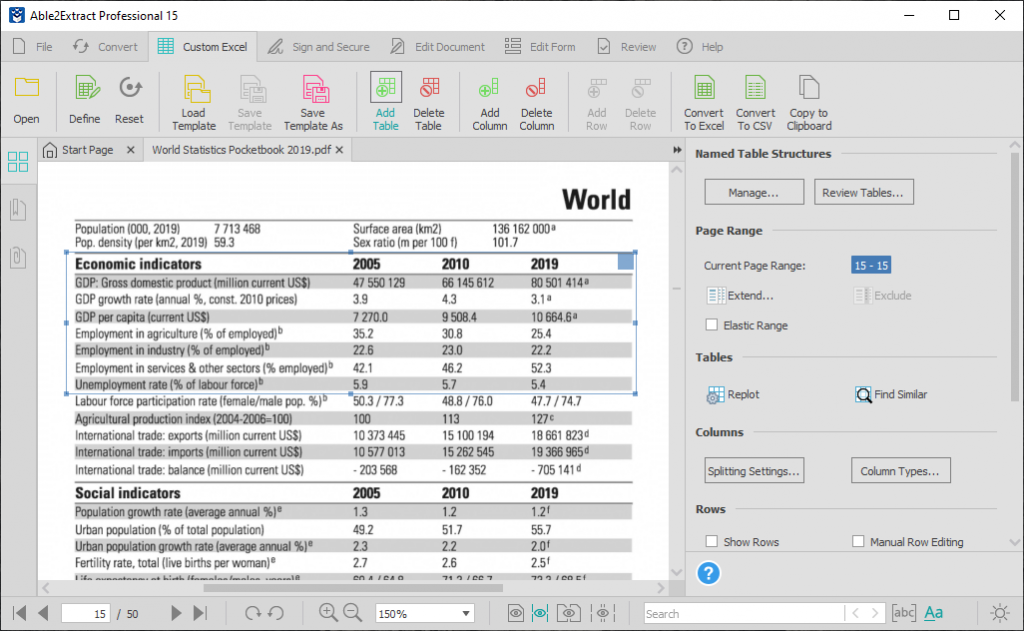 With this latest version, you get even more control over table structures. Where once you could only do blanket adjustments to table structure properties, you will now be able to set properties for individual table structures.
Additionally, double-clicking lines during a Custom Excel conversion will delete them, making manual adjustments faster and more intuitive.
Overall Performance Tweaks
On top of the new features, we've gone and tweaked a few other things. These may seem small, but when added to the other new features, they can pack a powerful punch. These improvements include:
Create a blank PDF document – Create a new blank PDF document from scratch.
Split PDF feature – Create a separate document for every page and split the document into even parts.
Search PDF function -The table search function works faster, shows all occurrences, and allows searching the document in reverse.
New Hand Tool – This new feature provides easier document navigation.
Optical Character Recognition (OCR) engine – Improvements include enhancements for bitmap quality before OCR and edge detection for raster-to-vector (R2V).
Try the latest Able2Extract Professional 15 – Free!
Ready to jump in? Try this latest version out for yourself with a 7-day risk-free trial.
Don't forget to give us your feedback! Give the new features a try and share your thoughts on our Facebook, Twitter, or LinkedIn page. We look forward to hearing from you!