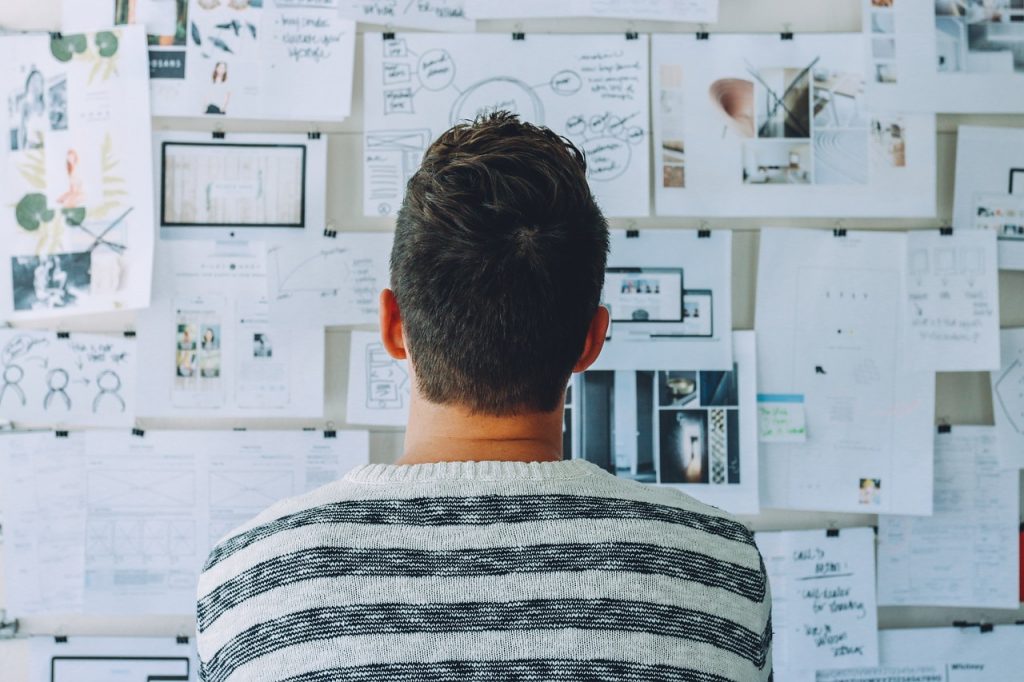 The Internet is everyone's main source of information. People perform online searches all the time. One disadvantage of the Internet, though, is how easy it is to publish wrong information.

With fake news getting the spotlight in the past few years, we've been forced to be even more vigilant about how credible the information we're reading about or writing on actually is. However, it's also forcing us as readers to personally take an active part in learning how to read critically and how to do proper research.

The following list of tools (in no particular order) will help you fact-check your online research, whether it be a video, an image or an article. These tools will help you tell the difference between fact and fiction.
1. Snopes.com
Snopes.com was started in 1994 and is well-known to researchers and journalists as it specializes in debunking the urban legends and misinformation you find on the Internet.

The site is pretty straight forward. It verifies articles and claims the old fashioned way with human fact checkers who write up articles verifying news topics with their findings. For any information you'd like them to cover, you can email a link to the site. Their writers will offer up the sources they looked up, so you, yourself, can follow the trail and see how they came to their conclusions for yourself.
2. FindExif.com
With people being able to modify images all too easily, it's hard to tell if an image is edited or not. FindExif.com allows you to take the first step in trying to determine if the image you have is original or is wrapped in fake location tags, backdated or hiding something.

How? FindExif.com works with the EXIF data, or metadata, of an image that's embedded inside the file. If the image is an original, you'll see details about the model of the camera, the image's timestamp and dimensions, among other information.

Just input the image URL through the tool and you can extract that data to take a closer look. You can then cross-reference those details with other sources online to pin down when, where and in what context the photo image was taken.
3. InVID
Unfortunately, online videos are just as susceptible to editing and tampering as images are. This is why this tool makes the list. InVID is a Chrome plugin that helps you to verify and debunk videos.

Once installed, this plugin lets you do a number of things to start digging into digital videos. You can:

Quickly get contextual information (from Facebook, YouTube videos),
Perform reverse image search on Google, Baidu, or Yandex search engine
Enhance keyframes and images through a magnifying lens
Query Twitter more efficiently through time intervals and many other filters
Read video and image metadata
Check video copyrights
Apply filters on still images
The one major benefit is that this tool lets users do their own basic video forensic investigation without having to invest a lot of time in acquiring major skills.

4. Reverse Image Search (TinEye)
This tool by TinEye is another quick way to verify an image. The tool is essentially a dedicated reverse image search engine that can be used to see if the image you have has been taken from somewhere online.

You can search by entering a URL, uploading your photo or by dragging and dropping your image into the browser while on the TinEye site. The tool comes with a Compare feature, which can be helpful to see how your image differs from the original, allowing you to see what's been cropped, taken out or edited.

The company offers browser extensions that work with Chrome, Firefox, Safari and Opera, so you can access the TinEye image search functionality from the right click context menu.
5. Hoaxy
Hoaxy is an online tool that allows you to "visualize the spread of claims and fact checking." The tool was developed to study how information is diffused on social media. In other words, you can ultimately see the spread of a hoax or claim and its corrections as it gets shared.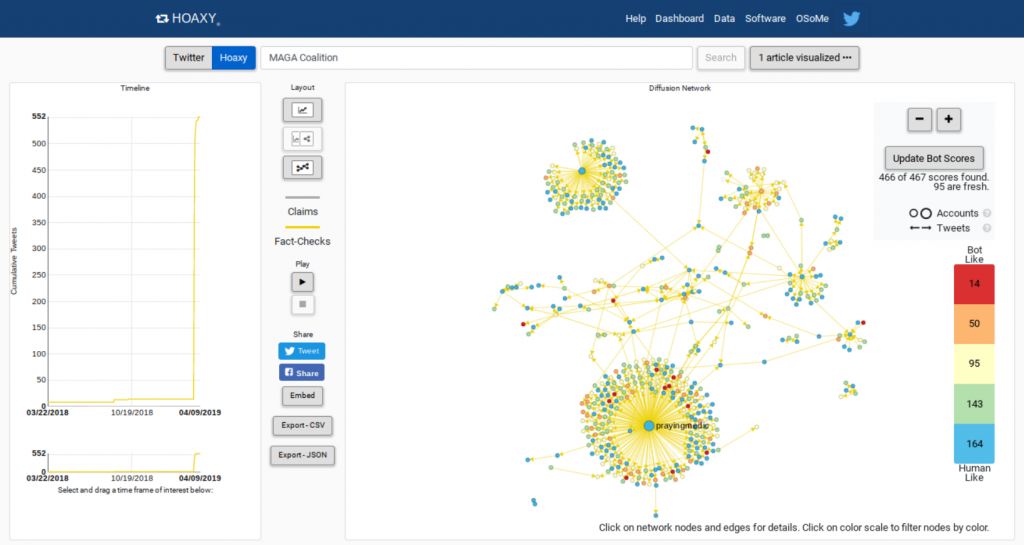 To start, just enter a search query or click on any of the existing topics (Trending News, Popular Claims or Popular Fact Checks), select whether to search Twitter or Hoaxy (fact-checking sources or misinformation sites), choose either Relevant or Recent search options and click on Search. You'll then get a good look at how the story has been spreading on Twitter from person to person.

This can be helpful in constructing a timeline on a story's development, which you can use to pinpoint if the story, at which you're reading it, is embellished or not.

6. Wolfram|Alpha
At first glance, Wolfram Alpha may seem like Google, however, it isn't. This is a computational search engine, which means that you can ask it specific questions and get answers you're looking for.

It can perform calculations on the spot, make comparisons, and provide localized data. This is in contrast to Google that, while offering conversions on currency, weight and metric units from the search bar, is still focused on generating search engine results and websites that will have the answers.
You can use it to easily verify statistics, raw facts or small details to check determine the credibility of an article.
7. twXplorer
Twitter can be a gold mine for time stamped referenced material you can use to verify news links, quotes or claims being made. To help sift through the number of tweets you'll find, try twXplorer.

This tool gives researchers more powerful capabilities than Twitter's search functionalities. Once you're logged in, you start by simply entering a search term. Then twXplorer generates results you can view in a few ways: the most recent tweets, tweets with common terms, tweets with hashtags, and via the links within those tweets. This helps you get a deeper look into the tweets on a certain topic being shared online. You can also do this with Twitter lists you created or are subscribed to. This way you can check out a more targeted stream easily and effectively.
8. Factcheck.org
If you want to double check what you hear on the news about the US, you can check in to Factcheck.org. It aims to reduce confusion and misinformation that appear in U.S. politics stories by monitoring and checking the factual accuracy of what you find online. Factcheck is also working in conjunction with Facebook to help debunk misinformation shared on Facebook.

Just like Snopes.com, the writers on the site document the research they find. They also have a number of sister sites and tools that will let you fact check other areas of interest, such as Sci Check and Health Watch.
Conclusion
The next time you read an article online, you can quickly double check to see if the claims you're reading about are, in fact, legit. With a bit of elbow grease and by fiddling around with one or two of the above tools, you can find the right tool-chain that works for you.

We don't have to be journalists or reporters, but it falls on us to perform our own due diligence that goes beyond Google to dig deeper.

There are certainly more out there that we didn't get on this list. Which tools do you use? How do you normally check what you read online?