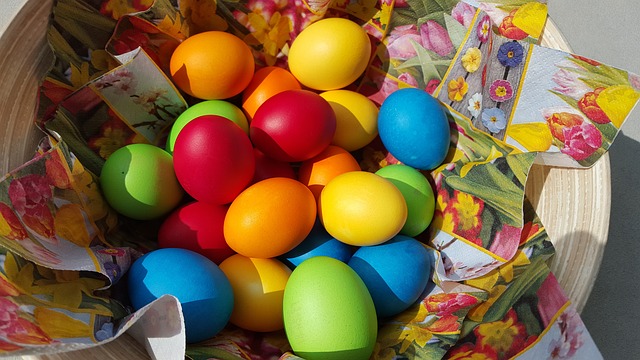 April, bunnies and colored eggs! Does that sound familiar? If so, you're right. Easter is almost here and it's time to surprise your loved ones and kids with the usual Easter holiday goodies.  
If you're an arts & crafts person who loves DIY decorations, you'll no doubt already be in the holiday spirit to create a unique Easter basket filled with anything and everything from chocolate bunnies, sweets, and colored eggs to greeting cards, toys, and tiny treasures.
Luckily, there are plenty of great looking DIY Easter basket ideas on Pinterest to inspire your own.
However, no basket is complete without the Easter greeting cards and gift tags to give your basket that polished, customized look. If you don't have the time to do that for a number of baskets by hand, you can easily find free Easter printables online.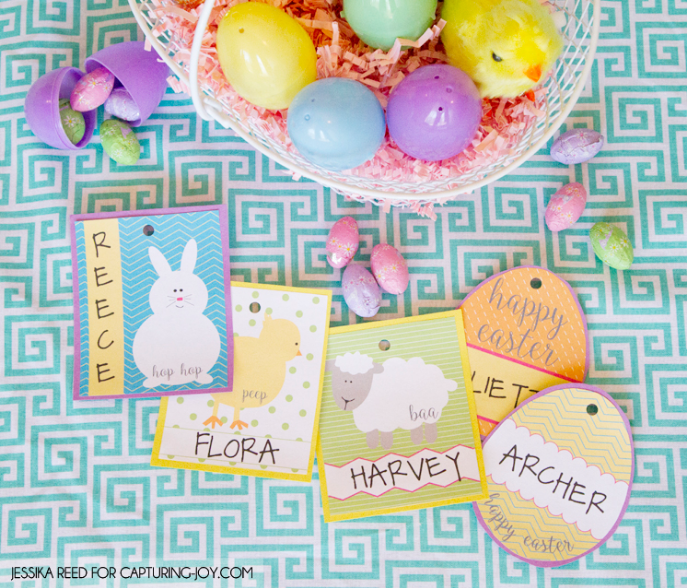 After you find that perfect easter greeting card and cute tags, like these Easter name tag templates on Capturing-Joy.com, you'll need to download the free template files and start personalizing them with names and personal notes. But that can be a problem.  
A majority of these pre-made templates come in the PDF format since it's the ideal file format for any content you want to publicly share with others. And as we all know, PDFs cannot be easily edited. So digitally adding names and messages can be a problem.
But here's a great solution to help personalize those printable templates. There are 2 main methods you can try:
PDF Conversion

— This allows you to easily convert any PDFs into the desired editing format, giving you the ability to make further changes and modifications by hand on the printed conversion results. This also includes inserting names, changing colors and adding personal notes onto cards.

PDF Editing

— If you need to change only some textual content or write directly within the template document, there's no need to convert the entire file. PDF editing allows you to select the PDF, open the editing panel and change any content in few clicks.
With Able2Extract Pro 11, it's possible to convert those PDF holiday templates into editable formats and edit your new files with ease. In addition, this comprehensive tool provides you with the possibility to change your PDF templates with a few clicks. Thanks to the advanced text editor, everything is done right inside the tool and on the spot.
Convert Your Easter PDF Templates
Here's how you can easily convert your PDF templates:
Step 1
Open your PDF in Able2Extract by clicking on the Open button

Step 2
Select the area of the document you wish to convert or choose the entire document.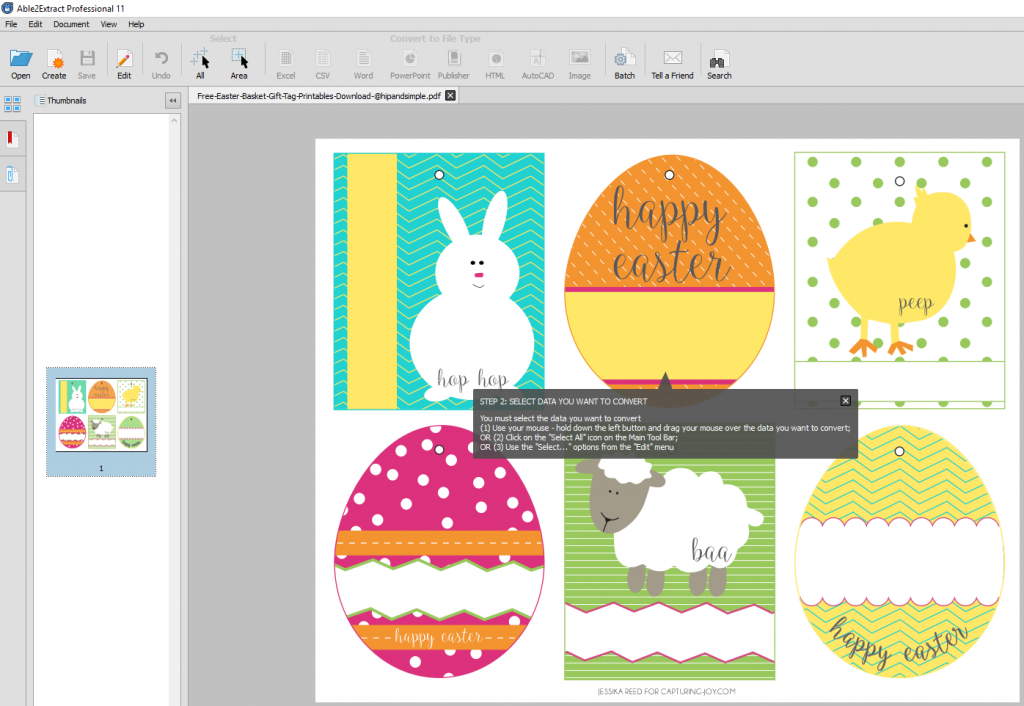 Step 3
Click on the file format you want to convert to.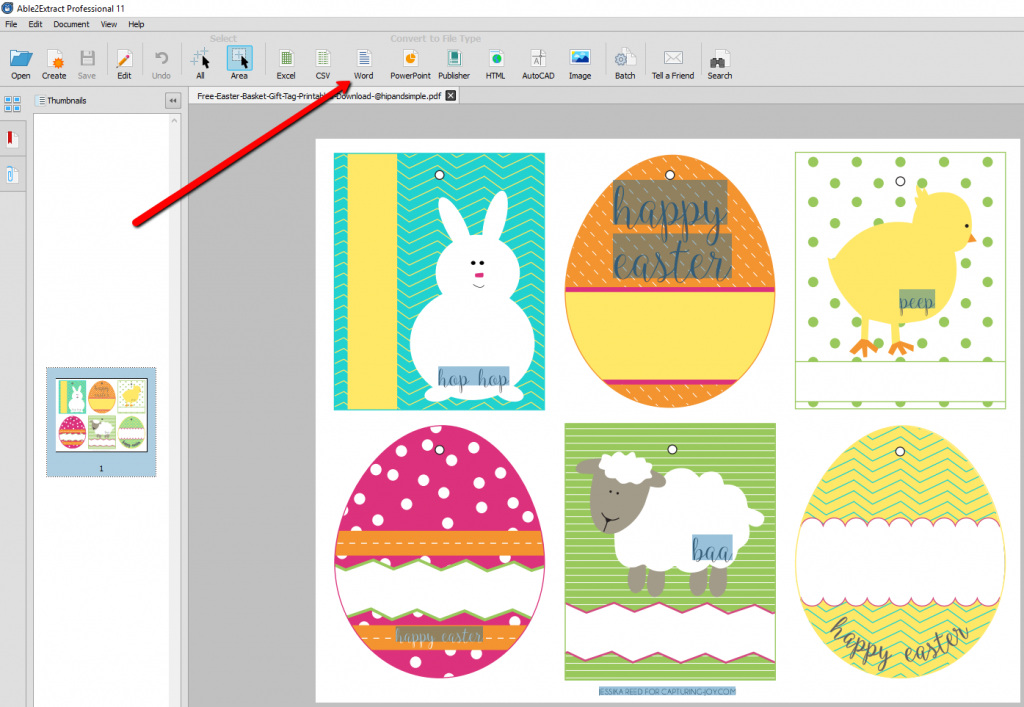 Step 4
Name and save your newly converted file.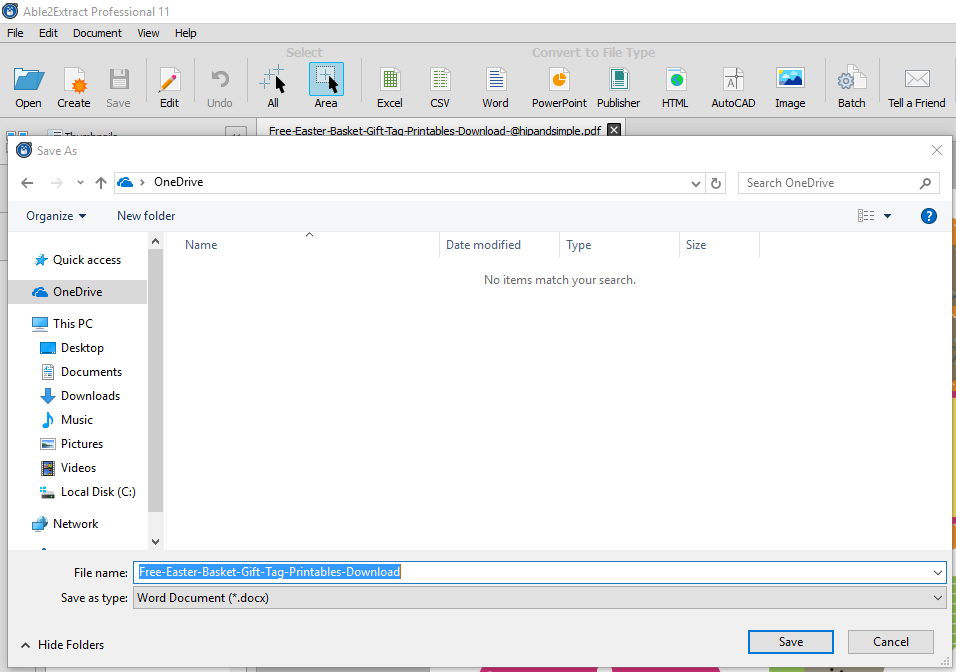 You can expect smooth, fast and accurate conversions that perfectly correspond to the original template files.
Editing PDF Easter Templates
If you wish to edit the template first, you can do it directly within the software. The Able2Extract 11 PDF editor can perform a number of different textual edits, no matter how big or small they are. You can change the text, insert images to your document or chose different looking shapes and make your content more unique.  Follow these steps:
Step 1
After opening your PDF template click on the Edit icon in the top menu bar to open the side editing panel.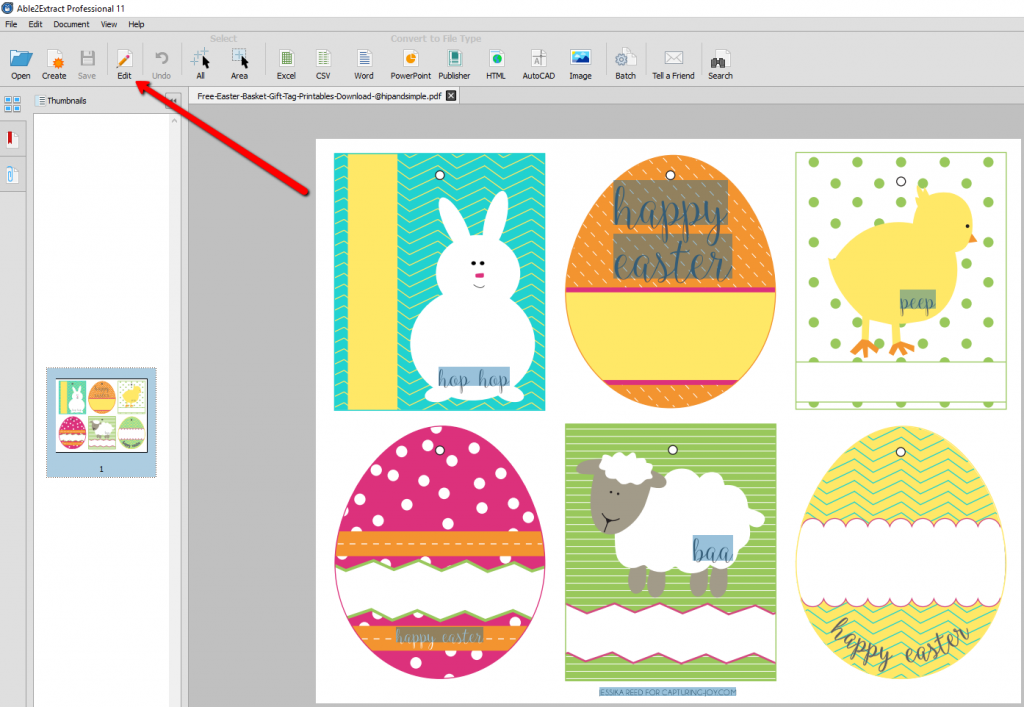 Step 2
Use this editing panel to add and remove text, change the font and color of the text or insert additional images or shapes  to the content.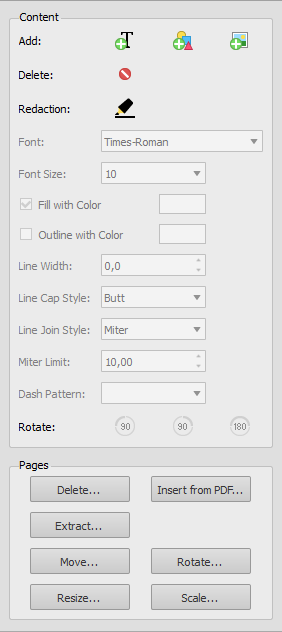 Step 3
Once you're done, just click on the Save icon to save your PDF edits.
After you've got everything in your template customized and saved or converted, all you have to do is simply print out your Easter templates and start decorating your baskets.
Happy Easter!