We're happy to announce today that Able2Extract 10 has just been released!
Continuing from the innovation and success of the last version, Able2Extract 10 comes with a number of great features. With PDF creation and editing you wouldn't think that it could get any more advanced than it already is.  But it has!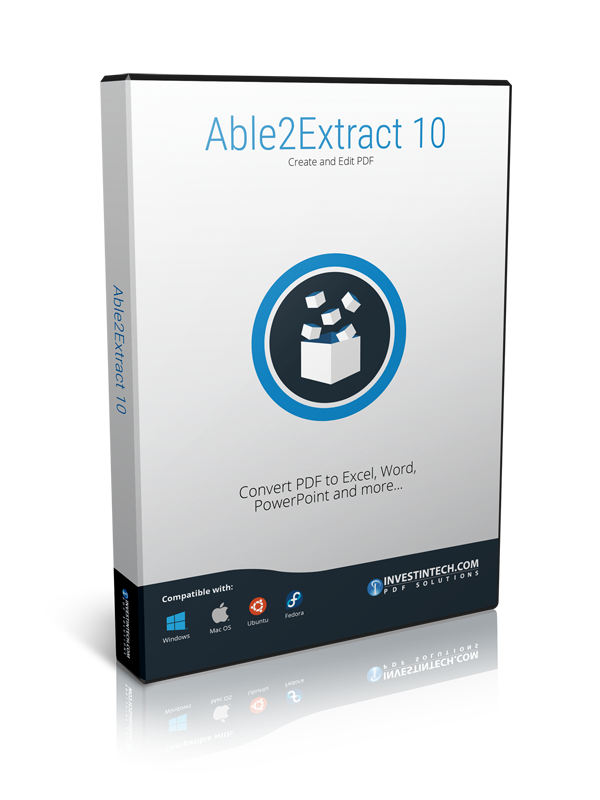 With this latest version, we've pulled out all the stops. You'll find a lot of new PDF power features that will improve your PDF productivity and business intelligence workflow by more than half.
From PDF editing to improved Excel conversion, Able2Extract 10 has all the PDF capabilities you'll ever need to keep up with your work. Get a good look at what the new Able2Extract 10 has to offer.
Convert Any Format Directly Into Excel
We've always known that highly valuable information can come in any format, not just PDF. So  to prevent you from missing out on accurate data assessments, we've included the ability for you to convert almost any format directly to Excel!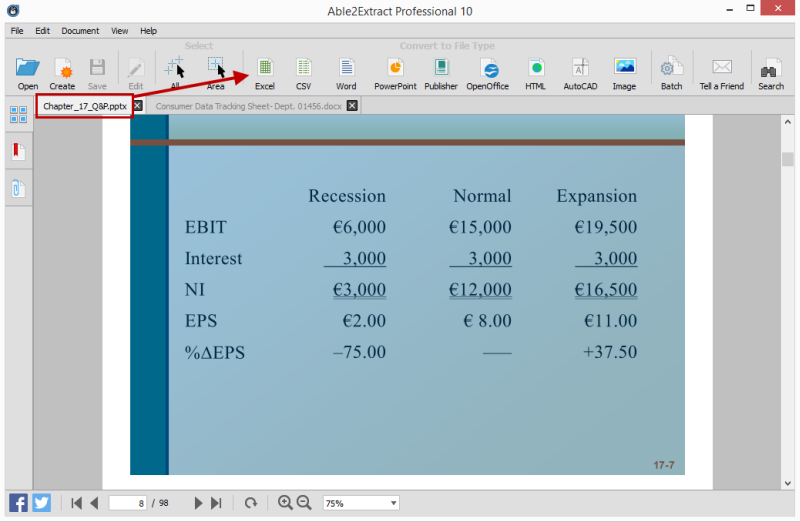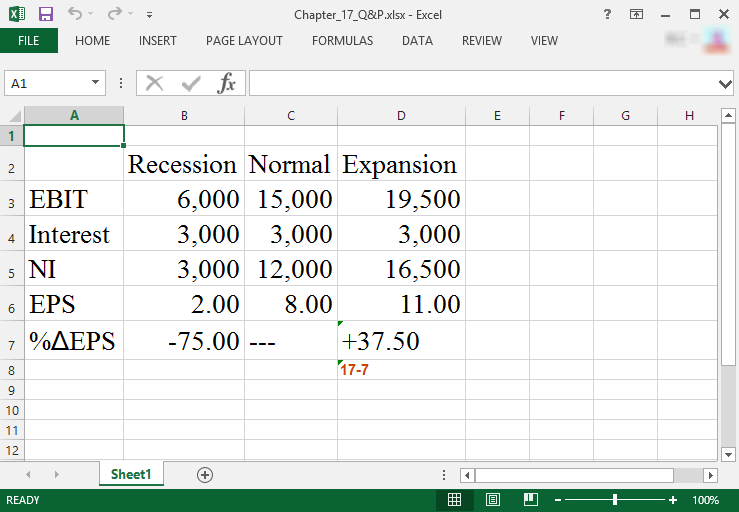 So whether you have a table in Word or information locked away in an XPS file, you can now get that data into an Excel spreadsheet and perform your analysis on complete data sets.
Just simply open your file and select your content as usual and choose the PDF to Excel conversion command from the toolbar.
Convert To PDF CSV Instantly
For those who work closely with raw data and text formats, you'll be happy to know that Able2Extract 10 now has the ability to convert directly to CSV and TSV from the toolbar. In a nutshell, you can now integrate Able2Extract 10 directly into the analysis stage of your workflow.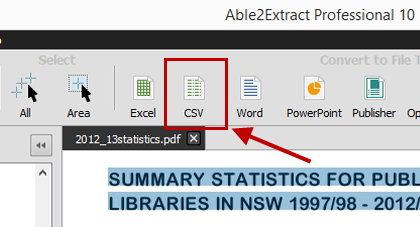 This is especially handy for data extractions that are used in analytical software programs on the enterprise level. You can even copy to clipboard in RTF/CSV format. Your information analysis can be done more quickly as Able2Extract eliminates the need to convert to Excel and then export to CSV. 
Split And Merge PDFs Precisely Page-By-Page
For the first time, Able2Extract now has the ability to split and merge PDF files. We've made the process simple by allowing you to insert and extract the PDF pages themselves.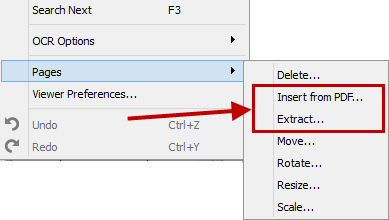 Insert PDF pages from an already existing PDF on your computer or extract PDF pages from the currently opened PDF into a separate file.  Your original source PDF isn't modified.  This makes assembling  and breaking up PDF documents for professional or personal use simple and hassle free.
Edit PDF Text On The Spot
Able2Extract 10 will finally let you edit the text directly within the PDF document. You can delete, add, and move existing text in a WYSIWYG editor, making instant corrections to PDF text.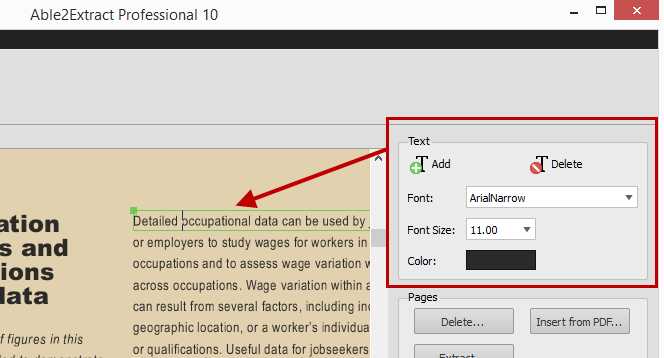 As you can see you can match the font, text colour and size directly from the side editing panel, making seamless modifications to professional documents.  To boot, your changes are immediately visible, so you can see the edited content you're converting.  
Resize PDF Pages To Meet Any Business Standard
Because the PDF is the standard used to communicate important content with companies from different industries, following each industry's document requirements is important. For instance, print publishers, legal proceedings or marketing departments, will need specifically sized PDF pages. And this is why we've provided you with the ability to select your PDF page size from the start.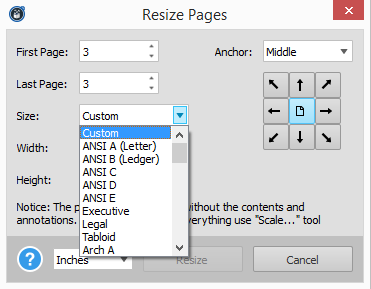 Whether you need legal, letter or executive sized documents, you can adjust your PDF pages as easily as you can convert them. Resize your pages to paper sizes compatible with ANSI, ISO and ARCH specifications.  You can even graphically reposition the content of your page, if needed.  
This combination of page resizing options makes  it so that your PDF can work with any type of businesses, no matter which industry standards they follow.
Convert PDF To Excel More Accurately  
For even more precise and accurate data extraction into Excel, we've updated the PDF to Excel conversion engine. When you convert to Excel, Able2Extract now provides you with a variety of sub options to choose from.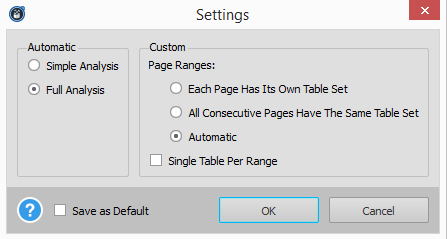 When you convert a PDF table, Able2Extract will better analyze how the source document  and its tables are  structured so you get even more refined PDF to Excel conversion results than before!
Improved OCR Technology For Highly Accurate Text Renditions
With Able2Extract Professional, we've also improved the OCR engine, providing you with more accurate renditions of broken text when converting scanned PDFs.  Professionals who need to use legacy information trapped in hard copy can now merge that data with digital data for complete and accurate business intelligence analysis.
Given everything this latest version has, you'll be looking at your PDF work in a different–hopefully easier, light.  
Take it for a test drive yourself. Download the free 7 day trial and get your PDF productivity going!