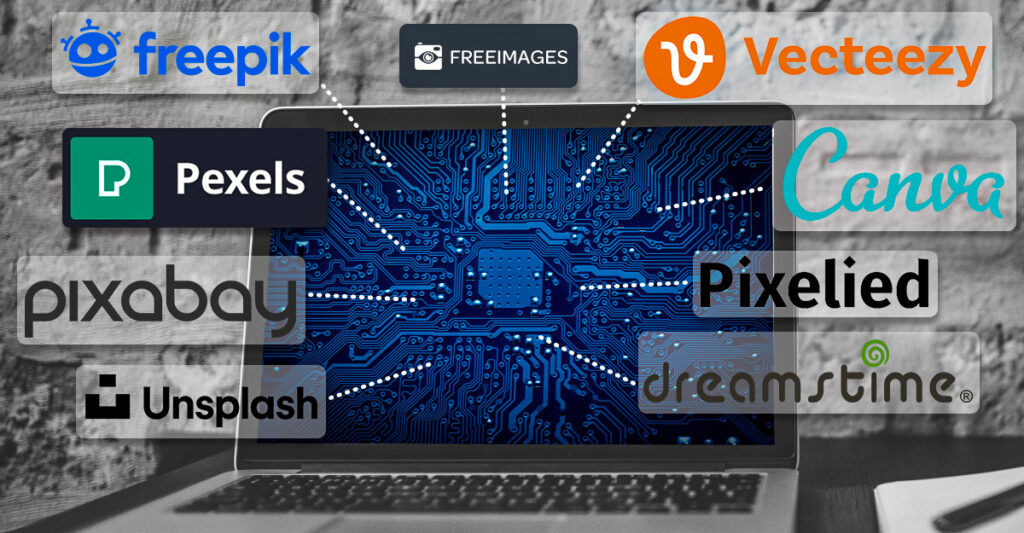 Everyone knows that content is king, and when current entrepreneurial trends involve starting an online business, a blog, an online social media presence, that content needs to stand out.
More often than not, if your topics involve modern day life trends, this means creating digital content that catches eyes in the first 30 seconds.
Looking online, you'll notice that this largely entails using great technology background images that give online content, videos, and banners a fresh, relevant, and updated look.
Yet, you may not be an advanced graphic designer and may not exactly be able to say that your skill set screams "graphic design is my passion," but don't worry.
If you have just enough skills to deal with the graphics you find online, then read on. We've put together a list to help you find or create quick technology background images you can use to help boost your visual content easily.
Image Websites And Databases
The first place you'll probably look for technology backgrounds are image websites and databases. These sites are great as most of them support images that are free to use in commercial content.
There are a number of sites out there, but to make things easy, we included the top sites with their technology background pages linked so you have them all in one list:
Pixabay – If you need a quick and basic search, head over to Pixabay for any stock images, videos, vectors, and photos for your starting digital backgrounds. You can choose from different sizes and image types to ensure that you have the right background for your needs.
Freepik – This is another great site for grabbing inspiration and background images. Note that any images used from this database requires that, as a free user, you credit the author and include an attribution line, "Designed by Freepik," and link it back to the website.
Unsplash – Another source of freely usable images, Unsplash aims to provide free high-resolution images with a bit more organization, providing you with a starting point for sifting through backgrounds, images, and wallpapers.
Pexels – Pexels offers stock photos and technology video backgrounds you can use as needed. No doubt this will make it easy for even beginners to start boosting their digital content and media. Both can be downloaded and used for free.
Vecteezy – Vecteezy emphasizes its main calling card in offering you free and downloadable vectors on top of photos and videos. If you're looking for backgrounds that are more versatile in terms of scalability and multi-purpose use, check out Vecteezy. They also have a few tutorials that provide you with some good tips on working with vectors.
Freeimages – This is another great site for filtering out free backgrounds that you can use. As you browse through this site, one thing you'll notice is that you can search for images taken by certain camera brands like Canon or Nikon. In other words, you're guaranteed to find high quality visuals from Freeimages.com.
Dreamstime – You'll find not only technology backgrounds on this site, but also royalty-free editorial images that feature celebrities, well-known brands, images of events, and famous landmarks. This is the site to check out if you need a technology background for a news tech blog, product review, or top 10 tech lists.
Free Graphic Design Platforms
You may also want to try a more hands-on approach with your background images with free graphic design platforms. The tools below will not only provide you with technology-related backgrounds and photos, but also give you the basic tools to quickly customize and prep them for any purpose you need.
Canva – Canva is a platform that has everything needed to create professional-looking designs. It offers a free basic account and provides users with stock images and pre-made templates. Just use the term "technology" to search their photo collection. Note that while some images are free, some are only available via a PRO account or paid fee.
Pixelied – Like the other tools in this section, Pixelied has a quick search function that will provide you with technology backgrounds you can manipulate for Facebook, Instagram, YouTube, and more. What makes Pixelied interesting, is that it connects to the free image databases on Unsplash and Pixabay.
Snappa – Snappa links you to stock photos from image databases to make things easier. On Snappa, you get photos linked to the Pexels and Unsplash websites. Thus, if you like the visual stylings of a certain image, you can easily click through to that designer's profile on that site where you can instantly find similar images.
Convert PDF to Image
Sometimes good image resources can come in a document format like the PDF. With emagazines and ebooks becoming the norm for delivering news and print content, you'll no doubt come across full page spreads of compelling images and photos. You may know that getting any content out of PDF files isn't easy at all. So below we've included two ways to pull technology background images from PDF brochures, ebooks, or guides (of course, make sure that you have permission and access to use those images first!)
How to Convert PDF to JPG Free Online
This online PDF to JPG tool converts native and scanned PDF files quickly and easily. The tool is pretty straightforward and can be a handy go-to online resource when you need it in a pinch. Here's how:
Go to the Free Online PDF to JPG Converter site.
Upload your file. You can upload files in 3 ways:
Click the upload button to select and upload a file from your computer.
Drag and drop your file into the designated area on the page.
Import your file from cloud services – Google Drive, Dropbox, or OneDrive.
Download your converted file.
You can convert PDF to JPG as many times as you need by clicking on the Convert another file option. Note that this tool converts entire PDFs, so you may need to do some image cropping or editing afterwards.
This tool is ideal for two reasons. First, the tool is anonymous. No email registration or personal information is required. Just upload, convert, download, and go. Second, and more importantly, this tool is secure. Your files are used only for the conversion and are deleted off the servers within a few hours. However, because of this, you may have to upload your file again if you close the tab before the conversion is done.
How to Convert PDF to Image Offline
To convert PDF to images formats with more robust settings and options, a more powerful PDF converter tool is needed. Able2Extract Professional does just that.
The software converts PDF pages to five image formats: JPG, PNG, BMP, GIF, and TIF. Perfect for grabbing full page visuals you can edit.
Open your PDF in Able2Extract Professional.
Select the page you want to convert.
In the side panel, go to the Image section. In the drop down box, select the image format you want: JPG, PNG, BMP, GIF or TIF.
Click on the Image button in the Convert tab.
Depending on the image format you want to convert to, you can set some properties in the pop up that appears. Select your image format settings. Click on Convert.
Save your file to your computer.
If you want a visual or image that takes up only a portion of the PDF page for smaller backgrounds, use the Snapshot feature to save it on the clipboard. To do this with your PDF opened in Able2Extract Professional:
Click on the Snapshot button.
Click and drag to select the image or visual content you wish to extract. When you let go of the button, your selection will be copied to the clipboard. You'll get a pop dialog confirming this. Click on OK.
You can then paste the content into the application of your choice.
You can try these features out risk-free for 7 days to see how well they work out on your PDF documents and images.
Conclusion
You don't have to know a lot about graphic design in order to get quality images for your digital content. All it requires is knowing where to go and what your options are!