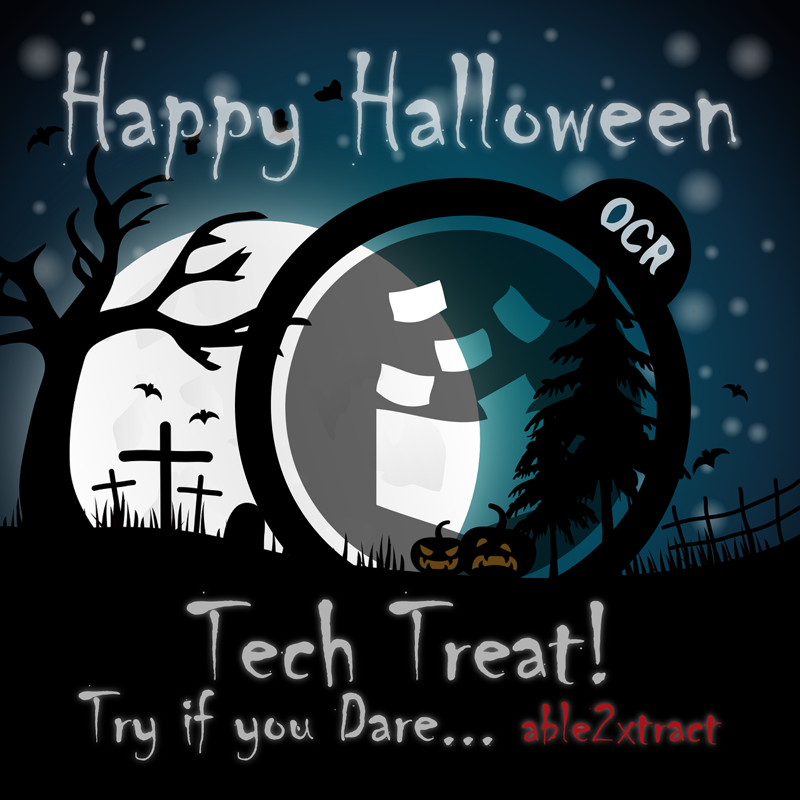 Halloween is just around the corner! By the time you are reading this, it is probably long overdue for you to send greeting cards or party invitations to your friends and family by regular mail.
On the other hand, as a business owner, you might think it is too late to create personal Halloween greeting eCard for your loyal customers and long-time partners.
No need to worry! To share in the Halloween spirit with your friends, family, and business associates, all you need is Able2Extract Pro 11 and a bit of creativity.
Let's not waste any more time – just follow these 5 easy steps and create your own Halloween eCard!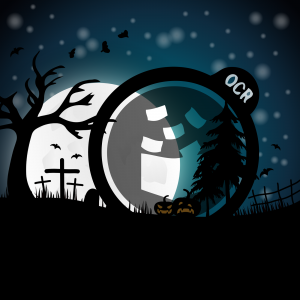 Step 1 – Download Able2Extract
Head over to this page, choose your platform, download and install Able2Extract Professional 11 Free Trial.
Step 2 – Choose Background
Next thing to sort out is the background.
You can find a lot of great designs on Pixabay for free or you can use our template.
Step 3 – Create PDF eCard
Now head back to Able2Extract Professional 11.
Click on the Create icon and choose the background you downloaded previously.
Step 4 – Edit PDF eCard
Feel free to change zoom to Fit page and remove the Thumbnails pane. It will give you a clear view of the whole eCard background.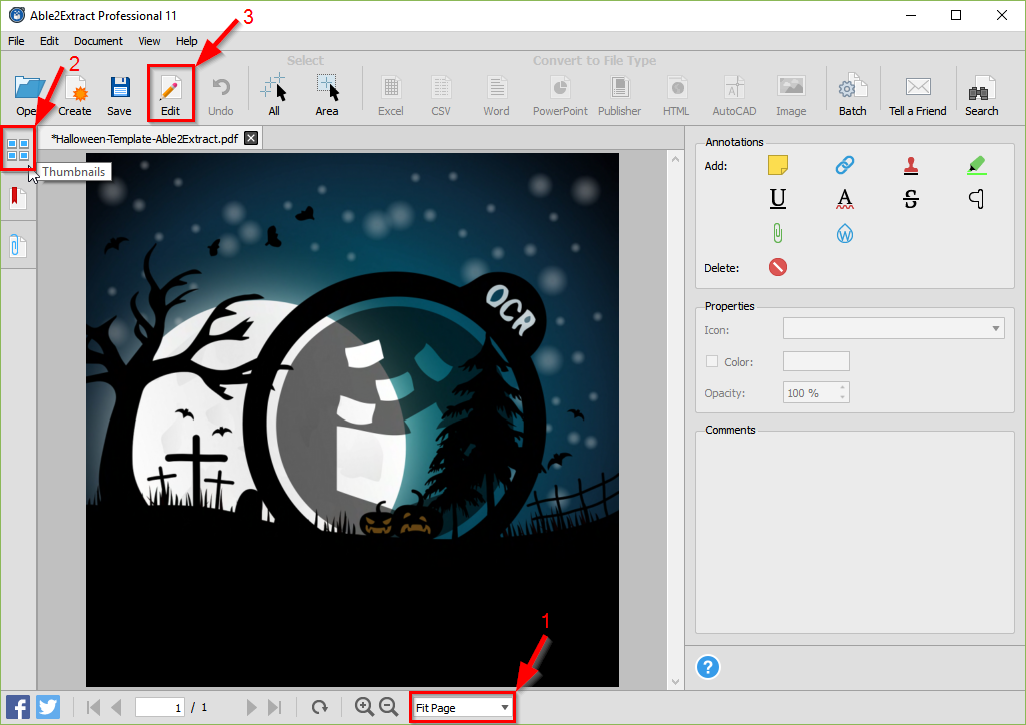 When you are all set, click on the Edit icon.
Step 5 – Add Text
In the Content toolbar on the right, click the Add Text icon and let your creative juices flowing.
You can change the Font, Size, and Color of your text as we did in our Halloween party invitation example.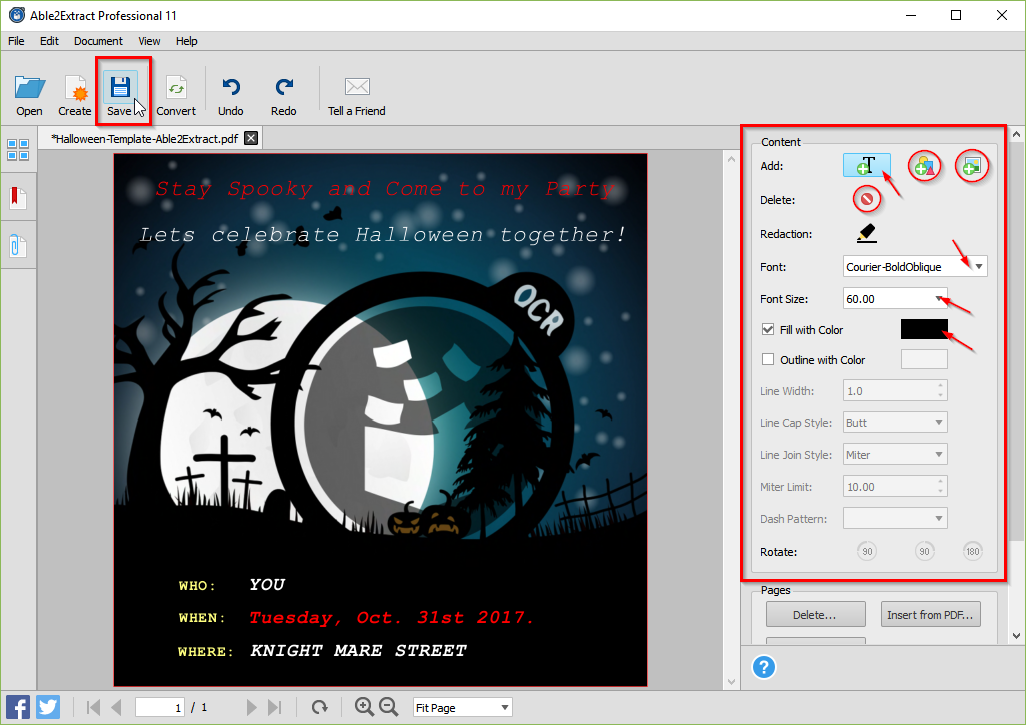 In addition, you can add some more flavor by adding Shapes and Images – just click on the icons next to the Add Text icon.
Note that you can edit, reposition and rotate the items you added, but if you don't like what you did – hit that Delete icon, remove text, shapes, or images – and start fresh.
When you are satisfied click on the Save icon and choose the location and name for your Halloween eCard.
Result
What we got is a light PDF file (less than 200KB) which is easy to share online and possible to display on almost any device or platform out there.
You can always reuse the template you made for next year or personalize your message and graphics for every individual eCard.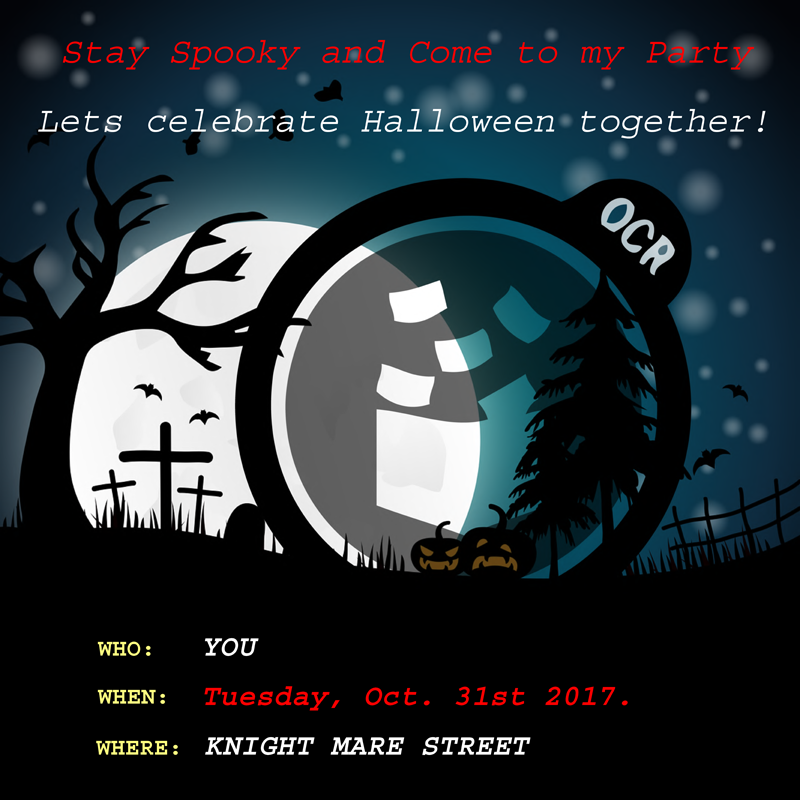 Now that you've got one more spooky tech trick up your sleeve get to work and drive those demons away!
Share your results with us on Facebook, Twitter, Pinterest and Tumblr or give us feedback in the comment section below.
Bonus Halloween Tips
To get an idea for the Halloween costume and to see which costumes are trending across the US visit Google's Frightgeist page.
For the best Haunted houses, Escape rooms, and other Halloween attraction in America near you check out 2017 list by HauntWorld.
Happy Halloween!