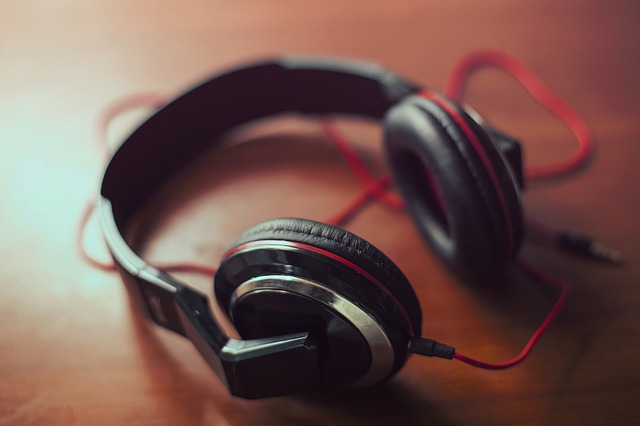 As the school year starts up, you're probably just getting yourself oriented with your classes and gauging the size of the workload you'll have to deal with.
It may be daunting after a long lazy summer, but anticipating the amount of reading you have ahead of you is a good idea. It's never fun to all of a sudden find yourself lagging behind. You need to get ahead of the curve way before the heavy reading assignments even start. And we have a perfect tip for that: to help lighten the reading load use a convert text to speech tool.
Converting speech to text can come in handy in so many ways.  It can free you up to get away from the screen for a bit or help you learn a language.  Also, students with disabilities can use text to speech tools to easily access digital content. Text to speech tools are perfect if you need help with proofreading, catching up on your notes, or getting some eBook reading done.
So here's a look at 5 different ways to listen to your reading assignments with these free easy to use text to speech tools.
Listen to MP3 Files of Your Text with SpokenText
For those who need to catch up on reading while commuting, running errands, working out or multi-tasking, SpokenText is a straightforward online text to audio converter. SpokenText allows you to convert any number of files such as PDF, DOC, PPT, TXT, HTML and Emails to an MP3 file. Once you have your MP3 files are created, you can then download and put them onto a mobile device. You'll be able to take your readings with you.
Have Online Documents Read Out Loud To You
Have a document online that needs to be proofread? If the file is shared on the web with a file sharing or collaboration tool like Google Docs, then you can have the text read to you directly from within your browser. You can listen for grammatical errors while working with other things on your computer–all without missing a beat.
SpeakIt! is available for Chrome and allows you to read text displayed in the browser. For FireFox, there's Text to Voice which can also let you download your text in MP3 format.  And Opera users can try VozMe. Once any of these extensions are installed, just highlight the text you want read out to you and activate the plugin.
Convert Text From Multiple Sources With NaturalReaders
NaturalReaders is a popular text to speech tool whose online version comes with basic yet advanced features to get the job done. Click on Add Documents and you can start building and accessing your list of files from popular services like Dropbox, Google Docs, and more. Handy for students working on public computers or using Cloud services.
Get Social With Your Text On YAKiToMe!
People who are used to in browser music players will love the look and feel of YAKiToMe! It's a free online text to speech service and network rolled into one where you can share your audio books and files with other YAKiToMe user groups. If you're lucky, you may find a user with an audio version of a book you're looking for.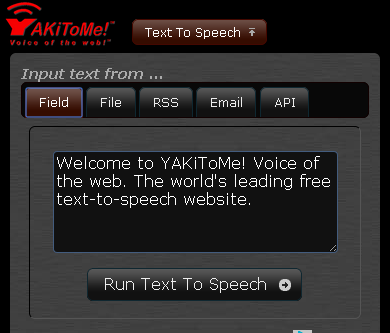 YAKiToMe! lets you convert text from .doc, .pdf, .txt, .html, .xml, and email to speech. Choose a reader, a reading speed and an input method for uploading text: Field (copy-paste text directly), File, RSS, and Email. Then click on the Run Text To Speech button.
Convert PDF Text To Speech with PDF2Speech.com
PDF2Speech is exactly what its name suggests. It's a free online PDF to speech converter. This is perfect for professional and academic uses where PDF reading is a common task. On-screen PDF reading can sometimes be a chore, but listening to one doesn't have to be.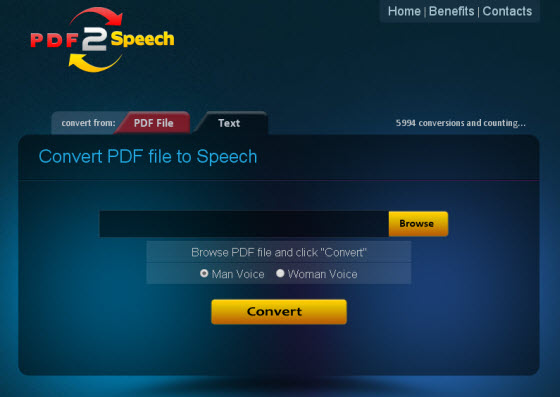 To use this tool, simply upload your PDF files to the site and hit the Convert button. This free service allows you to convert up to 20 pages which will allow you to get a good chunk of your readings checked off your list.
There are many simple yet powerful text to speech freeware tools to suit any occasion or need. The good news is that it doesn't require a lot of money or any bloated text to speech download.