Converting Powerpoint to PDF
Converting PPT (PowerPoint) to PDF with Able2Extract
As a presentation application, Microsoft PowerPoint is the most widely used tool for creating and delivering multimedia presentations. The application is used by businesses and individuals alike to create powerful ways of engaging and interacting with their audiences. Consequently, the content within PowerPoint presentations becomes vital to users who want to convey important information in an effective way. So how can you use PowerPoint to create an effective presentation of content and facts in a professional way? Consider the common uses of PowerPoint:
Using PowerPoint Presentation for Business Purposes
One of the most common uses of PowerPoint for business professionals is to help present or persuade colleagues and superiors on various projects. This is due to Microsoft PowerPoint's powerful features that allow you to visualize and present data and ideas with eye-catching charts, graphs and tables. It can also be helpful for businesses to connect with clients and customers, providing them with a presentation resource on products or services. MS PowerPoint makes it easy to customize slides with headings, titles and talking points to different target users.
PowerPoint for Educational Purposes
As you may already know, the 21st century classroom is now highly tech oriented. Teachers are using devices and tools, including Microsoft PowerPoint to help conduct their lessons. This is because a visual presentation can catch students' attention more effectively than a chalkboard and handwritten notes. In fact, PowerPoint presentations in the classroom are a simple yet powerful way to turn a lesson into an interactive display of information. The application makes it an easy task to import and add multimedia elements like audio, images, and animation to any slide. Consequently, teachers can plan their talking points slide by slide and ensure that students are engaged and retaining the information more readily.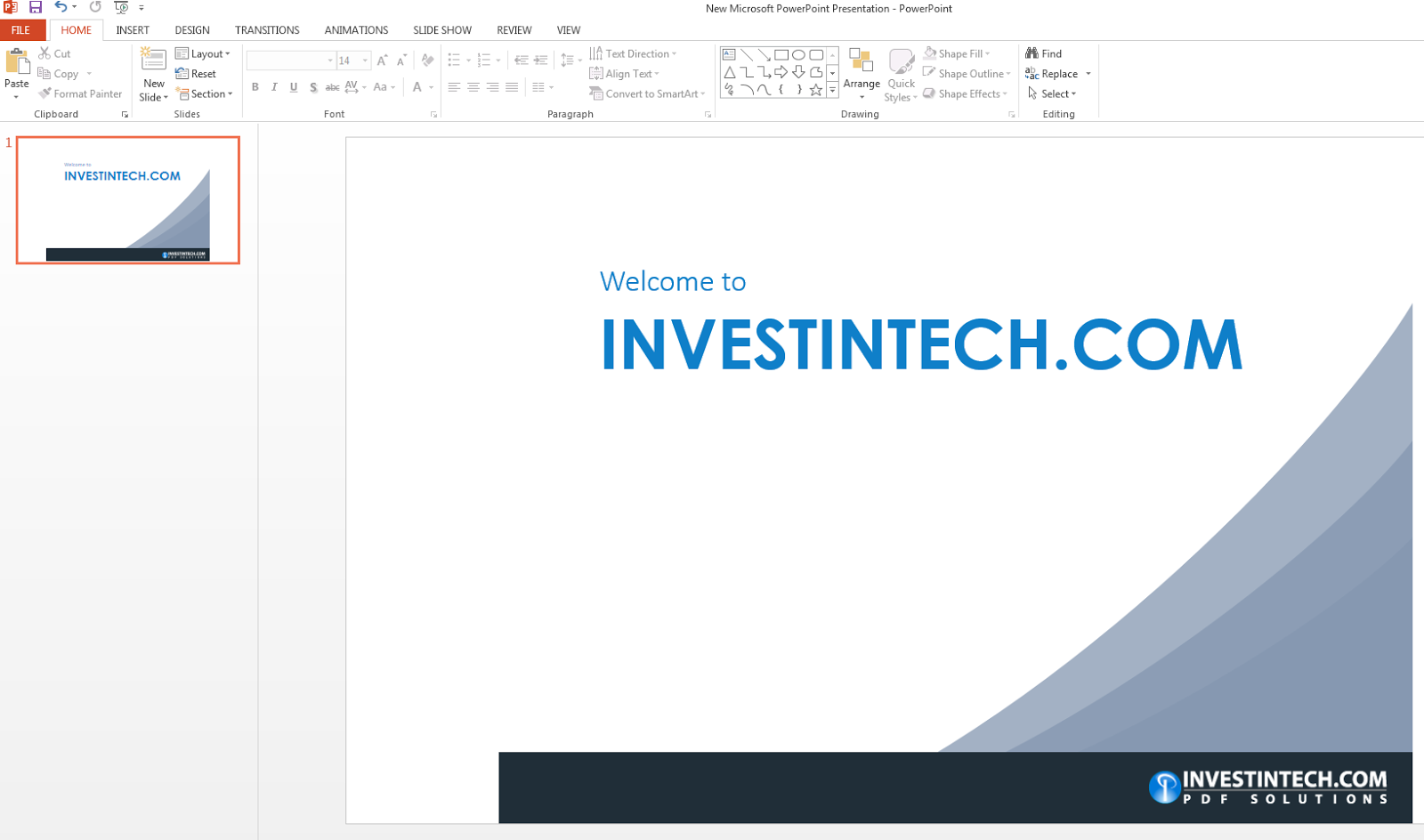 Keynote Events with PowerPoint Presentations
Given its many advantages and viewing options, a PowerPoint presentation has quickly become one of the main formats for delivering presentations at conventions and major events. MS PowerPoint's many layout choices, and templates for including compelling media make it an ideal application for multimedia, images, and layouts that can captivate audiences on a large scale. It is a simple thing for speakers to project their slides on a monitor and sift through the slides as they walk through their presentation on stage in front of audiences.
Why Work With PPT Files and PDF documents?
Because PowerPoint (PPT) presentations are so important to delivering one's message on both a professional and personal level, users convert them to PDF files. This ensures that nothing gets lost in translation. You can preserve presentation slides for portfolios, daily lessons, and as archives for reference material and research.
When it comes to transferring PPT to PDF, Able2Extract is the PDF converter of choice. It allows you to add PDF security features and customize your PDF information to accurately and safely archive your PowerPoint content.
Converting PPT to PDF with Able2Extract PDF Converter
Whether you're a business professional, an educator, or a public speaker, you can easily convert PPT to PDF with Able2Extract PDF Converter in one of two ways: through the use of the virtual print driver and through the application's user interface. Creating a PDF from PowerPoint presentations in Able2Extract is as simple as clicking on the Create PDF command on the toolbar—just open your PowerPoint file, select your PDF creation options and click on Save to finally convert your PPT to PDF.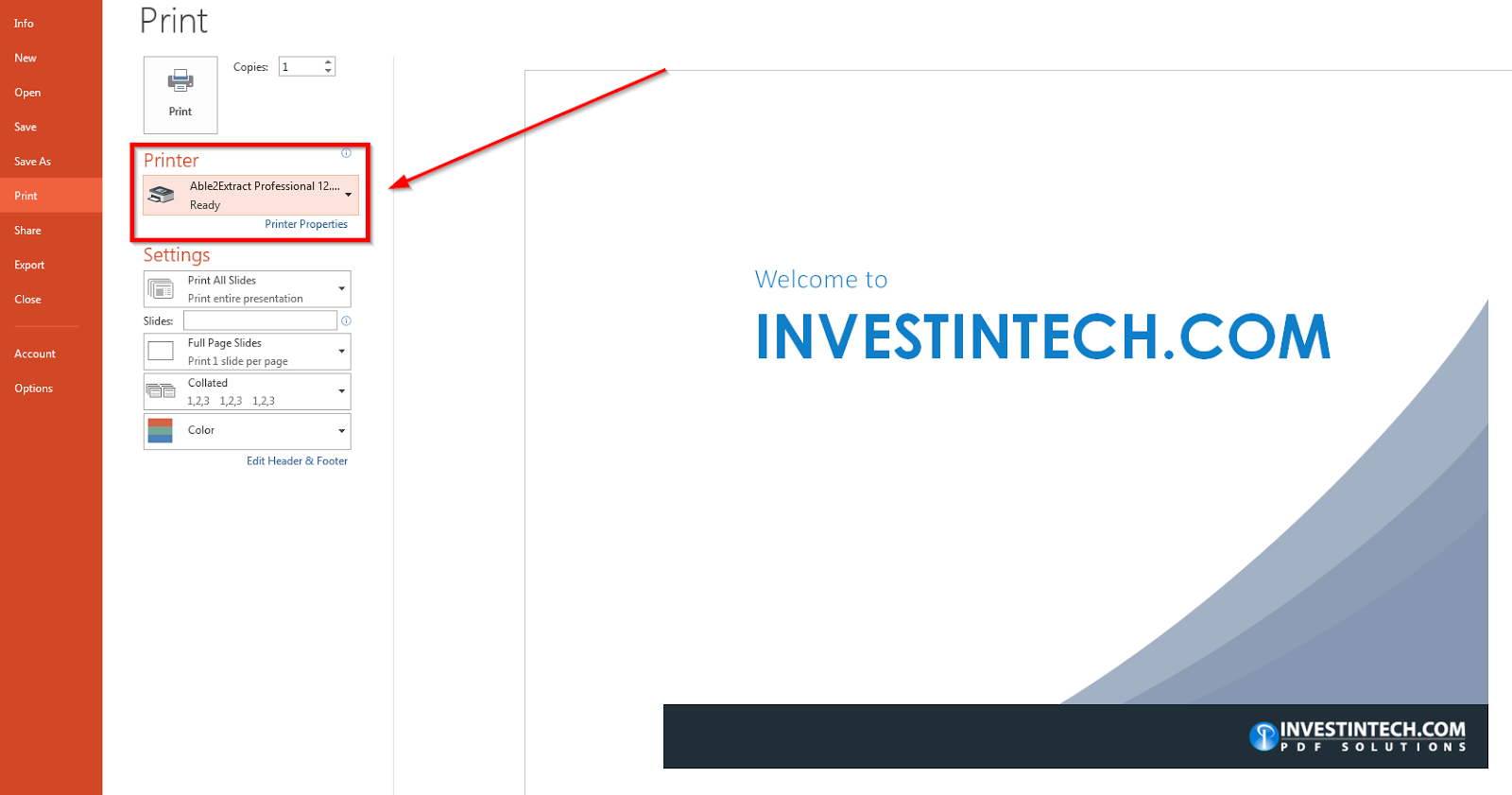 With the virtual print driver, Able2Extract turns your daily applications into PDF creators as well. This is convenient as you never have to leave your authoring application of choice. Simply select to print your document when your content is ready and choose the Able2Extract virtual print driver from the Print dialog. Then continue to print your file as usual and Able2Extract will generate a PDF document of your PowerPoint presentation.
Learn more about Able2Extract here and download a 7-day free trial.