How To View The Processing Queue And Remove Particular Jobs
To open the dialog with the list of jobs to be processed, press Kill Job button in the program main window (see Fig. 4) — a dialog Current Jobs listing will open (Fig. 18).
To remove particular files from the processing queue put corresponding checkmarks in the Type column and press Kill Job(s) button
Comment
Column Type in the list shows whether the file is less (Small) or greater (Large) than File size boundary (for details see "Basic Configuration parameters" section).
Press Close button to close the Current Jobs listing dialog.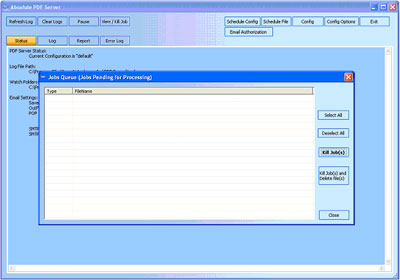 Fig. 17.