Basic Configuration Parameters
Basic Parameters frame is at the top of the Configuration Parameters dialog (see Fig. 3)
Log File — name of the folder where the log files will be placed.
There are 2 log files created for each day when PDF Server has been active — one for standard events (Fig 4), the other — for errors (Fig 5).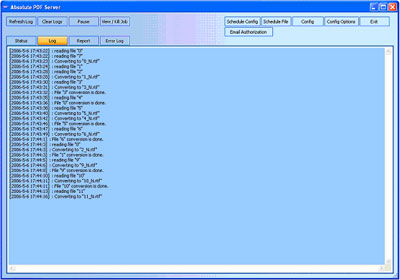 Fig. 4.
Failed Folder — if conversion/creation has failed, the original file and the corresponding Job Ticket file (if applicable) are moved into this folder
Processed Folder — the folder where the original document file will be placed after it has been picked up from a Watch Folder and processed successfully (only if Put in Processed Folder option has been selected inside Source file frame — see Fig.3, bottom)
(Absolute PDF Server and Able2Extract Server only) Number of Threads — number of threads used to process files (number of threads must be greater or equal 2). The default value is 5 threads.
(Absolute PDF Server and Able2Extract Server only) File size boundary — allows the Administrator to change the boundary used to separate large files from others. (to prevent PDF Server from being blocked by big files — q. e. files with the size greater than File size boundary value — there is only one thread to process big files). The default value is 1 MB.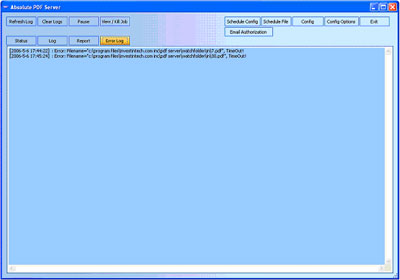 Fig. 5.
To specify the location of the Log File Folder, Failed Folder or Processed Folder press the corresponding Browse button, select an appropriate folder in the Browse for Folder dialog (Fig. 6) and press OK.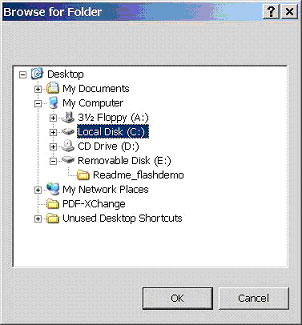 Fig. 6.
To set Number of Threads or File size boundary parameters just type an appropriate value in the corresponding edit box.
When all necessary parameters are set, press the Save button to save the new values in the original configuration file or the Save As button to save the new values as a new configuration file.