Investintech.com Inc. PDF Server Product Command Line Run
The PDF Server products can be run from command line:
PDFServer.exe /Start — standard PDF Server regime
PDFServer.exe /Minimized — PDF Server main window is minimized
PDFServer.exe /ConigfileName —PDF Server will run with ConigfileName configuration file as a current configuration file
PDFServer.exe /Stop —PDF Server will run but no file will be processed until Start button is pressed (Fig. 20)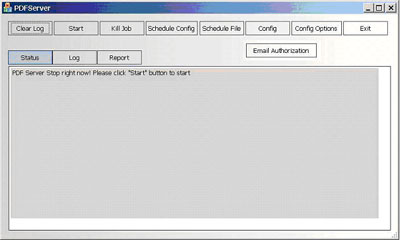 Fig. 20.