Today, we're happy to announce Investintech's latest PDF solution. We just released 3 PDF converter mobile apps!:
Able2Extract PDF Converter
Able2Doc PDF to Word
PDFCreator mobile
That's right! We've tailored down the process and integrated our PDF conversion technology into it to make PDF creation and conversion on Android and iOS mobile devices possible.
This means that you can now quickly and easily create or convert your PDF documents on the go, and best of all, these apps are totally FREE!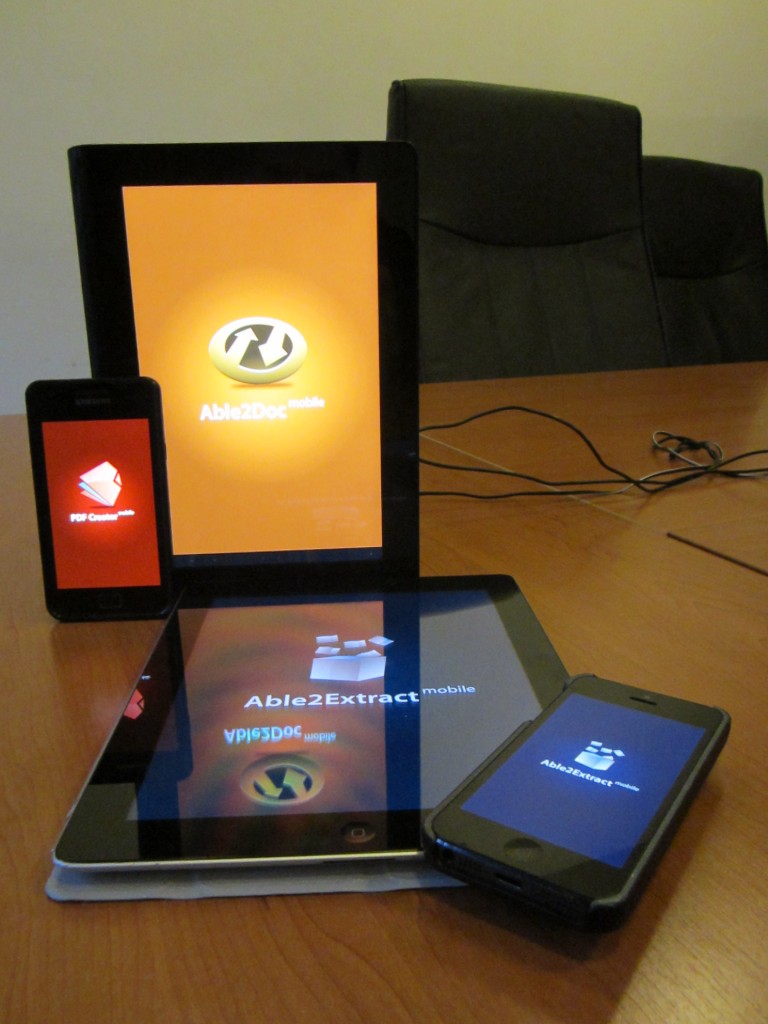 So if you thought efficient mobile document management was difficult to achieve, think again.  These apps will let you instantly convert to and from PDF files in 2 taps. Here's a look at what our mobile apps have to offer.
Introducing A Sleek Mobile Interface—Investintech has designed a smooth, uncluttered and clean interface for document conversion. It was all laid out to work exactly how you need it—no frills, no complications. No matter which device you're on, be it a tablet or mobile device, the conversion experience is always the same efficient process.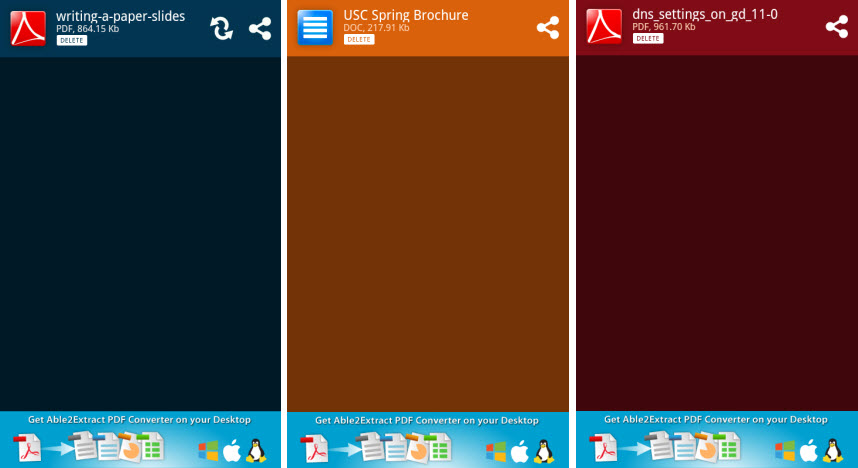 Easy Access File List–Investintech's mobile PDF converter apps all feature a centralized app list (shown in step 3 below and above).  On top of giving you one convenient location to retrieve your converted files, we also give you the ability to work on a mobile device as required.
Share, collaborate, and view your file wherever you are.  Tap on the Share button to select any one of the sharing services available on your device. Or simply tap on your file to open it in your default file viewer.
Highly Resource Efficient—We know that storage space on your phone is essential. That's why we made each app less than 10 MB in size. The conversion process itself takes place on Investintech servers using the same advanced conversion algorithm used in our desktop PDF converters. We then send the file back to you, completing the process seamlessly.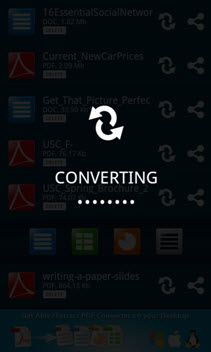 Get Tailored Conversion Options On Your Device—Because our main focus is offering you flexible options, our mobile apps offer a select variety of conversion options. So there's no need to download what you don't need. You get the exact conversion functionality you need with each app: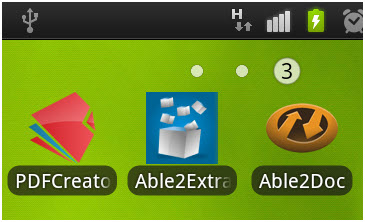 Able2Doc PDF to Word Mobile: Convert PDF to Word instantly
PDFCreator Mobile: Create PDF files from Microsoft Office documents
Able2Extract PDF Converter Mobile: Convert PDF to Word, PowerPoint, Excel and Text Create PDF files from Word, PowerPoint, Excel and Text
How To Convert PDF Files With Able2Extract Mobile
Here's how simple it is to convert a PDF using Able2Extract PDF Converter:
1. Locate your file on your mobile device
2. To open the file, long press or tap on the file to activate the open menus on either iOS or Android (see below).  Select Able2Extract: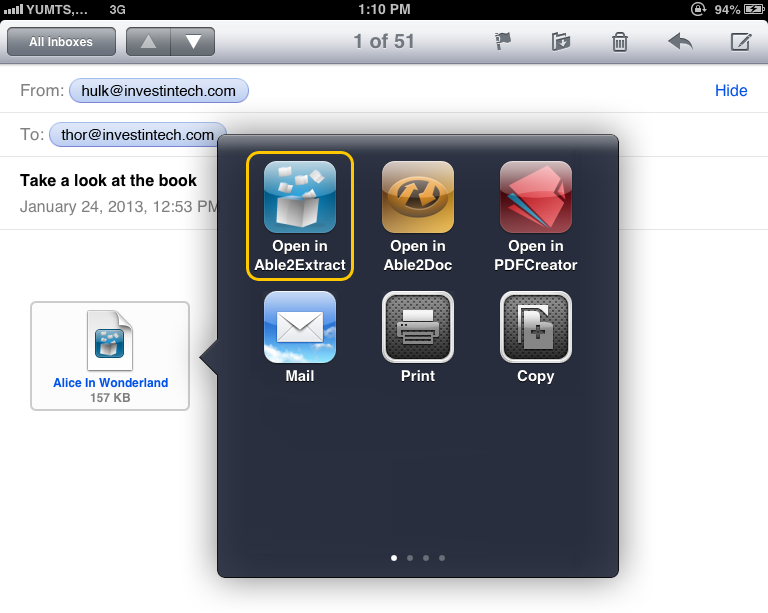 Select "Open in Able2Extract" on iOS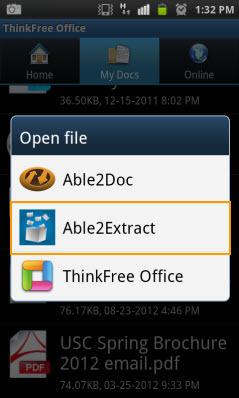 Select "Open file Able2Extract" or "Complete Action using Able2Extract" on Android
3. Tap on the Convert button (double arrow icon), and select your conversion output (Android shown):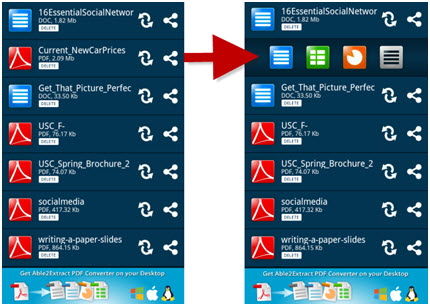 Your conversion will then start automatically. You can retrieve your converted file within the same file list.
Able2Doc PDF to Word and PDFCreator work in the same way. However, because there is only one format to convert to or from the PDF format, the conversion process will start automatically once you open your file using either app.  You will find either your newly converted PDF file or Word doc within their respective file lists.
To give these apps a whirl yourself, download and try them out today! All 3 apps are available from the Google Play and iOS Apple App Store.
Google Android Requirements: Android 2.1 or higher, Data Plan or WiFi connection (in order to upload file, and download conversion results)
Apple iOS Requirements: iOS 4.3 or higher, Data Plan or WiFi connection (in order to upload file, and download conversion results)
You can find more details on our mobile PDF apps page.
From server to mobile, you can now get a complete PDF converter solution across all platforms!