The Linux Foundation recently released the first video in a series called "A World Without Linux" that reveals the many ways in which Linux plays a role in your daily life—or wouldn't if it didn't exist. From remembering the name of a song to social media connections, Linux is everywhere.
The light-hearted series puts Linux into a user-friendly light that average users can relate to. Most naturally shy away from learning about Linux, let alone use it as their main operating system. It does require more technical know-how on the part of the user, which can certainly be intimidating.
But these days it's easy to get tech savvy with tutorials and courses online or by just fiddling around on your computer. So it wouldn't be surprising if you're at that point where you want to kick it up a notch with a more hands on approach to your everyday tech.
Have you ever thought about giving Linux, a try? The nature of the system itself may speak to some of the natural tendencies you may already have. So we thought this would be a good time to check in and take a quick look, see if Linux would be a good fit for you.
Do any of these describe you?
You Love Free Stuff
Who doesn't like free software? The only compelling reasons to purchase software is because it's worth the money and has features you're looking for, you hate the free limitations or you don't want to deal with viruses and Trojans normally associated with free downloads. This is where Linux kills three birds with one stone.
With Linux, you can get a huge variety of free software. Each Linux distro will have its own software repository where you can find and install software for your Linux distribution. To boot, the software in a repository is curated and vetted by trusted moderators, which means you'll get quality software without having to worry.
You're Obsessed With Customizing Things
You can't help but get everything just the way you like it. True, you can say this about anything. But here, we're talking about customization with a capital "C".  Just as you can customize your computer with browsers, software and tools, you can customize Linux from the desktop right down to the system. For more advanced techies, it's even possible to create your own customized Linux distribution. With Linux, you don't have to put up with an out-of-the-box system.
You Love Creating Things
Users are already creating Android apps, WordPress plugins and browser extensions. If you're one of them, Linux may be the perfect next step for you. In addition to being able to create and tweak your own distro, you can create or contribute to the development of one yourself.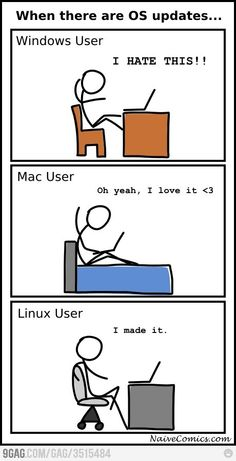 The open source and Linux communities overlap and intertwine, and as such, there are a ton of open source projects that seek to improve existing tools or help develop similar ones for the system. This can be a great starting point for student programmers to start expanding on their skills or start getting familiar with the developer community.
You Love Being Part Of A Group And Working With Others
If you love the camaraderie and successful collaboration that results from working with others, you may fit in perfectly with the Linux crowd. As you may know, the Linux community is a collective group of Linux hobbyists and enthusiasts.
Because Linux was built collectively together by companies, developers, and individuals, there's no one source to turn to.  Instead, you have a community of experienced users to consult and collaborate with in open source forums and Linux forums.  When you're on Linux, you can't help but be part of a bigger community.
You Love The Idea Of Choice
Take your pick! There are distros available for any purpose or user out there.  Linux distros are always changing and improving, so you can always find distro news, updates and developments on a regular basis. Each one is unique, has its own strengths and is developed under different  ideals. So whether you need Linux distro for a laptop, media or old hardware or for gaming, Linux offers a number of different flavours to choose from.
Did you find yourself Linux-user material? Let us know if you'll make the switch.