The Toronto 2015 Pan Am Games are about to start!
Multiple events will be happening at the same time all over Toronto during the summer. Top athletes, sporting events, and new venues will be attracting spectators and tourists from all over to the GTA. A lot will be going on and it'll be easy to get lost in the shuffle.
It's going to be a crazy—but exciting, summer and our Toronto HQ can't wait to see it all unfold.
Are you prepared?
From knowing who won your favourite event to knowing which traffic-filled intersections to avoid, staying informed is a priority if you plan on following or taking part in the event as a spectator.
Thus, we've put together a quick guide of essential links and handy tools to make sure your entire event experience is a memorable one as you trek around the city.
News And Information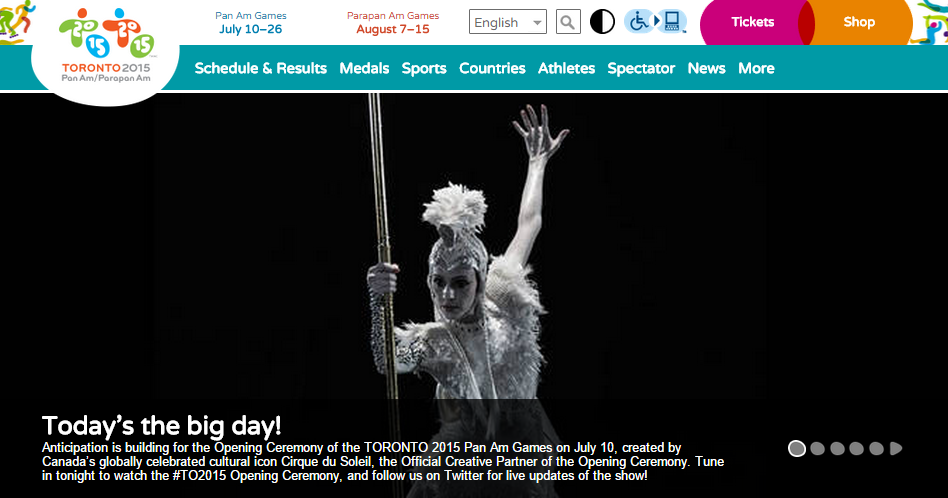 First must-have link on the list—the main Pan Am Games website. This is an obvious one—but not the only one. You can also find dedicated sections from credible news sources like TheStar.com, CBC.ca and GlobalNews.  Checking in with one of these sites will give you a variety of news and coverage that won't leave you wanting. They're a good one-stop resource for event highlights.
Watching The Toronto 2015 Pan Am Games Live
As the official broadcaster of the games this year, CBC.ca will cover over 600 hours of the games via live streaming and TV coverage. Moreover, you can also catch the action on your mobile device with their live streaming apps. Download: Android / iOS
Links To Event Guides And Info
We couldn't create a resource list without including basic information links. So we listed them here to save you the time of digging around the site:
Pan Am Games Apps For Android And iOS
If it isn't already, your smartphone will be your lifeline throughout the games.  Both iOS and Android versions of the official app will give you single tap access to event schedules, ticket information, maps, news and more.
Social Media Networks
Another good way to get real time updates—both on mobile and desktop, is by following the official social media accounts for the Toronto 2015 Pan Am Games. Each stream will keep you well-fed with real time photos, interesting posts, news, and videos. They have official accounts on Twitter, Facebook, YouTube, and Instagram.
Other Essential Tools And Links To Have
And the resources don't stop there. In this list we're also including apps and handy links to will help round out your Pan Am games experience in Toronto.
Pan Am Games Trip Planner:  During the games, anything from parking to road access can be changed at the last minute.  Good news is that you can anticipate and plan around it with this app. The neat part about it is that it gives you traffic updates in advance so you can find another route to a venue if necessary. Download: Android / iOS  
Toronto Transit Apps: While the Pan Am app and TTC site can map out your trip, you'll still need all the route information you can get on the go—especially if you're unfamiliar with bus routes. Our advice? Be prepared with a transit app on your phone, as well.
Toronto Transit TTC– With this app, you can find the most convenient travel routes, get weather updates, and receive real-time ETA predictions of your next bus. Perfect to keep you from feeling lost or unprepared as you travel. Download: Android
Transit App– This app has transit route and app information for cities all across the US and Canada. Its Toronto transit information offers details for both TTC and GO transit lines. To top it off, it provides information for Uber and the ability to find and reserve nearby car2go's, as well. Download: Android / iOS
Rocketman– An app that's great at making sure you catch your bus. RocketMan contains all the usual features of a transit app, and is available on the Blackberry platform. Download: Android / iOS / Blackberry
Toronto Events: If you like getting immersed in city culture, you should check out this next link to help you scope out what's going on in Toronto between competitions.  NOW Toronto is a local news and entertainment site with its own print publication that keeps you up to date on events, exhibitions and concerts in the city.  Check out their events index when you plan a night on the town.
Dining Around Toronto: As part of your spectator experience, you'll want this last app on your list: Urbanspoon Restaurant Reviews. You can find restaurants in the area while you're out and about exploring areas around the sporting venues. This app is a great guide for viewing full menus, getting customer reviews, and making reservations on the spot for you and your group. Download: Android / iOS
Once you load up on these resources, you should be able to get the most out of your summer during the Toronto 2015 Pan Am Games. But as always, chime in with a tool we've missed or should include on this list in the comments.