When Microsoft finally came out with an iPad version of their popular document processing suite, MS Office, there were over 12 million downloads in the first week.  If you were one of them, then you've probably been exploring and getting oriented with the apps since then.
But working on an iPad is completely different than working on a desktop which makes it a bit difficult to adjust.  Well, you'll be happy to know that there are resources out there to help—ours included.
We just launched our new resource page for Microsoft Office for iPad tutorials!
This resource is designed to help you keep your productivity levels up while getting the most out of Word, Excel, and PowerPoint on your iPad.  From working with the edit menu and typing on the keyboard to inserting charts and transferring files, our resource page has everything you need to get started.
Take a look!
Quickly Discover Tips For A Specific App
To help you get started, we've categorized tips by app—Word, Excel, and PowerPoint. You'll find new ways to improve the way you work with each specific app whether for school, work, or your own personal use.
To boot, we included some extra tips you'll find extremely handy. For example, we dug up tips on using Office for iPad for free. So even if you don't subscribe to the apps, you can still work effectively with them.  In addition, we included a General Tips category as well. This is the perfect spot for any new users looking for basic guides on using the apps.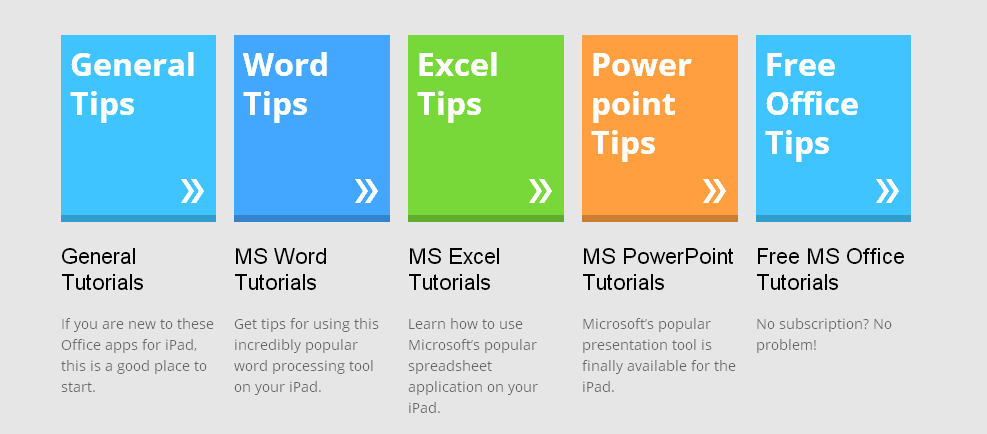 Just click on the app or category you're interested in and you'll find a list of available tutorial cards. Click on any one of them and you'll be directed to the main tutorial page.
Head Straight To The Answers You're Looking For
If you're trying to find a specific tip, you don't need to sift through each tutorial. Because some of these tutorial topics are general and thorough, they can cover a number of related tips.  To help you locate what you need, we broke the tutorials down into sub-sections.
So when you're in a category, like Word for example, you'll see a little paper icon on a couple of tutorial cards. This indicates a tutorial with multiple sub-sections.  Click on the icon and a menu will appear, giving you direct links to each sub-section of the tutorial. This eliminates having to scroll through the entire tutorial page.
Discover The Most Popular Office for iPad Tips
Looking for a common tip? For convenience, we've pulled up the most popular tutorials on Office for iPad so you can quickly access the help you need most.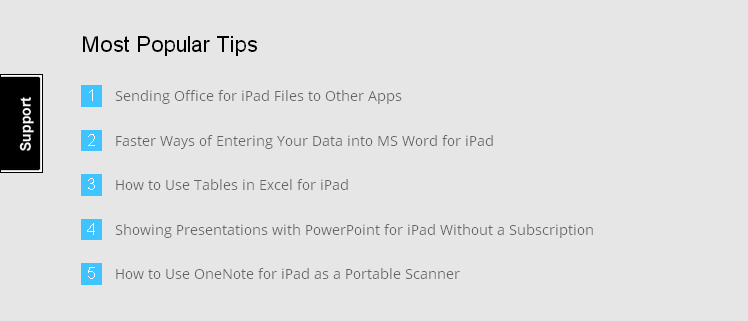 Keep checking in with us as we'll be updating the page constantly with handy tips. And we always love getting your input. So don't worry if you can't find what you're looking for. Let us know and we can look into adding it to the page.
Working on your iPad isn't quite the same as working on your desktop. But with the help of a few of these tutorials you can start putting your iPad to work! Check them out!