The Internet is full of visually compelling content that can quickly capture the attention of any web surfer. Next to memes and JPEGs, GIFs have been a popular image choice for sharing content across the web.
No doubt, you've seen one before. An animated GIF image file is one in which several image frames are put together and are played in a loop. They're constantly being shared on sites like Tumblr and Google Plus for fun and entertainment.  But they can also be used for different purposes–think avatars, banner ads, and quick demos. Moreover, GIFs can be generated from all different kinds of content such as images, video, and even PDF content.
Ever try making an animated GIF yourself? If not, here's your chance.
We put together a resource showcasing some of the most popular and convenient GIF tools out there. They make creating a GIF simple and easy. No need for Photoshop or complex tutorials.
1. GifMaker.me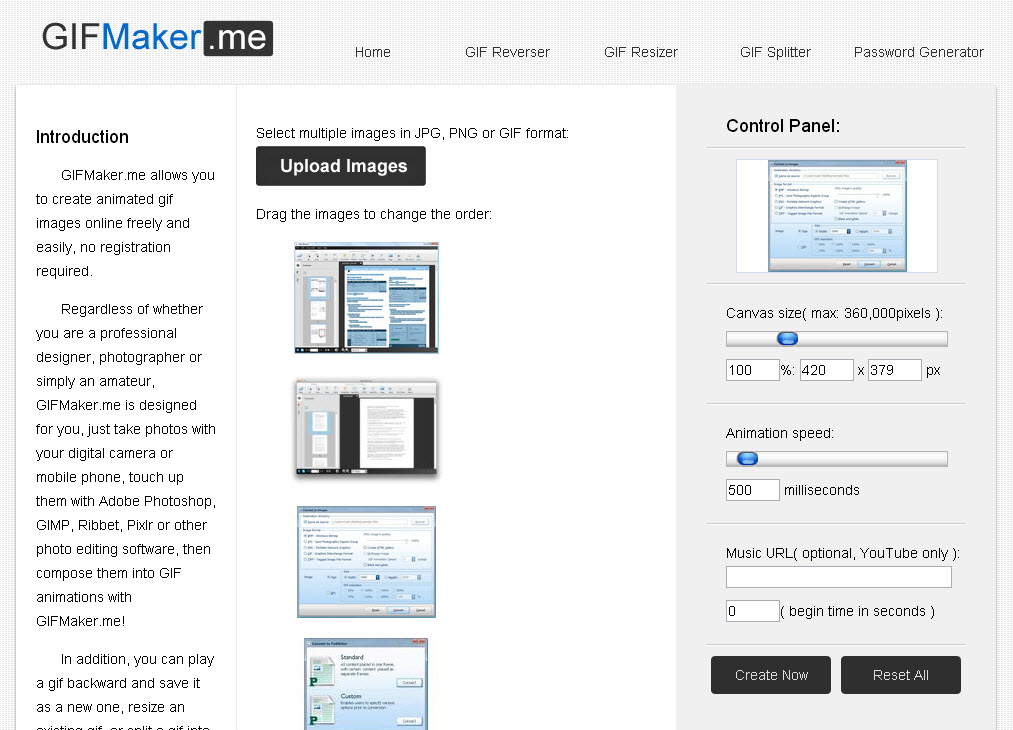 A few things about GifMaker earn it the first spot on our list. First, this tool allows you to see what your applied GIF edits will look like before you ever hit the Create Now button. Second, you can add a music URL from YouTube to your GIFs. And third, this site has a few other options that let you edit existing GIFs as well.
2. MakeaGIF
This popular  tool can create a GIF image from different types of content.  MakeaGIF supports content from images, webcams, YouTube videos and video files on your computer.  If that weren't enough, MakeaGIF also offers users a free Chrome extension that allows you to generate GIFs directly from images and videos you find on the web.
3. Picasion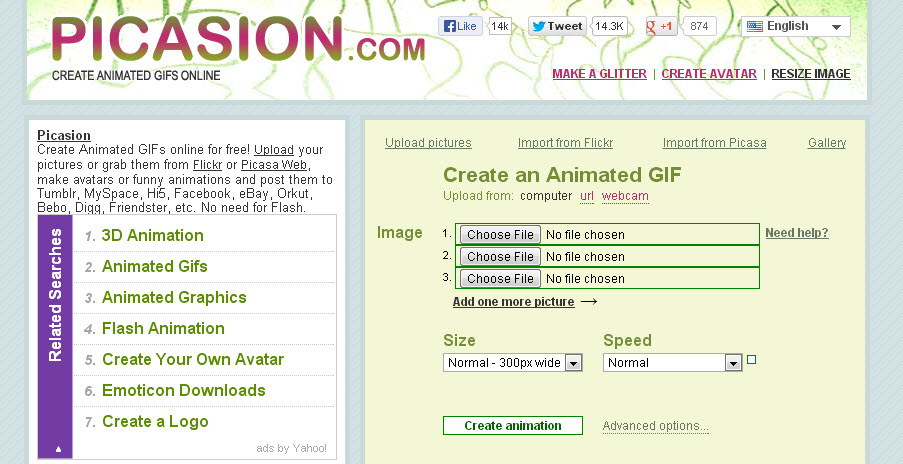 Picasion is quick and straightforward. You can upload up to 10 images for a single GIF with options for sizing and animation speed. Once your image is generated, you'll get easy access links to the image as well as HTML and BBcode for posting on blogs and forums.
4. GifSoup
GifSoup  is perfect for generating quick GIFs with very little hassle. With a free account you can create concise, 10-second GIFs from YouTube videos. The premium account, though paid, comes with a lot of perks for GIF fanatics: ability to add and edit text, create large hi-def GIF files, unlimited storage and watermark removal.
5. Imgflip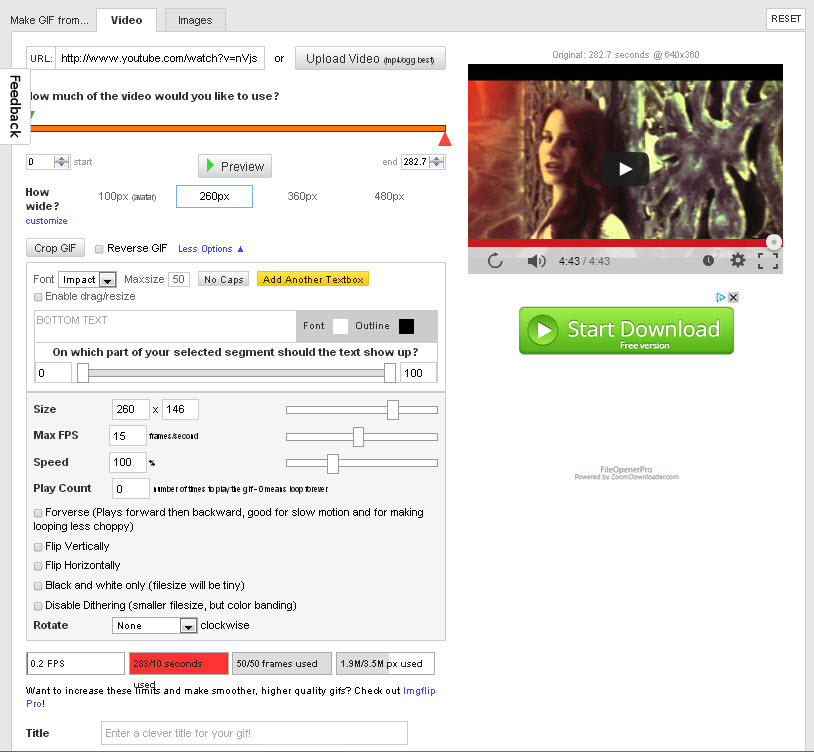 This tool gives you a bit more flexibility for creating a customized GIF from YouTube. Imgflip lets you select the portion of the video to use, as well as allowing you to crop, resize, flip or rotate your image. Decide how fast or slow you want the animation to go and you can even add your own caption with personalized text.
6. Gickr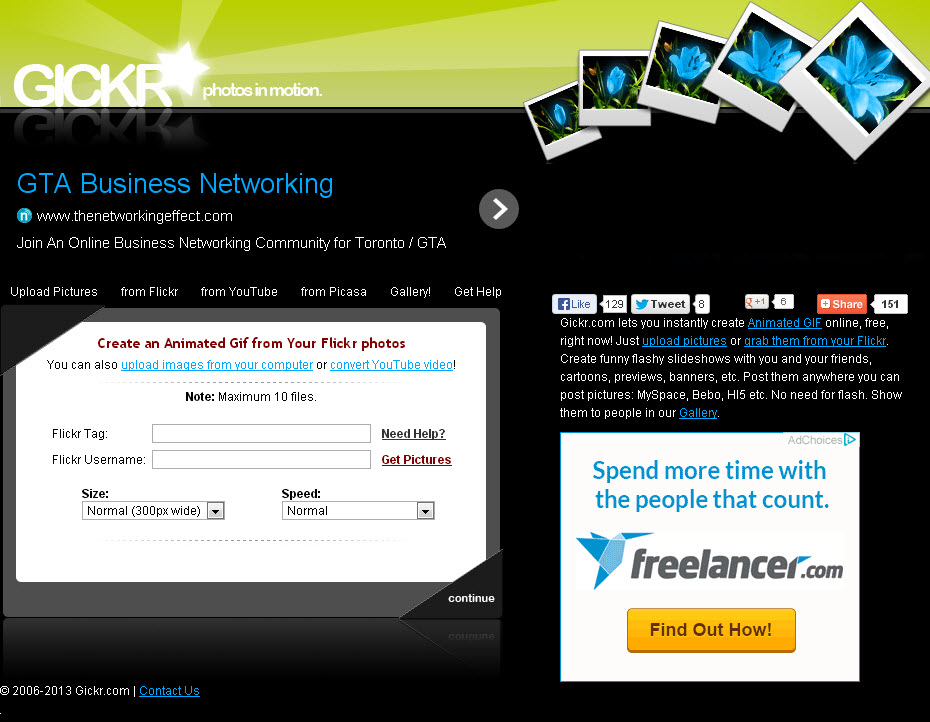 If you're an active Flickr member, then you'll want to check out Gickr. This GIF creator allows you to generate GIFs by pulling them straight from your Flickr gallery. Input your Flickr details and Gickr will do the rest. The image file size limit is 1MB and you can upload up to 10 images.
7. Myspacegens
Myspacegens is perfect if you're looking to create GIFs with specific dimensions in mind. The service lets you create GIFs perfectly sized for GIF avatars, message boards, and even 17″ screens. Unlike the other services that provide URL options for sharing, Myspacegens only allows you to download your GIF to your computer.
8. Able2Extract PDF Converter
As an added bonus, our very own Able2Extract PDF to GIF conversion option will let you animate PDF images that span over multiple pages. Able2Extract will create a GIF file that plays each image in sequence, page by page.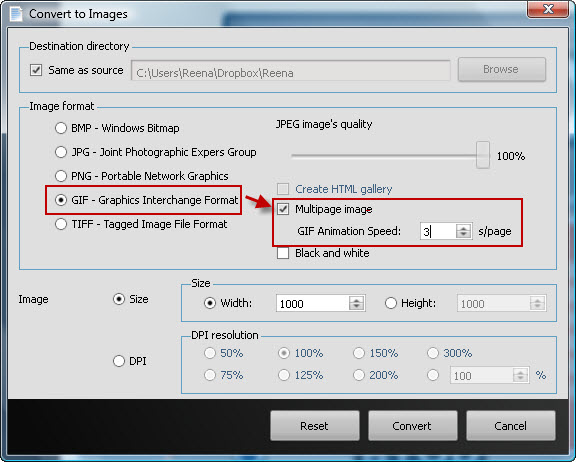 When you choose the Image conversion option, select GIF –Graphics Interchange Format, check the Multipage image box and set your Animation Speed. Then just click on Convert and save your image.
Using GIF images are great a way to add dynamic and eye-catching content to your social streams. Just add some useful text, an eye-catching headline and you have a great piece of content that can be shared over and over again.  So give these a try and see if they don't give your online posts a boost.