Whenever Google launches a fun new Doodle on their home page, productivity levels drop. We can't help but click through to see what the Google logo will do.
Today, Google just launched their latest doodle, and it's probably the most animated a Halloween doodle has ever gotten. On a day when plastic vampire teeth and zombie make up take over, Google allows you to become an active participant in cooking up your own witch's brew of animations.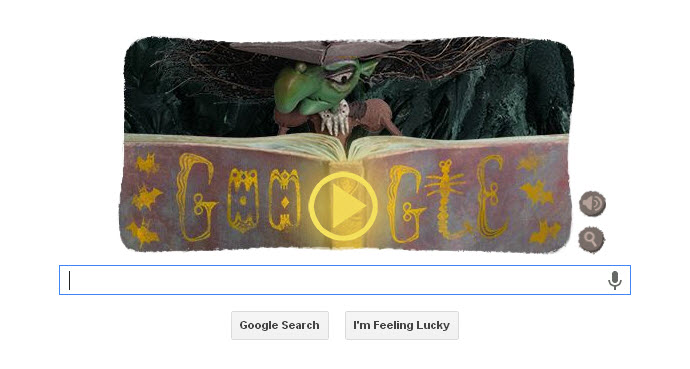 Start off by clicking on the Google logo. Then click on two different ingredients to throw them into the cauldron, like the skull and apple. For each brew you cook up, you'll get a short Halloween game depending on what ingredients you combine. Mixing the skull and apple together, for instance, will have you searching in the dark with a flashlight for a green ghost.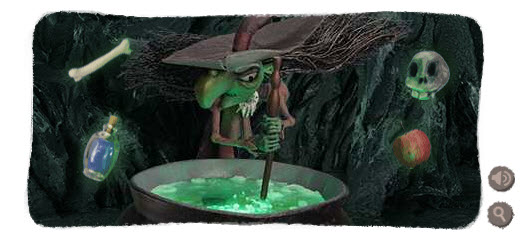 Give it a try and combine every ingredient you can. As a teaser, one brew will get you playing a coffin guessing game to find a mummy and another will have you clicking in a whack-a-mole style game with monster arms.
From Star Trek tributes and tune-recording guitars to PAC-MAN and piñata games, Google Doodles have never ceased to amuse web surfers.  Here's a look at the past 4 years of Halloween Google Doodles.
2008: Horror Movie Director Designs The Doodle

If you're a fan of horror movies, then you probably understood the idea behind Google's Halloween doodle in 2008. It was designed by American horror film director, writer and producer, Wes Craven, known for scary movies and slasher films like A Nightmare on Elm Street, The Hills Have Eyes, and Scream.
2009: It's All About The Candy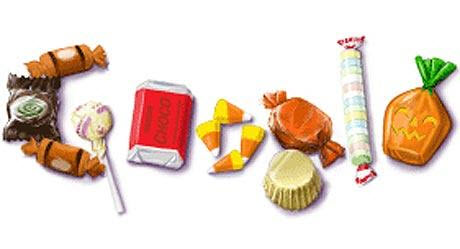 For the 2009 Halloween doodle, Google chose to go interactive with a doodle dedicated to Halloween candy. When clicking on the interactive logo, you would reveal a bigger pile of candy each time, spelling out the word "Google." When you reached the end, all that was left was a pile of candy wrappers.
2010: A 5-Click Tribute To A Cartoon Classic 

Tapping into a cartoon classic was a sure fire way to celebrate Halloween, especially when it involved Hanna-Barbera's Scooby-Doo team. The 2010 Halloween doodle featured the mystery-solving team in a short 5-panel doodle working to solve the mystery of the missing Google logo.
2011: Carving Pumpkins For Google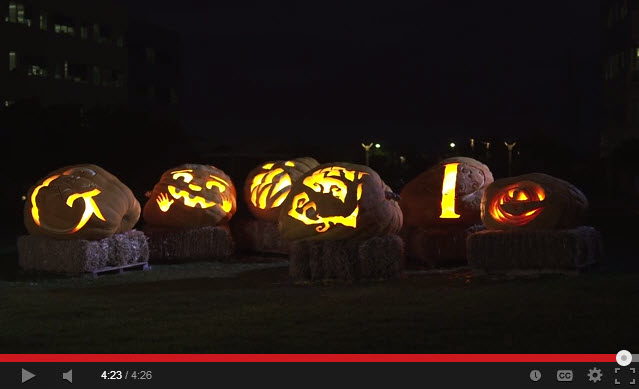 The year after that, Google put the spotlight on the pumpkin carving tradition for their 2011 Halloween doodle with Jack-o-Lanterns bearing letters that spelled out "Google." The pumpkin carved letters were the end result of 8 hours' worth of work. You can still catch the entire process in an awesome time lapse video.
2012: Getting Interactive With Trick or Treating Online

Google Doodles paid tribute to the annual trick or treating outing for the 2012 Halloween doodle. Click on each of the doors and you would be greeted by
6 ghosts and ghosts resembling the Google letters. For this doodle, the team offers you a look at the creation process, showing you what goes into designing these amazing doodles.
What started out in 1998 as a quick "out of office" message from Sergey Brin and Larry Page has now turned into a Google tradition that web surfers can appreciate and enjoy. You can catch all your favourite doodles from the Google Doodles archive and on Twitter.
Happy Halloween!