While the name of Sonic PDF Creator says it all for the software, there's more to this PDF creator than you think.  You already know that it allows you to create professional PDF documents with all the bells and whistles, plus edit and modify those same files for a more tailored file.
However, what you probably didn't know at first glance is that Sonic PDF Creator will also let you turn PDF documents to PowerPoint Presentations on the spot.
This  feature is a dead simple way to get an instant presentation out of a PDF file. It's perfect for setting up a quick presentation in the boardroom or in class when presenting the content as a PDF won't cut it. Here's a quick tutorial on the feature.
Creating PowerPoint Files With Sonic
1. Open your PDF document in Sonic PDF Creator.
2. Go to Tools> Create PowerPoint file...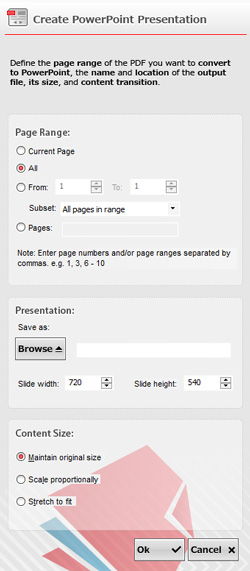 3. Define the Page Range.
4. Specify your new PowerPoint file name along with the dimensions of your presentation.
5. Select the content size of your PowerPoint slides.
6. Click on OK.
Creating a PowerPoint presentation this way will generate a basic image-based presentation, which means that you won't be able to create an editable presentation you can edit or add text to.
However, you'll be able to add shapes and text on top of the image in MS PowerPoint.  So this feature works best if you have a PDF presentation that's ready to go, no edits or fine-tuning needed.
The PDF format is great at storing and displaying visually rich content, but there are times when a quick PowerPoint presentation will work out better.  Have you tried it out yet?
Don't forget to check out and enter our Facebook giveaway where you can get a copy of  Sonic for  free!