If you're looking for a good PDF converter at a good price, you're in luck!  It's been a while since our last Facebook giveaway, and we thought it was high time for another one.
Only this time around we thought we'd plan something special. Because we know that sometimes converting to PDF isn't enough, we decided to add on another bonus offer–the ability to create PDFs as well!
That's right. We put our heads together and came up with a joint social network giveaway you're sure to enjoy.  We're giving away Able2Doc PDF to Word Converter 7.0 on Facebook and Sonic PDF Creator 3.0 on Twitter!
Able2Doc and Sonic PDF Creator
With this giveaway, you get the best of both worlds. Whether you want to download your Facebook data in PDF or need to take a quick snapshot of a PDF page, these two tools will have you covered. If you're new to our software tools, here's a look at what the two PDF software tools can do.
Some great conversion features Able2Doc has to offer: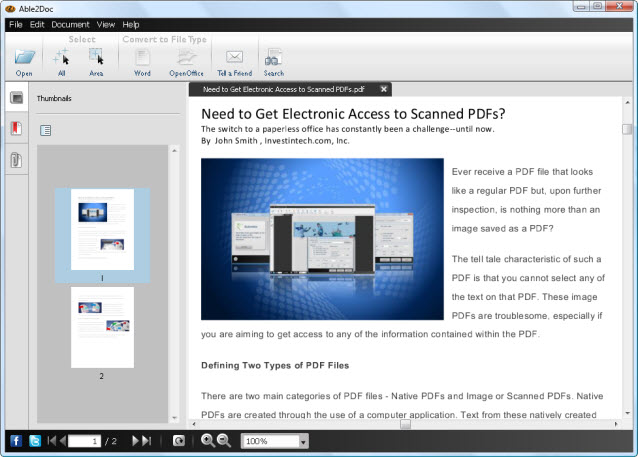 Pinpoint selective conversion: select and convert only the content you need
PDF to MS Word conversion (.DOCX, .RTF,  and Word 2007)
Various MS Word outputs available: Text, Frames and Standard
Convert to MS Word open source alternative, Open Office Writer (ODT)
Several PDF to Word conversion options for complex graphics, tables, and simple text
Available for Windows, Mac and Linux
And here's a quick look at the advanced things you can do with Sonic's PDF creation  and editing features: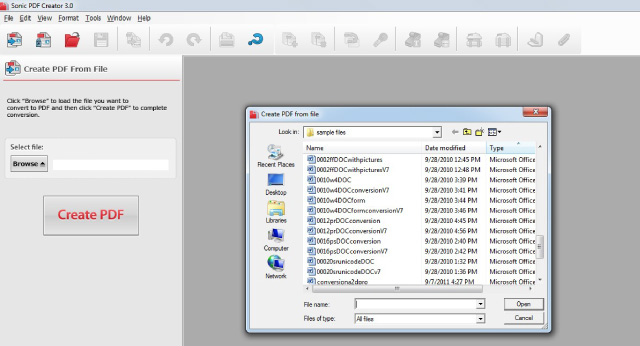 PDF file editing:  merge and split PDFs;  add or delete pages; edit PDF properties
PDF security options: add encryption, watermarks and passwords
PDF creation: add headers, footers, bookmarks, attachments
Create booklets, handouts and PowerPoint files
Batch conversion to PDF
 How to Get Able2Doc and Sonic PDF Creator
Our Facebook giveaways are known for their easy access method. So we decided to link it up with our Twitter giveaway.  When you "Like" our Facebook page now, you also get a quick chance to cash in on Sonic before Able2Doc.
You'll need to keep an eye out for the directions on the Giveaway Tab once you hit the "Like" button because you'll only get it once. Moreover, you only have 2 minutes to take advantage of the offer.
Here's the step-by-step process for each. To get Able2Doc,
1. "Like" the Investintech Facebook page and head over to the Giveaway Tab
2. Copy the free 5-digit download code and click on the link below it.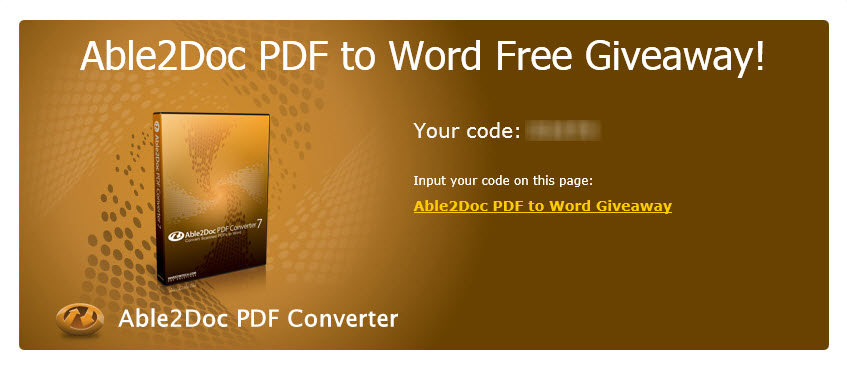 3. Paste the code into the field on the Able2Doc product page
4. Click on "Download"
To get Sonic,
1. "Like" the Investintech Facebook page
2. Enter your Twitter handle in the timed dialog.
3. Retweet our official giveaway message  (ensure that Facebook popups are enabled and that you are logged in to Twitter)
4. Follow @able2extract on Twitter to receive your Sonic PIN via Direct Message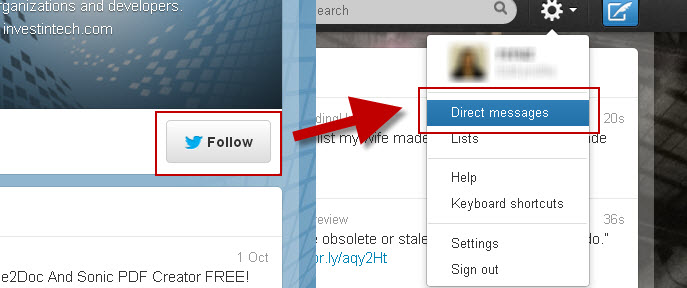 We'll be verifying your entry to make sure it meets all requirements:  retweet, follow and user handle submission.  
So don't forget to Follow us on Twitter or you'll miss out.  Direct Messages can only be sent to Tweeters who are followers.
Unfortunately, because we can't be online 24/7, we'll be distributing PINs during business hours Eastern Standard Time (EST) from 9am to 5pm. If you submit your entry on a Saturday, we'll be getting to you on Monday morning.
And that's it!
We'll be holding this giveaway for a limited time. So tweet, share, and spread the word!
Updated: October 11, 2013
Updated: August 15, 2014