A web browser is one of the most important tools for today's online worker. In fact, we become so dependent on browsers that our entire workflow comes crashing down should viruses, incompatibilities or upgrade-causing crashes occur.
Take for instance Opera 15, which was recently released. Despite the new features and the vision behind it, Opera received a mixed reaction. The latest version has users going an extra step to migrate existing Opera settings and data. Common things like themes, extensions, user-defined searches, and master password protected passwords are neither immediately apparent nor automatically enabled.   And so Opera users are missing out on a lot of their favourite features.
Although the release is only less than a few weeks old, this latest development brings up an obvious yet important point.  We need browsers to work the way we need them to, have the browser act and feel the same way at all times.
If you have bookmarked tools, downloaded plugins, and have settings adjusted in a certain way, you will definitely want them with you regardless of the computer you're on. Fortunately, you can keep them with you. The 4 most popular web browsers offer you the ability to sync your data from computer to computer. Here's how.
Opera
Opera users can now merge their browser data via several Opera sync features. Also, you can switch between computers and smartphones and synchronise all previous browser versions easily enough. Sync bookmarks, favorite sites, browsing history, passwords, tabs and keep all important browsing info right next to you!
All you need to do is to sign up and create an account, if you don't have one already. After creating one, you just need to:
Log in to your account in Opera on all devices.

See your browsing data sync automatically until you log out.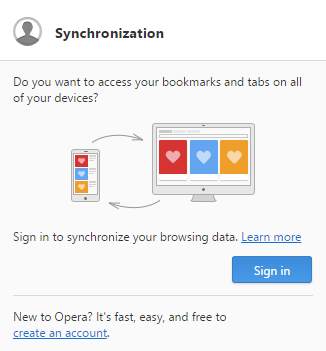 Because Opera Link stores your data in one central location, you can easily access your bookmarks and sites in different browsers across different platforms.
Google Chrome
For Google Chrome, you only need a Gmail ID to sync your browser data. Make sure you're signed into Chrome with a Gmail account on one computer. To do this:
1. Open Chrome and click on the menu button in the upper right hand corner.
2. Select Settings
3. Under the Sign in option, click on Sign into Chrome.

4. Enter your Gmail account
Then simply follow the same steps on the other computer with the same Gmail account.  You can choose to sync bookmarks, apps, extensions, settings, tabs, themes and more. You can specify by opening the Settings screen and clicking Advanced sync settings under Sign in.
Internet Explorer
If you're trying to sync IE only between computers running Windows 8, it's just a matter of turning on the feature on both computers.
1. Go to PC Settings> Sync your settings> Browser
2. Switch the option to On
For older Windows versions, Internet Explorer, unfortunately doesn't have a clean way to sync data across computers.  We found a popular workaround online which can sync your IE bookmarks, however.  It requires moving your Favourites folder (essentially your bookmarks folder) to a place which your IE browsers can access on either end, such as a SkyDrive, Dropbox or Box.net folder.
1) On your computer, go to your main user folder:  c:\users\(your user name)
2) Locate your Favorites folder and right click on it.
3) From the context menu, select Properties> Location
4) Click on Move. Select to move the folder to the SkyDrive folder you want.
5) Click on Apply. Click on OK.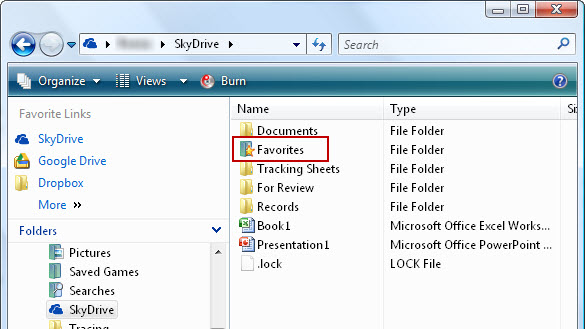 Carry out the exact same steps on the computer where you'd like to sync Internet Explorer.
Mozilla Firefox
Mozilla Firefox uses Firefox Sync to sync your browser data. If you don't have one, create a Firefox Sync account to ensure that all your bookmarks and data get saved and can be easily accessed.
1. Go to Tools> Options >Sync
2. Under Manage Account select My Recovery Key. Save this key and keep it safe.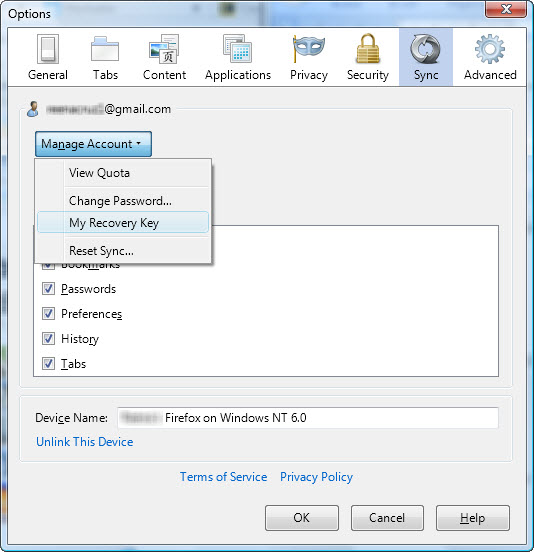 3. On the computer you want your Firefox data synced on, open Firefox and go to the Sync tab once again.
4. Sign in with the email account you used to set up Firefox sync.
5. Input your recovery key from step 2.  Click on Next.
6. Select your options to sync. Click on OK.
With Firefox you specify to sync data such as bookmarks, passwords, preferences, add-ons and history.
These short tutorials should allow you to pick up right where you left off without having to adjust to another browser.  Configure your browser once and work from anywhere!
Main Image Credit: Redmondpie.com