Now that you have a way to freely convert as many documents as you want with our mobile PDF converter apps, you may be dependent upon your cloud drive accounts for storage. Having multiple accounts can be really handy if you constantly work with digital documents via smartphone or tablet.
And it's no wonder. Unlike your mobile hard drive and micro SD cards, having a cloud account can easily hook you up with free gigabytes of storage, sync easily across different operating systems, and like email addresses, can be used for different purposes to keep your files organized, whatever they may be intended for.
Because Able2Extract mobile lets you create and convert PDFs without limit, you might find yourself bombarded with a long list of converted files. Naturally, you'll want to pass those files across your cloud accounts.
But if you hate the hassle of logging in to those cloud drives separately, you may be interested in RainbowDrive.
What Is Rainbow Drive?
RainbowDrive is the TweetDeck of cloud storage. This new service can connect all of your cloud drives together and let you offload your mobile converted docs into different accounts from one single interface.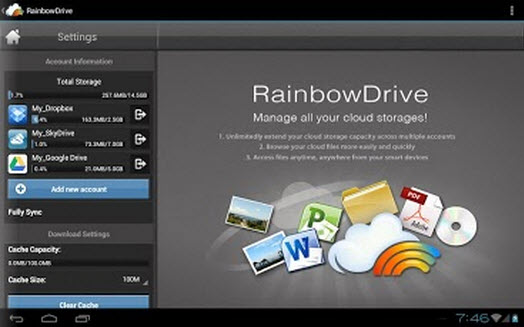 It works with the most popular cloud services–Dropbox, SkyDrive and Google Drive. With accounts set up on those sites, you can use RainbowDrive to upload, download, delete, and share files across all account and access them from different devices. In addition, RainbowDrive will let you auto-categorize your files, easily browse files via thumbnails, and search across all accounts.
One thing you'll love about RainbowDrive is that it allows support for multiple instances for each cloud storage service. Meaning that if you're like me with more than one Gmail ID and hence, more than one Google Drive account, you can access them all at once–something which, from my experience, you can't do on your desktop.
Using RainbowDrive With Able2Extract Mobile PDF Converter
The best part about having RainbowDrive on your mobile device is that it ties in perfectly with files that have been converted with Able2Extract Mobile. You can easily upload the converted files from your Able2Extract Mobile list to your drives. Doing so will give you a good chance to delete the converted documents from the file list and keep your Able2Extract mobile conversion queue neat, clean and ready for other conversions.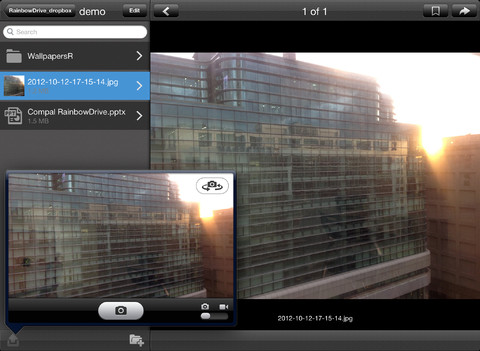 With the popularity of online document management, RainbowDrive will be a convenient productivity when you need to access documents while on the go.  If you're interested in testing it out, RainbowDrive is available for free on Windows 8, Android and iOS (iPad).
How do you use your cloud drives? Let us know how it works for you and your mobile routine.