If you've been following us on Facebook, then you know that at one point we featured an Able2Doc giveaway. Well, if you missed out on your free copy, here's your second chance.
We're having a back-to-school special, where you can get Able2Doc  v.6.0  for free (valued at $49.95) on Twitter!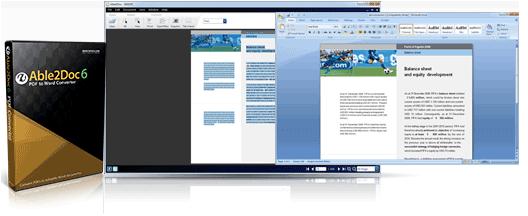 Now, if you're new to Able2Doc, here's a quick look at what it has to offer:
Pinpoint selective conversion–select and convert only the content you need
Support for converting PDF to fillable MS Word Forms you can edit and fill in
Convert to MS Word open source alternative, Open Office Writer (ODT)
Ability to convert Microsoft's XML paper specification (XPS) to Word
Several PDF to Word conversion options for complex (graphics, tables, text labels, etc.) and simple (text) content conversion
To enter and get your very own Able2Doc PDF to Word Converter, here's what you have to do:
1. Follow us on Twitter: @able2extract
2. Retweet the following text (or RT it from our stream):
Start the year off on the right foot & the right tools! RT & Follow to get #Able2Doc PDF Converter FREE! http://goo.gl/125LG  @able2extract
3. Check your Direct Messages inbox (please allow up to 24-48 hours to receive your license)
And that's it.
Once you get your license, visit our Able2Doc download page. Download and install the Trial version and once prompted, select to enter your license PIN and paste it into the fields provided.
Be sure to mention @able2extract and include the hashtags in the tweet so we can keep track of your entry.  Don't forget to Follow us as we'll be sending your free Able2Doc license via Direct Message, which can only be sent to Tweeters who are followers.
This giveaway is restricted to only 1 entry (retweet & follow) and 1 license per tweeter.  In other words, while we love it when you tweet about us, 5 retweets will still only entitle you to 1 license.  Sorry, guys!
Also, to safeguard against spammers, the Twitter account you tweet from must be legit with some tweeting history, and the full text must be retweeted.
We will be holding this giveaway for ONE WEEK ONLY—so don't forget to tweet, share, and pass it on!
Happy Tweeting!