One Chrome extension can go a long way these days.   Thanks to third party Google Chrome developers,  any one of the extensions in the Chrome Web Store can easily  transform the browser into a productivity powerhouse tool for free. All it takes is a one-time installation.
And you can bet that there are some great extensions that can help bridge the gap between you, Chrome, and your PDF documents, because, let's face it, dealing with PDFs online or through a browser can be  a pain in the neck. Extensions are necessary.
Thus, for those looking to improve PDF integration with Chrome, we offer a good starting point.  Here's a short list of 4 unique extensions that offer the most needed functionality when working with PDFs.
Show PDF in GViewer
When dealing with the PDF attachments in your Gmail inbox, it can be a hassle to have to download or save the file in order to open it.  Show PDF in GViewer, however, eliminates this and keeps everything in the cloud.  How? By letting you view your PDF attachments in Google Docs.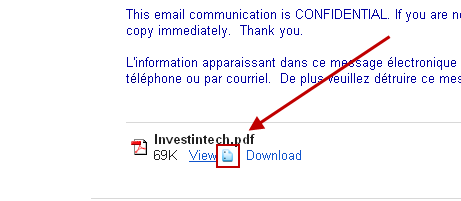 Installing the extension puts a new button beside the "View" option. Clicking on it will open the PDF file in a new tab using the Google Docs viewer.  No downloading required. Just click and view. Moreover, unlike the built-in PDF viewer for Chrome, opening it via Google Docs viewer makes it easier to import the PDF directly to your Google Docs drive by clicking on File> Save in Google Docs.
Print or PDF with CleanPrint
Online tools for web clipping or webpage printing are extremely popular, and in some cases, a must-have. For one that can quickly export to PDF, check out Print or PDF with CleanPrint.  It lets you save a webpage to PDF.
But why not just hit "Save page as…" or "Print…" and select the PDF printer driver?  Because doing so will give you the entire webpage with all the extras you might not need.   This extension lets you edit the page before printing so you get exactly what you want.
In addition, this extension has some versatile features for those who need to save on printer ink or like to use online storage for saving and sharing their web finds.   Features include: export to Dropbox, Google Drive, Box.net;  emailing capabilities; ability to save as Text files, add notes, and share the output on popular social networks.  Check out the video tutorial to see it in action.
PDFescape Free PDF Editor
Trying to keep everything online can be a challenge, especially when you come across the dreaded PDF form you need to fill out.  In such cases, you'll be happy to see the Chrome store stocked with PDFescape Free PDF Editor,  an online PDF form filling extension.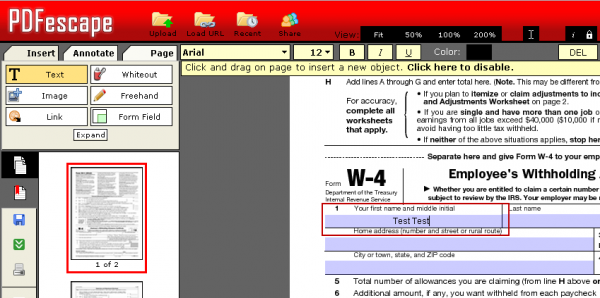 Once installed, this  chrome extension makes it so that any PDF form you click on will throw up a dialogue offering to open the PDF in PDFescape. You'll be prompted to register for the service, but you can continue without doing so (it's completely free).
After you open a PDF form, you'll get the in-browser GUI with options for filling in your form right within Chrome, itself.  Afterwards, you can download, save, annotate, and–for registered users, share the PDF form, as well.  Note that the extension is restricted to PDFs under 100 pages and unlocked PDF forms.
PDF Bookmarker
Closing off in the middle of reading a lengthy PDF document can be pretty frustrating on its own. So you can imagine (or have experienced) the added annoyance of having to scroll down through a ton of pages just to find the place where you stopped reading.  Well, here's an extension you'll enjoy:  PDF Bookmarker.  With PDF Bookmarker, you can bookmark the page you're reading and keep your place tagged for future reference.

After installing the extension, just open the PDF document from Google Docs and click on the "Bookmark"  button that appears on the left hand side just above the thumbnail of the page.   It'll then appear as "Bookmarked!" and you can close the PDF without having to worry about anything else. The next time you want to continue where you left off, just re-open the PDF and the page can be easily found as bookmarked. Simple.
According to the developer's note, be aware that there are a few cases in which the extension didn't work for some users. However, it's still worth checking out.  The extension installed easily on this end and is working great.
So which ones will you add to Chrome?  Try them out, and send in your feedback. We'd love to hear your thoughts on them.  Enjoy!