PowerPoint files are a great tool for presenting ideas.  With the right PowerPoint templates, your presentation can be effective, eye catching, and informative all at the same time. Whether it's for teaching a class, presenting at a conference, or finding inspiration, the right PowerPoint file can make all the difference.
But have you ever tried searching for a PowerPoint presentation online? It can be tough. And when you can't find what you're looking for on Google by the sixth page, you know it's time to try something else. You'd be better off with a search engine dedicated to finding digital documents.
If you're looking specifically for PPT files, here's a list of dedicated PowerPoint search engines you'll need. They've got large databases that are bound to have the PowerPoint presentation you're looking for.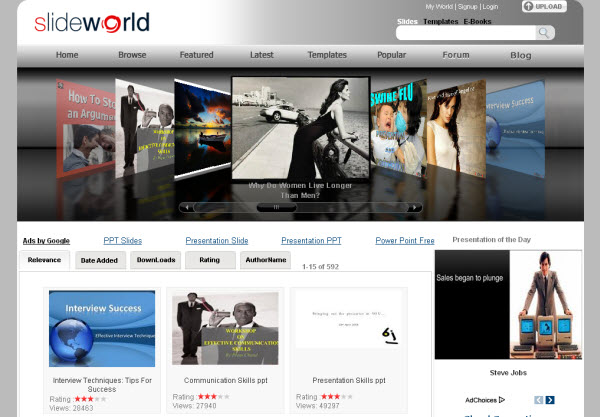 With its database of more than 5 million PowerPoint presentations, SlideWorld.com is bound to be a one stop search in your hunt for that one PPT file.  You can explore through a wide range of categories or narrow your search quickly via tag, popularity rating, number of downloads, and date added.
2. SlideFinder.net

SlideFinder is just what its name says it is. When you search for a PowerPoint file it will present you with a URL and a thumbnail of a relevant slide from that presentation. Selecting one of the results will give you thumbnails of all the slides within the presentation for a quick preview before you download the entire file.
3. JPowerPoint.com

With JPowerPoint you get a straightforward search engine that offers you a bit of help with  1,000 of the most recent searches made by other visitors.  When you select one, JPowerPoint will take you to an embedded viewer in your browser where you can sift through the PowerPoint presentation after which you can download to your computer if you like.
4. PPTFinder.net

If you're familiar with Google, then you can easily find your way around this search engine. This search-and-find tool  gives you the URL, thumbnail, a brief description snippet, and  the option to download each result it finds. Clicking on a result will let you view it directly within GoogleDocs where you can search the file, save it to your account, download the original, or print it as a PDF.
5. PPTsearch365.com

Although PPTsearch365.com is in beta, it's still a powerful search engine that can dig up the most relevant PowerPoint files on the web. Type in a keyword and you get results with a brief description and the URL to the PowerPoint's location. Unfortunately, there aren't any options to view the file first, so clicking on a result will automatically start downloading the file to your computer.
6. SlideWorld.org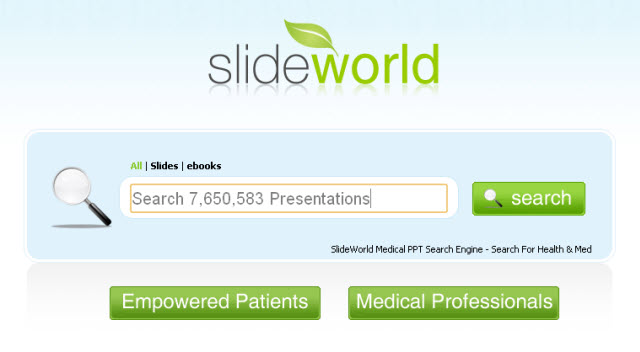 Developed by SlideWorld.com, SlideWorld.org is user-friendly site dedicated to indexing PowerPoint files on medical research and health and well being topics. Searching by category, patient topics, and even by conference, you'll be able to find PowerPoint presentations on issues like nutrition, alternative medicine, cancer, psychiatry, and more.