The Internet is one of the best–though competitive, places to start your own business. You can literally be a one-man company whether it be a professional blogger, a small start up, or a budding freelancer.
In each and every case, the digital business card will be your number one branding tool.  It's an easy way for others to find your background details and social networking profile online.
However, the problem is that it's quite common to be on more than one social networking site at once.  In fact, you can have more than a dozen profiles at any given time.  But you need to conveniently share all your social media profiles in one shot and make sure you can update the information hassle-free.  So creating and managing your digital business card can seem really complicated.
Fortunately, even though it sounds complicated, it isn't. There are a few online services and mobile apps that can make creating, managing, and sharing your digital business cards easy. Take a look.
Online Services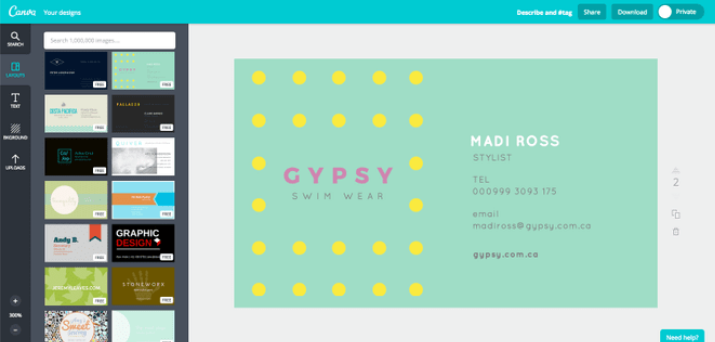 With Canva's drag and drop business card maker, you can create stunning and professional looking business cards without any graphic design experience. This is a perfect tool if you don't have the time or money, because you can simply choose between hundreds of amazing layouts and customize your favorite one.
Each card design you create can be re-opened as many times as you wish, giving you the opportunity to modify your design whenever you feel like it. This way, you won't need to hire a designer to make every single change, such as adding an address or new phone number. You can make these changes on your own and simply download your new design. You can also upload your own logo, use your brand colors and choose corresponding fonts to create a unique recognizable brand.
Your Canva card design will be saved in the PDF and in a high resolution so you can simply download everything and prepare for printing.
2. About.me

With a free account on About.me, you can optimize your brand with a personal webpage you can share just like a digital business card. You can display all your social networking IDs in one convenient place and share them anywhere with a simple link.  This is a great way to brand yourself online without having to shell out time or money.
In addition to getting set up with a virtual business card-like page, you can also use About.me as a social network you can use to increase your visibility and expand your network. Interact with other users directly by adding them to collections or sending them a compliment. You can even browse by interest or location, making your connections relevant and valuable.  Perfect for professional networkers online.
3.  One Card
One Card, a standard for digital business cards, can help you to connect better with your customers. It's a digital hub that works on both smartphones and computers with no need to install anything. Customers can pick and choose how they wish to connect with you, including contact information, text, video chat, or any other way. Having all social networks in one place gives you the possibility to quickly create a digital brochure and share it with everyone.
4. Everypost
Everypost makes social media publishing simple and easy. It gives you the opportunity to combine visual content from a variety of sources, customize your information, schedule posts, and actually control everything on your social pages.
This all-in-one publishing solution is the simple and convenient way to share multimedia content across multiple social platforms, including Facebook, Twitter, Google+, Pinterest, with the possibility to pull any relevant content from sites like YouTube, Instagram, and Flickr. More importantly, it's completely free.
5. Know.ee

"Don't print your cards – Impress your contacts" is the the motto of this interesting tool. With Know.ee you can get your cards pretty quickly and without any cost. The thing that makes this tool different is the fact it's a virtual card creator, meaning you can never run out of your cards. This is a real advantage since they're always available. Upload your image or design a new one and start sharing them.
Mobile Apps
Evernote Scannable is an app that can quickly scan any paper that comes in your way such as contracts, receipts, reports, business cards and create a digital file. All you need to do is to point your camera at a document and Scannable immediately captures everything.
The tool can also rotate, crop, and adjusts your scanned images so your digital data is clear and visible to read. You can send your scanned documents via email, export them to Evernote or other corresponding apps. Scannable is free to download.
7. CardCloud
Once you create your business card on Cardcloud.com, you can share it with anyone, regardless if the other user doesn't have the app installed. You can send your digital card to an email address as well as a phone, or add a note to a card you receive. When you sign up for free on the main site, you get a customized URL you can pass around where users can download your vcard.
8. Haystack 

Haystack app allows you to quickly and easily create branded digital business cards and share them across your entire organization. Now, everyone can use digital cards and present their company or organization, in the modern and innovative way, to potential clients and partners. Anyone can receive your digital cards, even if they don't have the app installed. Also, if you make some changes, all details will get updated automatically and directly on people's devices.
9. YPrintit

YPrintIt is an app that combines business cards and QR Codes.  It lets you create a business card that will have a unique QR Code generated for it.
So when you want to share your vcard, simply select Share and the QR Code will show. Those with a QR Code reader will be able to scan it and easily view your business card on their phone. The  free app is available for iPhone and Android with support for Blackberry phones coming soon.
10. SnapDat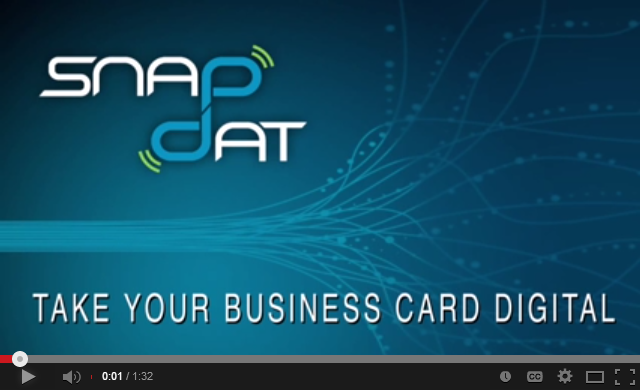 SnapDat is the iPhone app for those who still love the business card look, but want the digital perks that come with a smartphone.  The app not only lets you customize, share, and send digital business cards, but it also lets you interact with them.
Add a personal note with your card, embed active links to your social profiles, geostamp the location of your meeting on a map, and send a snapback of your own card after receiving one.