Without doubt the Internet is about sharing, and these days you can share almost anything online simply by clicking on a widget.But, if you're a social networking butterfly, chances are you're more active and sharing and uploading your own links, photos, images, and audio onto whichever social site you're on.
For sharing PDF documents, it's the same story. For instance, if you've heard of Scribd.com, then you know that sharing documents has turned into another great way to network with other users. Once you've uploaded your files, others can read them, leave a comment, and then share them on the most popular social networks.
But if you're already on that site and looking for more places to spread the word about your PDF files, check these Scribd alternatives out for yourself.
1. doxtop

If you love using social networks to share your content and spread the word, you'll want to check out this site. This social publishing site is focused on integrating your content with the web and with your social networks.
Once you register, doXtop lets you share your published content with social networks that are supported by Google's OpenSocial standard—Ning, FanBox, hi5, orkut and Friendster.
2. Twidox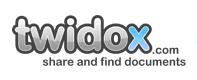 Here's a free professional online library similar to Scribd where users can share, find and contribute their own files.However, this site is primarily focused on research and learning.
The type of content on this site consists mainly of research papers, industry specific documents, dissertations and documents focusing on data and statistics. 
Features for this site include the ability to embed documents in blogs and social network profiles, track statistics on uploaded files, and set access options for those with registered organization accounts.
3. YUDU

Here's a perfect site for those looking to share a bit of everything.On YUDU, you not only get to find and share PDF files, but you also get to bookmark websites and share audio and image files on any number of topics.
If you sign up for a YUDU Plus account, you get the added bonus of being able to sell your online PDF magazines as well.
4. doocu

Looking for a site with better searching and indexing features? Check out doocu. This no-frills document sharing site is focused on organization and on making the PDFs you're looking for (and posting up) easy to find.
In addition to being able to tag your file, doocu also lets you specify the metadata on your PDF file when you upload it and keep track of how many times its been viewed, bookmarked and downloaded so you'll know how your file is doing.