Struggling to meet a tight deadline? Can't open a file? File conversion needs to be redone? No one said handling PDF files would always be easy.
While stress can help drive you to complete difficult tasks and take on tough challenges, there's a point where it begins to have negative effects on your work, your mood, and your health.  Even with the best PDF tools on hand, you can find yourself  pouring over every inch of your content and your files  for hours on end. Working in front of a computer screen for long periods can even take a physical toll on you, leaving you overwhelmed and frustrated at the same time.
In cases like that, people will tell you that you should leave the desk for a few minutes, take a walk, or to slow down for a bit. The common response?– Easier said than done. It can be even harder when you're focused on completing the task at hand.
But, here's an idea. If you can't leave your desktop for a minute, why not use it?  We've scrounged up a few popular sites and tools to help you cope with the daily grind without leaving your desk. Instead of ripping out your hair trying to do everything at once, try giving these a shot first.
Staring at a computer screen for 8 hours at a stretch is a bad habit you can easily develop if you aren't careful. You've probably done it before and have been left feeling fatigued and irritable, coping with headaches caused by the constant eye strain. We've all been there.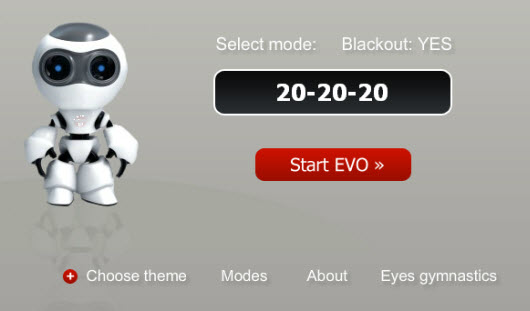 Luckily, Protectyourvision.org offers you an online personal assistant, called EVO, who can help. This little bot not only counts down to remind you to take a break, it also guides you through Eyes Gymnastics (simple exercises that help to lessen the tension on your eyes).
When deadlines and workloads don't mix, your time management skills will play a critical factor in either raising or lowering your stress levels. This is where Focus Booster comes in.

Based on the Pomodoro time management technique, Focus Booster Live regulates your work into blocks, giving you 25 minute intervals in which to work on your tasks with a break afterwards.  The goal behind this? Frequent breaks can help to get your mental agility going and give you the concentration boost you need.
Wound up too tight? Give yourself some breathing­­­­ room. Sometimes, all that's needed is a mental break. Doing something completely unrelated to work will often do the trick.  When you get back to your work, it'll be with a clean slate.

And what better way to do that than Play Pacman Online?  Yes, it's exactly what it sounds like—and completely unrelated to work.  This site will actually let you play the classic 80's game (in addition to other retro classics) right within your browser. No account needed. Warning: this game can be addictive. So proceed with caution!
4. Musicovery.com
It's a given that your mood will play a major role in how your day goes. You're more than likely to work with poor results if you're down in the dumps or anxious about things outside of work. In such cases, music is probably the number one distraction you're likely to turn to.  If you don't have your usual playlists with you, Musicovery.com is an online music service that can fill in.

With a free account, Musicovery.com lets you customize your radio station according to mood—energetic, dark, positive, and calm. While some listen to music to counteract their mood, others may listen to music that reflects their mood. It's entirely up to you.
For workaholics and chronic web surfers, this tool may be a challenge. When you think you're doing all you can do to press that internal reset button by doing nothing, visit this site.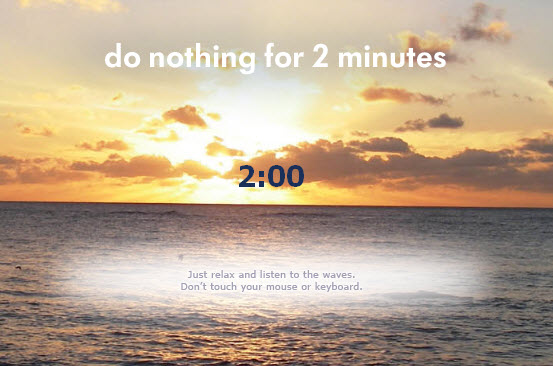 While its name may sound like one of the easiest things to do in real life, doing it online is surprisingly a different story. Give it a try and see how long you last (I failed in the first 5 seconds!).
These are only a few tools to give you an idea of how you can relax under demanding situations while at your own desk. What are some ways in which you go about reducing your stress while at work?