We've always heard about the PDF format being used and relied upon by millions of users on the web every day, and I think it's safe to say that a good chunk of that number accesses PDF files within a web browser.
However, if you're a Chrome user you may not have been part of that chunk. Opening PDF files in Chrome wasn't as great as one would hope when it was geared towards speed processing and browsing.
But last week, Google announced that the Chrome developer team is working on upgrading PDF support for the browser.
And as improvements for PDF support will put your user experience on a whole new level, you can definitely use a new arsenal of PDF resources to match.
First off, even though the Chromium blog is the first to admit that Chrome's PDF rendering was less than stellar, they're also quick to lay out a few teasers on what they have in store with the new improvements.
According to the Chromium blog entry,
"PDF files will render as seamlessly as HTML web pages, and basic interactions will be no different than the same interactions with web pages (for example, zooming and searching will work as users expect). PDF rendering quality is still a work in progress, and we will improve it substantially before releasing it to the beta and stable channels"
They also plan on features like the ability to launch Adobe Reader separately and "bring the full PDF feature set to Chrome."
If you're interested in the new Google Chrome browser plug-in API, the blog posting has all the details and links you need to keep in touch with the project.
Now, while improved PDF rendering and web integration is in the works for Chrome, it's still a long way before anything will be released. So in preparation for the day when you can speedily zip through a PDF in one Chrome tab and search for PDF tips in another, here are a few web and media oriented goodies that can jazz up your PDF toolbox and keep it up to date.
Who doesn't love watching something online? I've already given the site a brief spotlight in a previous post. But to recap, AdobeTV is made up of episode clips on Adobe products—Acrobat included.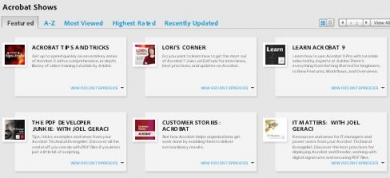 On the Acrobat channel you'll find tutorials, informative clips, and general discussions on the PDF. Episode hosts on the Acrobat channel include Lori DeFurio and Joel Geraci.
The Acrobat Lounge
If you've got an iPod, and are looking to download some tutorials for later use or while on the go between projects,The Acrobat Lounge has some great resources. Though a bit outdated this site still has some good podcasts with tips you can use in Acrobat 9.0.
The Ultimate PDF Knowledge Exchange

Here's an interesting forum set up by 4xPDF that launched last November.Like other Help forums, this one is community based, but adds a fun twist with incentives for you to participate actively within the community.
You can earn achievements, badges and vote up answers.It's a fun way to learn how to solve your PDF issues and gauge how your own PDF knowledge is progressing.

Acrobat is on Twitter!@Acrobat aims to have its finger on the pulse for everything Acrobat—blog postings, published tips, updates on events and links to product reviews. The account, as of now, has less than a hundred tweets, but they look worthy of retweeting.