WordPress is one of the major blogging platforms online. This is because WordPress is not only free, but it can also be catered to the individual needs of its users.
As a result of continuous efforts of the large community of WordPress developers, there is a huge collection of WordPress plugins from which you can choose and embed on your blog.You can customize your own personal space according to your own personal taste.
Moreover, WordPress developers have created many plugins that can also take advantage and integrate the features of other digital documents, like the PDF, right on your blog. If you're looking for some handy PDF plugins, here they are.
Let's have a look at the top 10 PDF plugins for WordPress blogs.
1. Article2pdf
This plugin allows your blog readers to download a post in the PDF format. Article2pdf has an edge over other such plugins in that it lets you specify a layout template for the generated PDF file.
Moreover, all the images, links, formatting, lists, table and other html elements used in the post are preserved in the pdf format of the post and the generated PDF files can be cached to reduce server load.
2. Google Doc Embedder

A very handy plugin that lets you embed your PDF and PowerPoint presentations stored in Google Docs directly into your blog posting.
The best thing about this plugin is that it doesn't require uploading PDFs or presentations.It'll pick up the document from the specified Google Doc URL or any other accessible web location and display it in your post.
3. WordPressPDF
WordPressPDF is very handy if you want to embed a PDF file into your post in the form of a .swf file.
This plugin uses the zviewer interface–an easy iPaper like interface to display PDF documents, books and magazines, to embed the PDF files converted to swfs.
4. Post2PDF
A simple plugin that allows you to add a "Convert to PDF" button at the bottom of your WordPress posts.
Using this button, users can either open and view the converted blog post or save the converted PDFs into their computers for later use. This plugin is very helpful in blogs containing tutorials.
This plugin allows you to add a button to your wordpress blog and let your readers print out an optimized version of the blog post.

The optimized version of the blog is clean and allows people to remove the images contained in the post while printing hence saving ink and paper. Moreover, the users can save the post in the pdf format as well.
6. PDF24 WordPress Article Plugin
PDF24 has recently released this wordpress plugin that not only converts a wordpress blog post into a pdf but allows the reader to send that pdf to an email address in the box provided.
The plugin displays a small box underneath each blog post in which the email address can be entered to send the pdf version of the blog post.
7. PDF24 WordPress PDF Sidebar Articles Plugin
This wordpress plugin from PDF24 displays a small box in the side bar of the wordpress blog. The reader can enter an email address in that box and then all the blog posts on that page are converted into PDFs and sent to the provided email address.
8. BlogBooker
If you want to compile your blog posts in the form of a PDF book then this servce is for you. Using this tool, you can turn one year's worth of blog posts into a book for free with a few clicks.
Then the xml-data of your posts is generated and sent to BlogBooker.com server in order to format them as book including a table of content and pagination. You can then download the generated PDF book.  The free plan allows for 3 books to be generated and the plan is valid for 6 months.
9. AsPDF
AsPDF A simple yet very handy plugin to generated pdf forms of your posts. The plugin generates the link to the PDF version of the post and embeds it underneath each blog post. This makes it easier to share the PDF link of the blog post with others. ILC-PDFBox
10. ILC-PDFBox
ILC-PDFBox allows you to display a PDF document embedded into a post using Thickbox i.e. the JQuery modal window. This means that the PDF is displayed in the same window.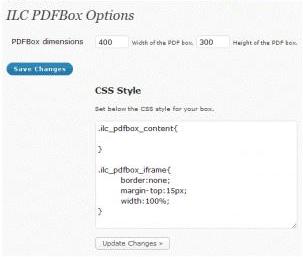 No need to open up a separate one to display it. Hence, it can saving your users the loading time as well as the excessive bandwidth required to load the PDF.
So, if you want to revolutionize your wordpress blog then pick any of the above mentioned PDF plugins and install them into your WordPress blog.
Enjoy!