How It Works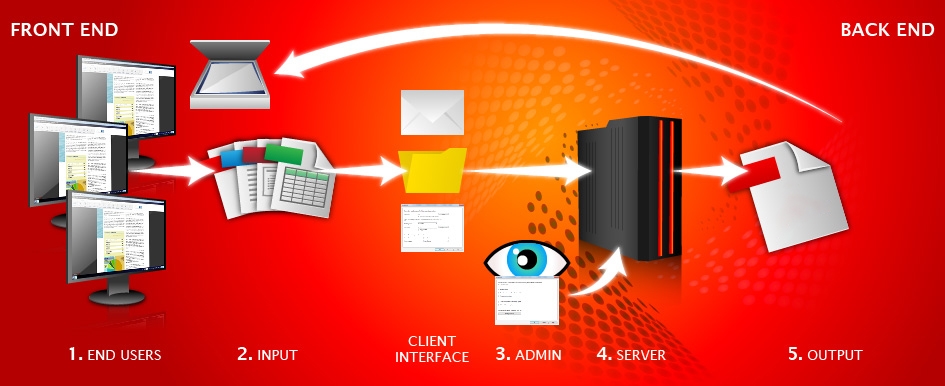 1. End User
End users can use one or more of three different methods to extract their PDFs (the administrator controls and determines the method(s) used):
E-mail
End-user sends an e-mail with the document for conversion attached to an administrator designated e-mail address. Once the document has been processed by Sonic PDF server, the converted result is returned to the end user's inbox via e-mail.
Watched Folder
Using the watched folder method, users drop their documents into a designated file folder on their computer. In the case of Sonic PDF Server there will be one input and one output watched folder. When an end user wants to create a PDF, they will drop the file for creation into the input folder. A single output watched folder will then be present for users to retrieve their converted document.
Job Ticket User Interface
The administrator can also deploy a simple user interface to individual desktops where it can be used by end users to send files in and perform conversions.
2. IT/Network Administrator Sees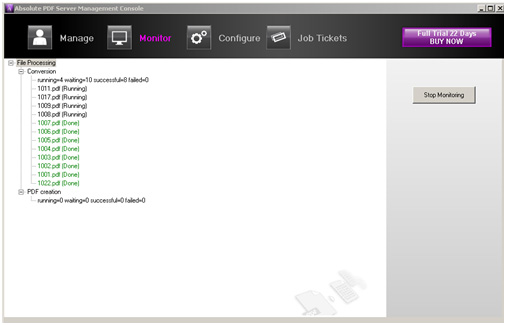 Through the use of the administrator interface, the organization's IT department has the ultimate control over document management organization wide and can integrate Sonic PDF server into the existing IT process. The administrator is able to set:
Permissions
The Conversion Method
Document Features
Inputs
Hundreds of different electronic file formats (for conversion into PDF). If it can be printed from the Windows application, then it can be created as a PDF
Image (scanned) PDFs and Tiff (for conversion into searchable PDF)
3. The Result
After processing the document via the server, the result is delivered to the user in one of the designated output forms:
Output
PDF – Hundreds of different MS Windows file formats are successfully converted into PDF.
Searchable PDFs – Image PDFs that were previously unsearchable become searchable.