Conversion 1-2-3
Simply "Open, Select, Convert" your way to outstanding results:
Open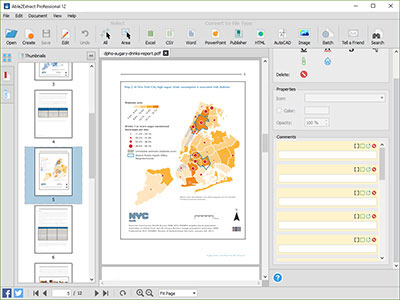 Save valuable time by not having to hunt between different applications and by being able to make pinpoint data conversions!
Able2Extract Professional differs from other PDF conversion products because we include a PDF viewer. This saves you, the user, time. Instead of toggling between two programs, Able2Extract simply loads the PDF file into its viewer so you can see your PDF document. Able2Extract's PDF viewer also allows you to specify the exact amount of PDF data you want to convert. It can be as little as one table on one page. PDF converters without a PDF Viewer are limited to only converting a page at a time. This results in the converted data needing to be cleaned up post conversion. With Able2Extract Professional, you don't face this problem!
This can be a lifesaver when you only want to do such things as convert one table from PDF to Excel or convert a paragraph of text from PDF to Word.
Select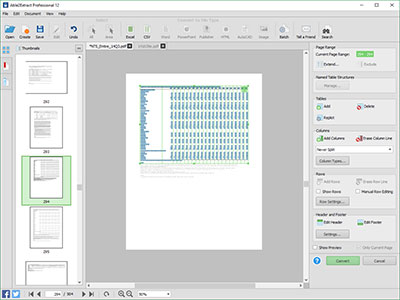 Selection is simple, precise and, best of all, accurate
Investintech's PDF conversion solutions possess unique selection
options that make it even easier to select the PDF data you want
to export into another format, such as Word or Excel. The Table Selection feature lets the user select row by row and select all of the columns of data on a page at once. This is a good option when a user would like to capture a whole table. The Column-by-Column Selection allows the user to select row-by-row and column-by-column. This option provides maximum control for the user and results in the user being able to select as little or as much data as they would like. Thus, when converting a table from PDF to Excel, the user can select on the columns of data they want, should they not want to select the whole table.
Convert

More PDF Conversion Options and Better Output
Able2Extract has been dubbed by many as the ultimate conversion utility because it offers more advanced PDF conversion output quality and more total conversion options than other products on the market.
Top Notch Conversion Quality Investintech employs a proprietary conversion algorithm to convert data between different formats. The algorithm's overarching goal is to preserve the quality and integrity of the data no matter the destination format and source format.
PDF to Excel - Perform Analysis with Excel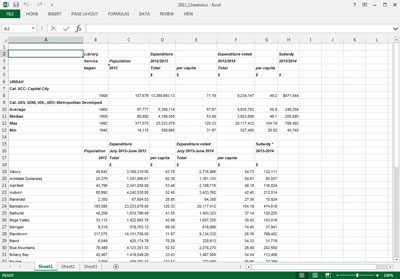 Able2Extract Professional delivers top quality PDF to Excel conversion output. Converting PDF to Excel with Able2Extract results in PDF data that is transferred into formatted Excel spreadsheets. The result of the PDF to Excel conversion is workable data in Excel that can be analyzed using Excel's powerful analysis spreadsheet functions. Thus, tabular data, including numerical information, that was previously inaccessible in the PDF format can be extracted, audited and analyzed instantly.
Instant PDF Creation
Able2Extract Professional is also PDF creator that allows you to generate high quality PDF files. Take advantage of creation and security options to create PDF documents for professional uses and you can preserve your data, graphics and formatting as required.
You get ultimate control over the PDF creation process. Use the Print Dispatcher to access PDF creation options and newly created PDFs from your desktop. Moreover, the PDF creation can be accessed in more than one way:
PDF Creation With The Able2Extract Interface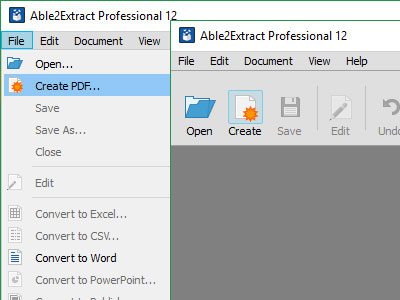 The Able2Extract Professional Graphical User Interface gives you one-click access to PDF creation.
To create a PDF file in Able2Extract Professional, click on the Create command on the toolbar. Select your file and click on Open. The document will be displayed, ready for PDF creation. Apply the PDF creation settings you need and click on the Save or Save As option. Name and save your file as desired.
PDF Creation With The Virtual Print Driver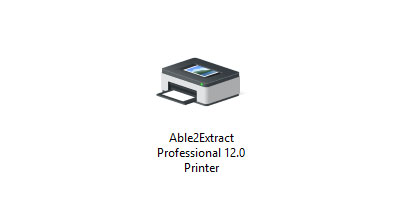 Use the Able2Extract virtual print driver for a fast and easy way to create PDFs from your everyday applications.
The Able2Extract Professional virtual print driver can generate PDFs from any application through the Print command. Once your content is ready to be saved in PDF format, select to print the document. In the Print dialog, choose the Able2Extract print driver instead of your default printer. Use the Print Dispatcher in conjunction with the virtual print driver to customize your PDF creation settings and post conversion behaviour. Able2Extract Professional can easily bring PDF creation to any program you use on a daily basis.
PDF to Word
The PDF to Word conversion option within Able2Extract lets you make changes and edits to your PDF documents in the familiar MS Word format. Graphics, text flow and layout of the PDF is preserved.
Edit PDF Text in Word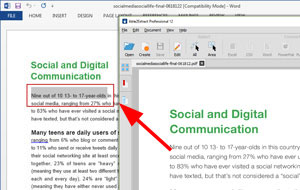 Text that was formerly impossible to edit in the PDF format, is now accessible within Microsoft Word.
Preserve Formatting and Layout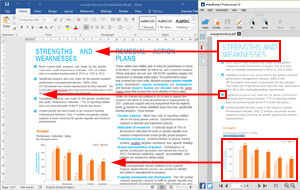 The formatting and the layout of the PDF is retained when converted from PDF into the Word format.
Retain Graphics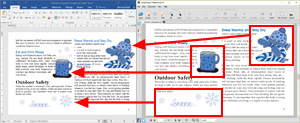 Graphics from the PDF are transported into Word. Preserve vector style graphics as editable objects within Word.
PDF to PowerPoint (PPT)
Need to get that PDF information into PowerPoint for your next presentation. Well, our PDF to PowerPoint conversion will do the trick. Graphics and text from the PDF come through in PPT file format.
PDF to HTML
For those users wanting to take their PDFs and create HTML documents for placement on the Internet, Able2Extract Professional's PDF to HTML conversion will do the trick. The output HTML retains the graphics of the PDF as well as the text.
PDF to Text
Able2Extract lets users take the text from their PDF and convert it into a text document quickly and easily with one touch of a buttom. This is great for users needing their textual data in .txt document.
PDF to CSV
Able2Extract lets you work with database formats more efficiently. Convert PDF to CSV format directly. You can even set your conversion settings to output to other delimited formats. Simply set up your delimiters as a default, You can then extract PDF data directly to the textual database formats you use regularly.
PDF to Images
Our enhanced image conversion option lets users convert PDF to JPEG, BMP, GIF, TIFF and PNG. Each format conversion comes with its own settings to specify image quality, dimension, scale, black and white, GIF animation speed and more.
HTML to Excel*
Many users have a need to transport tabular data found on the Internet in HTML format into formatted Excel spreadsheets for analysis. The Able2Extract's HTML to Excel conversion option provides such a solution for these users. Simply save the HTML file you would like to convert, open it in Able2Extract and then convert it into a formatted Excel file for analysis.
Text to Excel
Financial statements for companies are frequently posted in Text format. The Text to Excel feature within Able2Extract lets users take the data from these text based financials and place them in formatted Excel spreadsheets. The Text to Excel feature is not limited to financial statements, that is but one example. Any text can be converted to Excel using Able2Extract's Text to Excel feature.
Any Printable Format to Excel
Able2Extract Professional now has the ability to view, select and convert XPS generated documents into Word, Excel, PowerPoint and more. XPS is Microsoft's new electronic paper format.
XPS Conversion
With Able2Extract, you can convert non-PDF tables directly to formatted Excel spreadsheets. Transfer tabular data in MS Word, OpenOffice or PowerPoint presentations without having to convert to PDF first. The process is accurate and more efficient than copying and pasting!
*HTML to Excel, Word and Text conversion option is available in versions prior to Able2Extract 8. If you need this functionality, please contact us.