Basic Tips for Working in Word for iPad
In order to bring the keyboard up, simply tap on the document.
If you want to minimize the keyboard, simply tap the keyboard button.

If you have not changed any settings, then you are going to be seeing a lot of automatic typing aids.
If you would rather not use these typing aids, you can turn them off in your settings.
Tap on Settings, and then go to General and then Keyboard.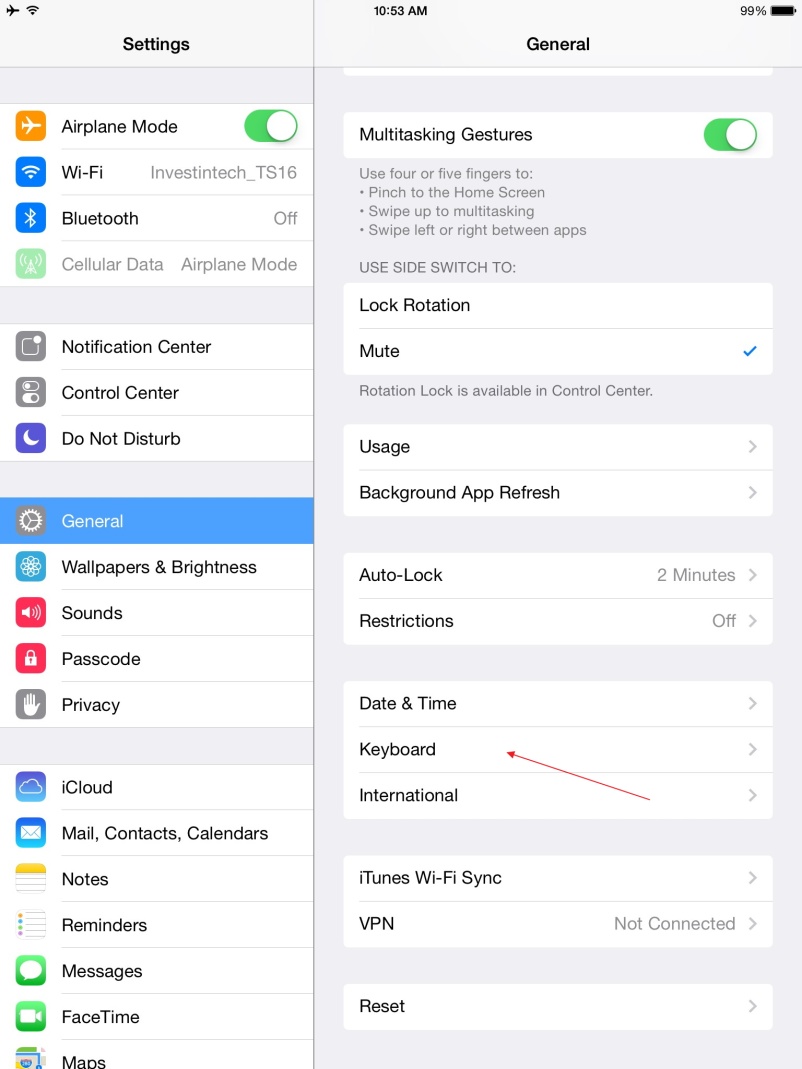 Here you will be able to turn off what you do not want from the offered typing aids.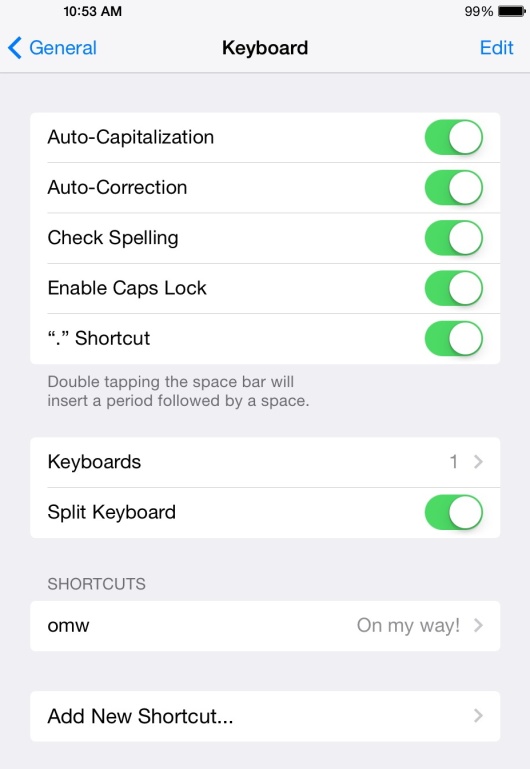 However, you should remember that if you turn off these aids, they will be turned off whenever you are typing using the iPad, not just when you are using Word or another Office app.
The period shortcut
If you don't want to type a period ever time you need one, a faster what to do it is to simply double tap the spacebar. This will give you a period any time you need it.
Cursor precision
As many of us who have smartphones or tablets know, tapping within a sentence to set the cursor exactly where you want it is often not a simple task. The best way to do this is to press and hold on the sentence in order to get the magnifying glass feature to come up.

Now you can slide your finger across the sentence and place the cursor exactly where you want it, quickly and accurately.
Press and Hold shortcuts
There are faster ways to get to various punctuations when you are typing on your iPad. You don't need to switch your keyboard constantly to the punctuation and symbol keyboard in order to get what you want. Rather, you can get a lot of these things from the regular letter keyboard by simply pressing and holding on various keys.
For example, if you need an apostrophe, simply press and hold the comma key and an apostrophe key will appear.

Now simply slide your finger to the apostrophe to enter it into your document.
You can play around with this by pressing and holding on various other keys to see what other shortcuts are available.
Selection
If you want to select a word, simply double-tap it.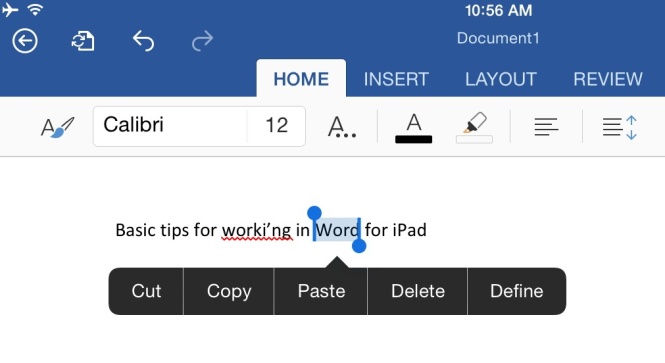 It you want to select more than one word next to the one you have selected, tap the word and then move the handles to select all of the words you want selected.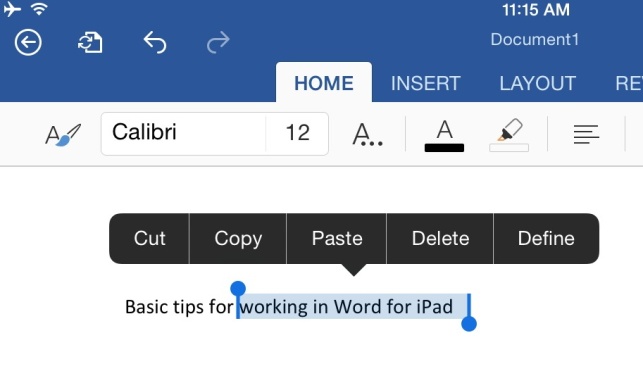 If you want to select a string of words at once, double tap and then drag the handles immediately.
If you want to select an entire paragraph, triple-tap it.
If you want to select the entire text in your document, tap and hold for a while, release, and then tap on "Select All" when it appears.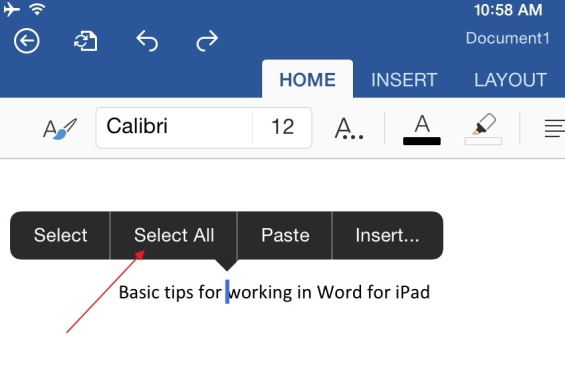 If you are working with a table and you want to select the entire table and change its appearance, tap the table and then tap the icon that looks like an arrow in the top left corner.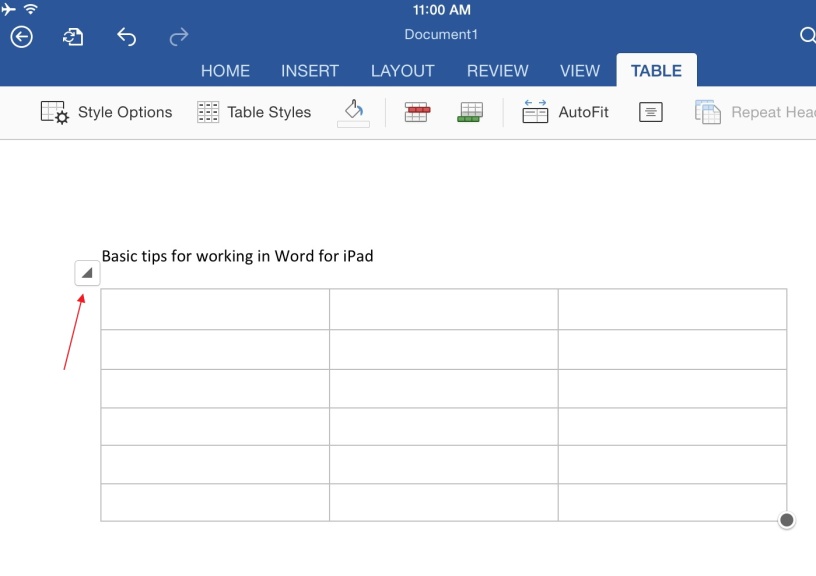 From here you can use the edit menu presented to make changes.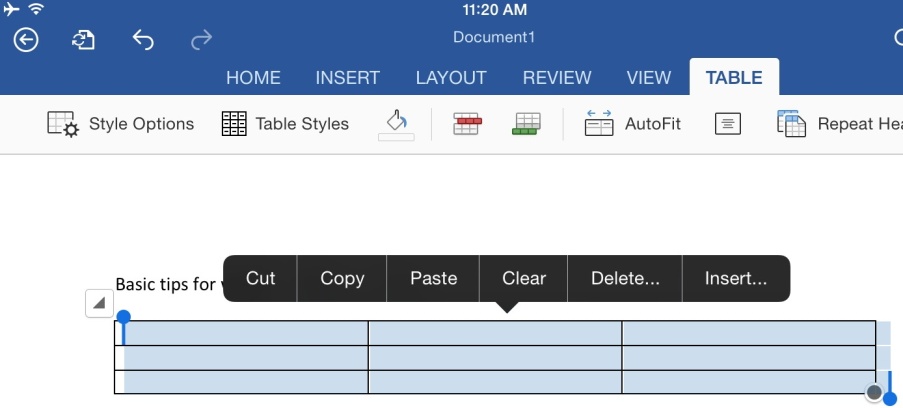 Or go to the Table tab up top and pick a different table style and make other changes to it.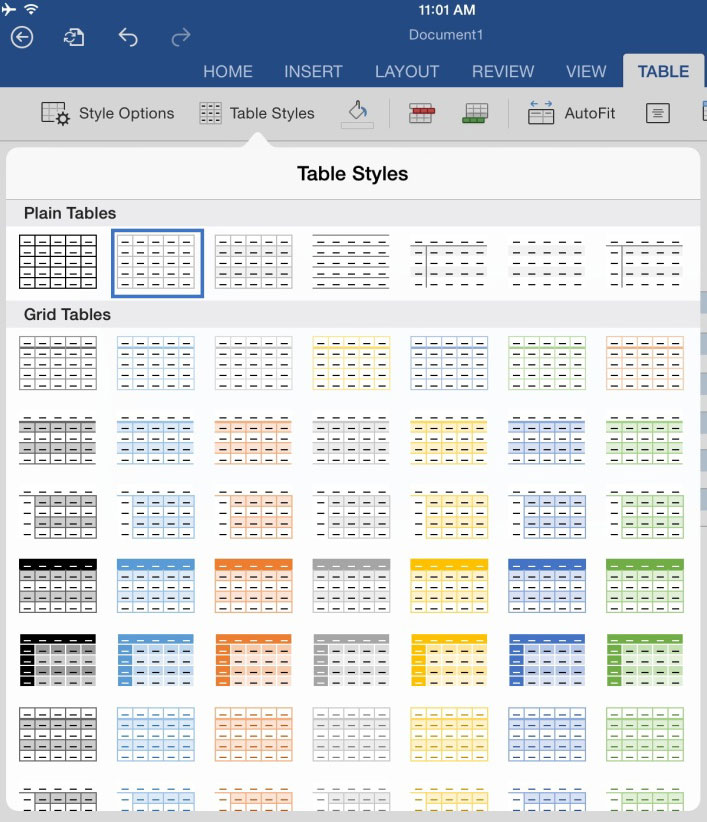 All of these basic selection tips for Word on iPad work in the same way when you are using PowerPoint on iPad.