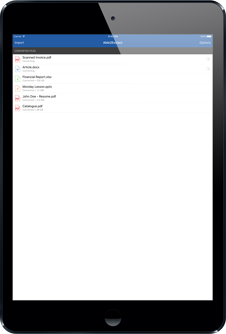 Able2Extract Mobile for iPad is a lightweight and easy to use app for creating and converting PDF documents. Users can create PDF from MS Office documents and convert PDF to Word, Excel, PowerPoint and more.
Sending Office for iPad Files to Other Apps
If you have been using Microsoft Office for iPad, you may have noticed that there is no way to send your Office documents directly to another mobile application from Word, Excel or PowerPoint.
For example, if you would like to use our Able2Extract mobile application to convert an Excel file into a high quality PDF on your iPad, you are going to have to do it in a roundabout way for the time being (assuming that Microsoft makes changes at some time that will enable you to send documents directly from the Office applications).
The easiest way to do this is to make sure that you are saving your files to your OneDrive account when creating documents in Word, Excel or PowerPoint for iPad.
Also, make sure that you have downloaded the OneDrive app for your iPad.
To send the document to another application, open the document in your OneDrive app.
Tap on the ellipsis (…) in the bottom right corner.
You will now see the option "Open in Another App." Tap on that.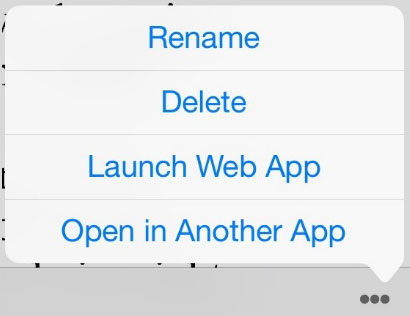 You will then be given a list of the apps that you can send the document to, Able2Extract being one of them.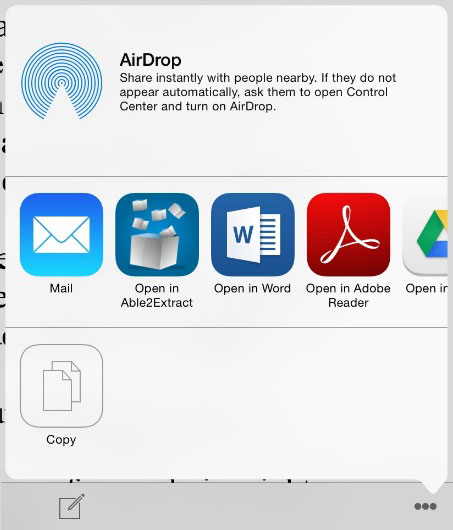 If you want to use the Able2Extract app to convert your document, simply tap on the Able2Extract icon to send the document to the app.