Information Material and the PDF
In this day and age of web surfers and Internet users, effective distribution of information means providing material and resources electronically in a neat and effective package. Information material that a company or organization wants to make available may include all kinds of pamphlets, leaflets, newsletters, business cards, brochures, technical documentation, user manuals, product specs, catalogues, annual reports, etc.
The majority of these resources today are created and shared digitally. When it comes to creating documents and materials, there is a myriad of desktop, online and mobile tools to create stylish, engaging and helpful information material that can be shared and viewed online.
One of the most massively used software packages for creating professional documents, presentations and publications is the Microsoft Office Suite. MS Office offers a wide array of features for the easy and quick creation of professional-looking publications for both digital distribution and printing.
The most obvious choice among Microsoft office applications for creating publications such as brochures, leaflets, newsletters or catalogs is MS Publisher. Using its pre-designed templates, even an average computer user can publish a powerful publication.
On the other hand, many users opt for the ubiquitous Word to create their information materials and resources. MS Word also has a vast collection of ready-made templates that you can use to create any type of document you can think of: booklets, reports, partnership agreements, sales contracts, business cards, etc.
Regardless of the office application you're using for preparing your information material, once you've created and saved it, you should think about the next step: digital distribution or printing.
A lot of information materials are nowadays distributed and offered exclusively online. For digital distribution purposes, you first need a format in which to display your content. If you want to preserve the look and feel of your resource when uploaded online or emailed, then the universal PDF format is the best choice.
How to Create PDF
Most Microsoft Office users know that they can easily save all their documents as PDFs. However, professional information and document publishers often need a more comprehensive and robust PDF creator. The professional choice in the category of PDF solutions is Able2Extract PDF Converter. The great thing about using Able2Extract for PDF creation is that its commands are very straightforward, so anyone can learn how to use the tool in only a few minutes.
This is what a quick, 2-step PDF creation process looks like with Able2Extract:
Click on the Create button:

Double-click the file you want to convert to PDF and click Save:

After you specify the location of your newly created document, it will open so you can see how faithfully all the elements of the source file are preserved in the PDF.
Another reason to use Able2Extract for business is its secure PDF creation feature. This option allows users to set passwords and file permissions for every created PDF, so that they can decide who can view, copy, print and modify data in their document.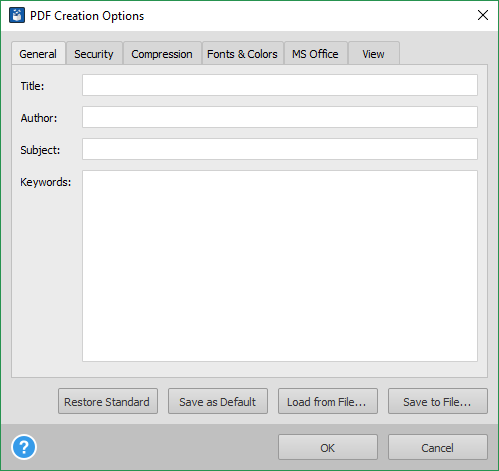 On top of that, Albe2Extract can create PDF from virtually any printable file, not only Microsoft Office formats.
Beside PDF creation capabilities, Able2Extract converts PDF to Word, PowerPoint, Publisher, Excel, HTML, OpenOffice, AutoCAD and more formats. It also features advanced PDF viewer and allows users to modify their PDFs.
Able2Extract is available as a free 7 day trial. It can be installed and run on any popular operating system: Windows, Mac OS X and Linux.